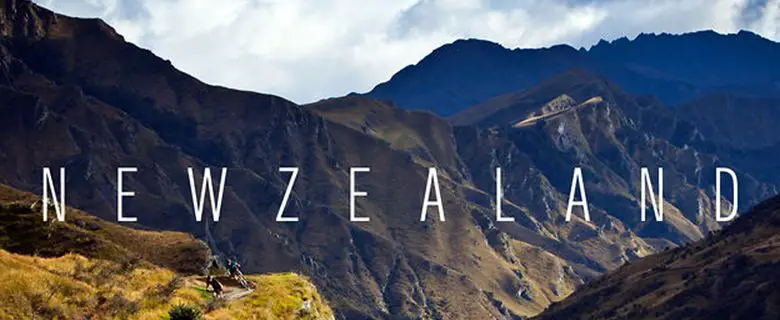 Have a disability? Well you're about to be disproven by Jasmine, who has Friedreich's Ataxia and has just come back from New Zealand. Find out how you too can take a trip to New Zealand.
My name is Jasmine, I'm 21 and I'm from Portsmouth, England. I was diagnosed with Friedreich's Ataxia in October 2010, a degenerative neurological disorder. As a side effect of this condition (which has meant that I can't walk at all), I also have metal rods fused to my spine to correct scoliosis. My wheelchair is Quickie Helium and has a rigid frame, though the wheels do come off and the back folds down flat to the seat.
Despite the obvious difficulty, I've always loved travelling, and I have just returned from the trip of a lifetime – three weeks exploring the North Island of New. As a massive Tolkien fan, and an environmental scientist, this trip was a dream come true.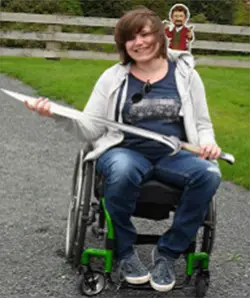 Flying to New Zealand
We (myself, my friend Julia and my carer Steph) flew out of Heathrow on Air NZ flight NZ001. This was a direct flight to Auckland, with only a two-hour break at LAX. We only chose this flight because I was told that the plane (A Boeing 777-300) had a disabled toilet on board.
But, it wasn't a very good one. It was bigger than normal airplane toilets; there was room to get the aisle chair adjacent to the toilet but not much else. The handrails were too small and not really in the right place (the steward had to lift me on to the toilet because I couldn't reach). And of course, they were only on one side. It's law in the UK that there have to be handrails on both sides, but I don't think its law anywhere else.
As well as the issue with the toilet, the aisles on the plane were ridiculously narrow. The aisle chair on its own is horrible (it's ridiculously narrow, and I felt very unsteady the whole time I was sat in it), but when combined with the narrowness of the aisles – my knees hit every chair and my shoulders and hips scraped along every chair too – moving around the plane was terrible.
Apart from the toilet and the aisles, Air NZ were brilliant – they upgraded us to Skycouch (it's like Economy +), and they were very helpful and friendly.
Renting an accessible car in New Zealand
I'd rented a van from Freedom Mobility before we left England (a Toyota Noah), and they met us at the airport. They showed us how to use the car, which had an electronic swivel chair, told us about NZ road law and gave us a sat nav, which was invaluable. The car was great, and the boot was big enough to fit everything comfortably (three big suitcases, my wheelchair and our rented equipment). I'd already bought a New Zealand disabled badge for our stay ($35 from CCS mobility). Then we set off.
Accessible equipment and accommodation in New Zealand
Our first stop was Invacare, who I'd rented a shower chair and toilet frame from. The frame was fine, but the back of the shower chair had the annoying habit of tipping forward when you put any weight on the arms – which was not helpful at all!
We didn't do much of anything on the first day (we were very jet lagged), so  once we'd picked everything up, we checked straight into our motel, The Best Western Auckland, and went to sleep. The room was lovely, and quite quiet (we were on the end of the terrace). The bathroom was a wet room (but it dried quite slowly as there was only one small window), and the sink could fit a wheelchair underneath. The room only had a microwave and a kettle.
Auckland
On the second day, we went whale and dolphin watching from Auckland with the Auckland Whale and Dolphin Safari from Explore NZ. They helped me get down to the wharf (down a very steep ramp backwards) and they lifted me onto the back of the boat. It was a great spot as waves didn't hit us and dolphins like swimming in the wake of the boat, so we saw loads of dolphins and even a Bryde's whale. The rest of the boat, however, wasn't accessible, including the toilet.
Next we went to Kelly Tarlton's Sea Life Aquarium. It was completely accessible, even the shark tunnel – the path and conveyor were quite narrow, but my wheelchair is 22 inches wide wheel to wheel and I fit on both. The extra tours (swimming with sharks and walking with penguins) are understandably not accessible, but the majority of the behind-the-scenes tour is, with the only exception being that I couldn't go to feed the fish, but they let us feed one of their 'hospitalised' turtles instead!
On our last day in Auckland we went up the SkyTower, which is also entirely accessible. I'm not too keen on heights, so we didn't stay long. After that, we drove to Parnell Road and went shopping. It's quite a steep road, and some of the shops are a bit tight to get in and around.
Hamilton
The next day we spent driving down to Hamilton (about an hour) and then relaxing. We stayed at the Albert Court Motor Lodge for three nights, and it was beautiful. The hosts were lovely, and very helpful. The room was spacious, and the kitchen was all down at wheelchair height, so I could reach to cook (there was a hob, microwave and a kettle). The bathroom was a wetroom again, but the sink was very low – I certainly couldn't fit underneath and I doubt if anyone could have.
Waitomo
From Hamilton we first went down to Waitomo, and to the Ruakuri cave. This is the only wheelchair accessible cave in the Southern Hemisphere (as such it's always quite busy, so we had to ring them before to book), and though some of the paths are quite steep (combined with semi-darkness), I managed to get everywhere the able bodied people could.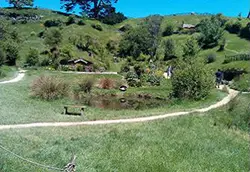 The next day was the day that I had been waiting for ever since I decided to go to New Zealand – we went to Hobbiton, where they filmed some of the Lord of the Rings films. The car park and the path to the ticket office are gravelly and a bit uneven, but then it is still a working farm. It's worth noting that there is a ticket discount for wheelchair users. We had to follow the tour bus in our van up to the set, as there are a few steps to get on. Once you get to the site, the paths are quite steep and narrow, but I got around perfectly fine, with help on the steeper bits. However, I physically couldn't get up to Bag End – the hill was very steep and I wasn't brave enough to attempt it. There is a cobbled bridge, and the paths are a little bit uneven in places, but that's to be expected – it's meant to look and feel rural.
Taupo
We drove down to Taupo after Hamilton and stayed at the Karaka Tree Motel for four nights. The room was a bit tight in some areas, and the bathroom wasn't very good. The bathroom was split into two rooms – a large sink in one, and the toilet and shower in the other. This meant the toilet room was quite tight – there was only just room for me to put my wheelchair adjacent to the toilet. The handrails were also initially in the wrong place, but one of the hosts was kind enough to buy and drill a new handrail in the right place. The shower room was also too small for a shower. The carpet was also thick so it made pushing on it quite hard. I don't think I would recommend this motel for a stay of more than one night.
After our first night in Taupo, we drove to Rotarua and visited Te Puia, which is a geothermal valley and a centre of Maori arts and crafts. There's also a kiwi house here, with two of New Zealand's national birds. Nearly all of the geothermal park is accessible (though one or two of the paths are a bit steep), and even with the bits that aren't, it's still possible to see.
We also saw the Maori cultural performance. The room is accessible by a ramp and chairs were very quickly moved so that I could sit at the front. I'll just say now, the Haka, a traditional ancestrial war dance, is much more intimidating in person than on the TV! We also went to the carving school. There are steps and a bridge to see them carve, but as I couldn't get up they let me come into the workshop through a side door. They were so kind and they even showed us a piece that was being sent to the UN!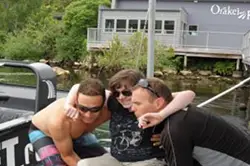 We went on the Riverjet up the Waikato River on the next day. I emailed the company before, and I was told that we could do the Scenic Safari Tour (all of the others involved walking at some point). Two men carried my chair and I down to the boat, and then lifted me onto the boat. We were on the big boat, called the Beast, so my wheelchair could fit in the space next to the engine. I could then slide along the seats. When we stopped, where there was a geothermal park on the opposite bank, but it was not accessible, I stayed in the café in my wheelchair, which they lifted me back into.
Our last day in Taupo was spent just wandering around the town and the lake. The paths through the town were generally good, but some of the crossings have quite substantial kerbs.
Check back next week to read the second part of this article. In the meantime, if you have any questions about this article or my trip, please don't hesitate to contact me on jazzy.blue@hotmail.co.uk.
By Jasmine
Check out…
• Guide to accessible holidays in Tenerife
• What disability? Halfway to Land's End
• My accessible golden tour of India

We want all Disability Horizons readers to have as much accessibility information as possible. So if you have a trip you want to tell us about, get in touch by messaging us on Facebook, tweeting us @DHorizons, emailing us at editor@disabilityhorizons.com or leaving your comments below.