Whether you're interested in making films, being in them or getting involved behind the scenes, few would argue that there aren't enough people with disabilities in the media. Well if you're ready for a challenge, then you could make a difference by taking part in the Disability Film Challenge…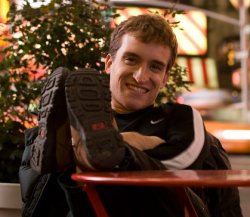 My name is Nic Novicki and I have been an actor for 13 years, working on shows such as Boardwalk Empire, The Sopranos, Drop Dead Diva and Private Practice. I am also a little person standing at 3 foot 10 inches.
In the entertainment industry, being a little person can be difficult as most of the roles available are offensive or stereotypical; the rare ones that actually have depth and dimension are few and far between. Although I have been blessed in my career to work on amazing projects with great people, in Hollywood these opportunities don't come up as often as I'd like them to.
During the in between times where I haven't had work, rather than sitting back and waiting for projects to come to me, I have always been pro-active and created roles for myself to further my craft and career.  As such, I have produced a multitude of film and TV projects and enlisted in the Producers Guild of America, a film, television and media venture that promotes diversity.
This new venture into producing film rather than being in it, led me to realise that, with a few exceptions, I rarely see disability present, either in front of or behind the camera. And most powerful of all, I realised that I have the power to change that.
This inspired me to form a new programme called the Disability Film Challenge, aimed at helping others take their careers into their own hands. The Disability Film Challenge is a short film competition that takes place over the weekend of June 20th and is open to everyone, be it seasoned professionals or enthusiastic first time filmmakers from all over the world.
All films submitted must incorporate disability in the storyline, and can do so also behind the camera, providing a lens through which to showcase unique talent and rich stories.
My hope is that the Disability Film Challenge will create a gateway for more exposure for people with disabilities in the media. The disability community represents roughly 20% of the population, and yet there is little to no visibility of people with disabilities in the media. We need to work together to change those statistics. With the advancements in technology people are able to make their own content independent of studios, and the quality just keeps getting better and better.
The entertainment industry is one of the most difficult professions in the world. I must admit that I have had numerous problems take place on projects I've produced. However, every time there was an issue, I came up with a solution and therefore became a more experienced filmmaker.
I have also learnt that the Hollywood community is extremely supportive – I've been able to get advice and notes from people I grew up idolising. Some of those people already know about the Disability Film Challenge and are ready and willing to help provide support during the challenge.
Entrants taking part will have 48 hours to make a three to five minute film that incorporates disability in the storyline – and you can apply no matter where in the world you live. The assignment of the film will be given out on the Friday June 20th and entrants will have 48 hours to write, shoot, and edit the films. The goal is to further incorporate disabled directors, writers, producers and actors into the film business.
The winning films will screen at the TCL Chinese Theaters in Hollywood during the HollyShorts Film Festival this August.  The Disability Film Challenge will also set up mentors for the winning films.
For more information on the Disability Film Challenge, visit our website. Early submissions are now open and the closing date for applying is June 18th 2014.  The entry fees will be tax deductible through the Disability Film Challenge's partnering charity Friends of Californians with Disabilities. All proceeds from the Challenge will go towards the upcoming Media Access Awards.
In conjunction with the Disability Film Challenge and the generous support of Dell we will be hosting a free editing workshop at the Producers Guild of America.
The editing workshop will be held on Saturday April 19th in the conference room at the Producers Guild in Calafornia from 1 until 5pm. Their are still some seats available for the workshop. Workshop students will have the opportunity to learn from seasoned veteran editors and will be working with the latest and greatest in industry standard software.  If you're an aspiring disabled film maker and interested in taking this free editing workshop, email disabilityfilmchallenge@gmail.com.
Even if you are not a professional filmmaker, actor, and/or writer, I strongly encourage you to enter the Disability Film Challenge. The more films that are submitted the more of an impact we will have on society.
Over the last 60 years the quality of life for people with disabilities has drastically improved, and some of that has been due to the tireless efforts people have put into things like the American's with Disabilities Act.
However, I still think we have a ways to go. Part of the problem is the general public hasn't been exposed to people with disabilities. I hope that the Disability Film Challenge will help spread awareness through showcasing people's talents.
Help spread the word on the challenge by visiting our Facebook and Twitter page.
By Nic Novicki
You can find out more about Nic Novicki and his work by visiting his website.
Check out…
• Disability and TV: is it time for our close up?
• Models of Diversity: could you be the next hot disabled model?
• Challenging impaired perceptions of disability
Are you a budding actor, or have you had experience of being in the limelight? Have you made films or have dreams to do so? We'd love to hear about it. So get in touch by messaging us on Facebook, tweeting us @DHorizons, emailing us at editor@disabilityhorizons.com or leaving your comments below.