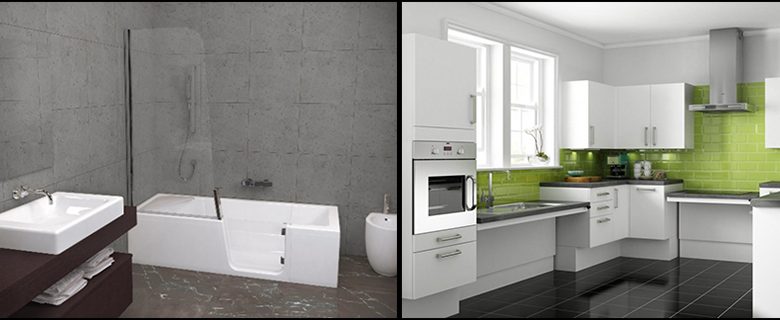 Lifestyle
How to make your home accessible for you
From your inaccessible doorway to the kitchen surfaces out of reach, Frances Leckie from Independent Living offers her advice on how to adapt your home to make it accessible for you.
My name is Frances Leckie, and I am usually to be found over at Independent Living, where we provide a range of information about products and services to help with daily living and mobility issues. This seems to be a particularly good time to take a look at how you can adapt your home to make it more accessible, given the recent survey from Leonard Cheshire Disability, highlighting the chronic shortage of wheelchair-friendly housing in Britain.
Getting into your house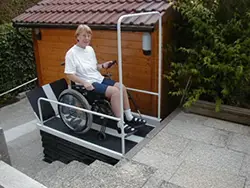 Perhaps the best place to start is at the front door! If you aren't fortunate enough to have smooth, step-free access to your home, there are various solutions that can make it easier. A reasonably low cost and low tech solution is a ramp, which can easily bridge a step or two, or the threshold of the door itself.
You probably don't want to be forever picking it up and putting it back, so it's best to look for a ramp that can be left in place and that won't prevent the door from opening and closing. One of the newest developments is threshold ramps made from recycled rubber. These can be cut to size and are really strong, so even the heaviest power chairs aren't a problem.
If you have a number of steps to negotiate, a ramp may not be the best solution – unless there is enough room to achieve the Building Regulations' recommended gradient of 1 in 15 (e.g. a 75mm height would require a 1125mm ramp).
It can be very hard work pushing yourself or somebody else up a gradient much steeper than this, so in that case, a platform lift is a good option. It will take up less space than a standard lift, and provide effortless travel up to several metres. Platform lifts designed without the need for a pit to be dug underneath, or any sort of modification to the walls of your home, are faster and easier to install.
Your bathroom and kitchen
There are two rooms that we get asked about more often than any other when it comes to adaptations: bathroom and kitchen.
Bathroom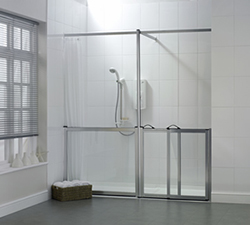 For most people, replacing the bath with a level access shower or wet room is a priority. That said, the latest generation of easy access baths are worth a second look if you enjoy a therapeutic soak: you can have a bath tub just the right height to transfer in from a wheelchair, or perhaps choose one with a powered seat to lift you into the water. If you have sufficient mobility to use a walk-in bath, there are some beautiful designs to be found now, all a million miles from the early, rather clunky efforts.
Another facility that is becoming more widespread is the automatic wash and dry toilet, which eliminates the need for loo paper. As an alternative to the stand-alone units,  add-on bidet toilet seats can be retrofitted to your existing loo. The cost is less, of course, and the high spec models include such features as a handheld remote control and seat warming for those chilly mornings.
Kitchen
Height adjustment is a facility increasingly found in equipment for bathrooms and kitchens, including hobs and work surfaces. It does tend to be more expensive to install an adapted kitchen into an existing home, rather than making specifications when a home is being built.
But if yours is a household combining ambulant and wheelchair users, then the premium for making these areas comfortably usable for everybody may well be worth considering. There are quite often both electrically powered and mechanical options, the latter being less expensive.
As well as height adjustments, there are lots of other gadgets that can make life in your kitchen easier, such shelving systems that can be pulled down from a higher cupboard for easy access, or pull our ironing boards and storage bins.
If you're a wheelchair user, you can get wall-mounted base units with a gap underneath and shallow sink bowls to allow room for a wheelchair. And when it comes to appliances, you can get ovens with doors that open sideways rather than downwards and controls on the front of a hob as opposed to at the side.
There is also a plethora of adapted utensils for cooking and food preparation, whatever your level of strength or dexterity.
Bedroom
Moving on to the bedroom, comfort is paramount for a good night's sleep. An adjustable bed is the solution for many, with powered adjustment or profiling (where the bed forms around your preferred sleeping position so it keeps the most comfortable shape) enabling you to find the most comfortable or therapeutic position.
Being able to get up and go to bed independently may also be possible with a Rotoflex-style bed. In addition to profiling, a Rolex-style bed changes from a bed to a chair shape, so that you can transfer from a sitting position on the bed straight across to a wheelchair, without the need for help from a third party with a hoist.
If pressure damage is an issue for you, there have been some interesting developments in mattress technology, notably air mattresses, which achieve subtle weight redistribution without the feelings of nausea or vertigo that some people experience with the more powerful movements of alternating air mattresses. These mattresses are much quieter than earlier models, as well.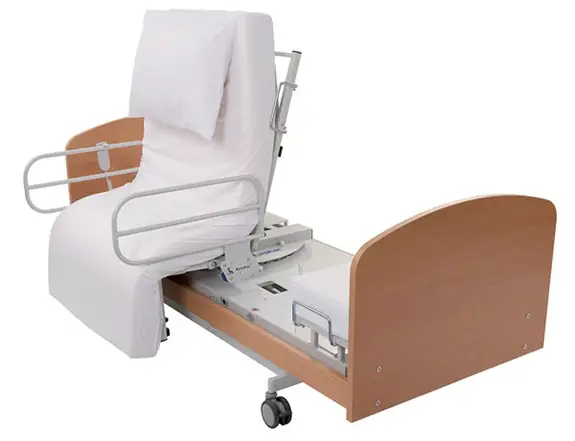 Letting people into your home
Visitors are generally welcome for most of us, but you want to know who is at the door before deciding to let them in, and arranging things so that you don't need to move from where you are in order to open the front door, makes a lot of sense.
Wireless intercom systems can be installed without major disruption, and allow you to carry the handset around with you. If you combine it with remote door locking/unlocking, like the system we are used to in our cars, then answering the door need never be a problem. Alternatively, a remote door opening system can be activated by text message from an authorised mobile phone – a good solution to allowing carers or PAs into the house without effort.
Smart adjustments
Probably the last word on adaptations should go to environmental controls or home automation. There has been wonderful progress made in developing the smart gadgets that enable so many aspects of daily life to be controlled through a tablet or smart phone. From turning on lights, opening windows and drawing curtains, to controlling the central heating, TV and security systems, various apps allow you to turn your phone or tablet into the nerve centre of your home.
And as these devices are more easily controlled using alternative inputs,  from single switches, head pointers, voice or even eye blinks, people with very little by way of independent movement can still maintain autonomy over just about any item that can be operated electronically.
By Frances Leckie
Check out…
• Can a 'caring' relationship support independence?
• Disability and parenting: how possible is it?
• The Phoenix Blend cafe: helping transform people's lives
Get in touch by messaging us on Facebook, tweeting us @DHorizons, emailing us at editor@disabilityhorizons.com or leaving your comments below.