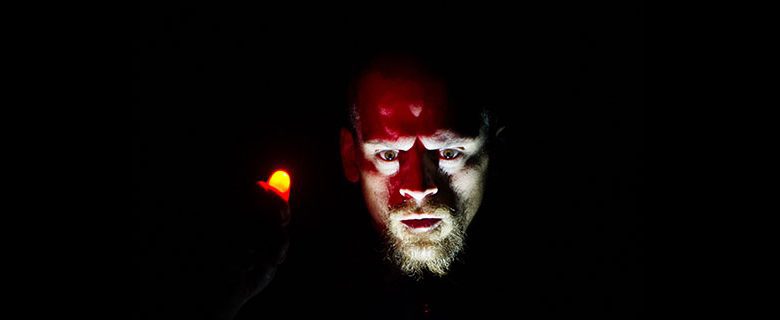 Matty is a deaf Actor and Director. He got involved in theatre production when he first met with George Mann, Co Artistic Director at a workshop in Bush Theatre. They asked Matty to get involved in a project doing research and development on disability hate crime. Since then he has never looked back. I caught up with Matty Gurney to find out more about his career as an Actor and his new play titled, Theatre Ad Infinitum's Light and his upcoming UK tour.
Theatre Ad Infinitum's Light is a wordless sci-fi thriller performed in darkness and accompanied by a pulsating soundtrack, an Edinburgh Fringe sell out show from the consistently inventive Theatre Ad Infinitum.
What has your experience been like having worked alongside hearing actors?
There are pros & cons to everything in life – Pros: we have all worked together to understand each other from scratch (from the first day) then built up our bonds through acting & spending time together off the stage as well… It's like going to a new school and making new friends! Cons: I do tend get behind with workloads especially with improvisation, but I get there in the end, it's part of my 'job' to catch up. But there are more pros than cons really!
What has been the highlight of your career so far?
Performing at the Globe with Deafinitely Theatre in 'love's labor's lost' and with Theatre Ad Infinitum at edfringe for Light – it meant awful a lot to me working with in the mainstream theatre world. I  have always known I have got the talent for it and I'm so happy I can finally begin acting with a broader mix of theatre companies and not just within 'Deaf theatre'.
What advice would you give disabled people who may be interested in starting a career in acting, but don't know where to go or where to start?
Go and get involved in Drama Workshops like those provided by Deafinietly Theatre's 'The Hub', Theatre Ad Infinitum, Trestle Theatre, Told by an Idiot, Graeae theatre and many more…
What are your goals/plans for the future?
My dream is to direct a theatre project. I feel I have a unique style Id love to explore in theatre not just as an actor but also as a writer and director. I always keep a close eye on the directors with whom I have worked, learning all the time, picking up the tips and techniques from them…
Can you tell us a bit about the upcoming tour?
"It's nice to work in different theatres but it takes you away from home for long periods of time to unknown places. The best thing about this tour is that we're going to perform at The North Wall in Oxford. It will be the first time I've ever performed in my home town. I'll be happy to stay and chat after the show to any deaf people who come and watch."
By Zubee
* Featured image by Theatre Ad Infinitum – 'Light' (c) Alex Brenner
Check out…
• Disability and fashion: Chelsey Jay's style diary
• Employment and disability: doing the obvious in 2015!
• New Year's resolutions: embracing challenges
Get in touch by messaging us on Facebook, tweeting us @DHorizons, emailing us at editor@disabilityhorizons.com or leaving your comments below.