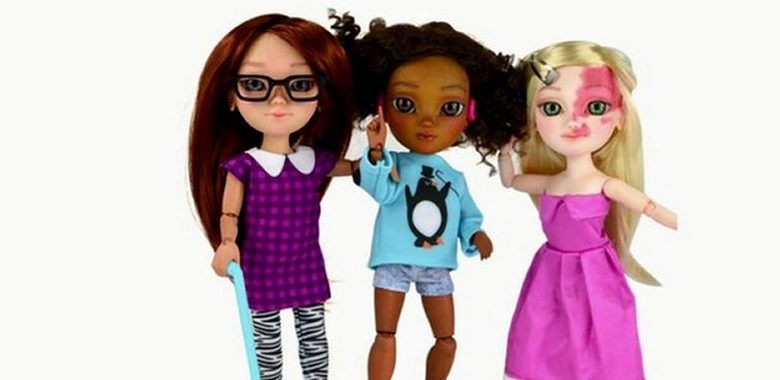 Lifestyle
Toys Like Me dolls: a good or bad idea?
"Raggy Dolls, Raggy Dolls, dolls like you and me…" the theme to one of my old childhood's favourite cartoons – 'Raggy Dolls' sprang into my head as I heard about 'Toys Like Me'. Raggy Dolls was a children's cartoon where the dolls that did not meet the factory's standards got sent into a recycle section. I remember watching it and thinking; "is that why I am in a special needs school, because I failed to meet the world's standard of perfection?"
Although I loved my school, I couldn't help but feel segregated from the rest of society. This was a feeling that used to reach its peak when people would stare at us on the school bus, making us feel like exhibits or creatures from out of space.
Because of my experiences as a child, I have been writing endlessly about the need for children to be exposed to disability from an early age, as it would teach and encourage them to be accepting of people living with disability.
In the past I have argued for more diversity in literature as I was shocked by the void of disability in adult and children's books alike, and I've written endlessly about the need for TV, film and animation makers to include characters with disability in their productions. Like it or not, social and general media are the 'educators' of our time – it holds the power that influence public perception and opinion.
I was therefore really pleased to see the 'Toys Like Me' campaign turn into reality with London based toymakers Makies having begun making toys with disability.
However, although part of me was pleased at the new line of toys, I could not help but feel it is a step backwards, a form of segregation almost. Our society has become so focused on political correctness and 'seeming' to be inclusive that in actual fact we are digressing into a form of seclusion and breaking into small communities according to ability, faith, ethnicity, sexual orientation etc.
Just as there are now disabled dolls/toys, I recently came across a Muslim doll that had a veil but was faceless in accordance with some strict Muslim guidelines. While it is a positive thing for children to see similarity in their surrounding, why isolate and expose them to the idea of 'different'. There should be a mixed balance where toys/dolls are reflective of our world, but in a manner that is truly inclusive, not where the dolls are not just 'like me' but 'you and me'.
A while back there was a big frenzy about the new age Barbie; one that had a scar, another with a tattoo, one that was overweight, and even a disabled one. At the time I wondered why there was an obsession with changing a traditional figure like Barbie to something else? I was a child that loved dolls, Barbies and tea sets. I was very girly back then and I thoroughly enjoyed playing for hours with all these non-disabled toys without ever wondering why are they not like me?
Nor did it affect me, I just accepted them as dolls that don't need to be like anyone. Although sometimes I did invent my own version of a wheelchair for my doll and added little 'imaginary' features that contributed to making that particular doll disabled, but that was to fit a role play that I had created, rather than an urge to recreate an image of myself.
Also if we look at the dolls that have been made a question forces itself; how disabled are these dolls? Just because one uses a crutch or hearing aid and another has birth mark/scar, they still don't represent all the disabilities because there is more to disability than just equipment aids. Therefore there will still be many left thinking; "even among disabled dolls there is no space for me."
This is precisely my problem with these dolls; in theory they are an introduction to a more inclusive world but, in reality, they are cementing segregation and a notion I strongly believe in – our world is tolerant but not accepting. I am not against the idea of these dolls, on the contrary, I welcome any attempts that are made to promotes inclusion and equality, but I want that to be in a progressive and balanced manner.
Therefore I personally feel that books, films and TV, all facets of the media so prominent in all our lives, is where inclusion should occur and not necessarily through manufacturing dolls that are disabled.
By Raya AlJadir
Tell us what you think. Do the Toy Like me dolls promote inclusivity or segregation? Get in touch by messaging us on Facebook, tweeting us @DHorizons, emailing us at editor@disabilityhorizons.com or leaving your comments below.