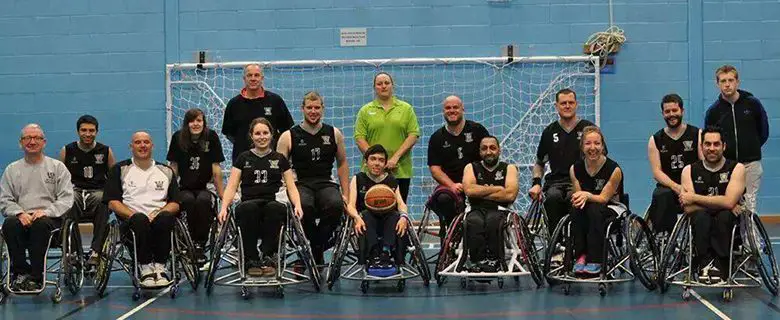 Tom Masterson has been playing wheelchair basketball since 1986 and is now the head coach of the Warwickshire Bears. Here he talks about his love for the sport and why he encourages other disabled people to give it a try.
Please can you tell Disability Horizons readers a bit about the wheelchair basketball club and how it started?
The Stratford Players team was formed in 2002 by myself and Mark Butler. We wanted to offer wheelchair basketball to a wider range of players in the Warwickshire/Solihull area, so the club changed its name to Warwickshire Bears in 2008. At one point we were in the first division, but we had to pull out of the league due to players leaving for other commitments.  After recruiting new members, the Bears re-entered the league a year later, but had to start back at the beginning in the third division.
What first interested you about taking up wheelchair basketball?
I started playing wheelchair basketball in 1986 after I was injured working as a roofer.  When I was at the hospital recovering, I was introduced to wheelchair basketball by my first coach Malcolm Tarkenter, who is now chairman of the Great British Wheelchair Basketball Association (GBWBA).  Later, my second coach was Sir Philip Craven, who is now President of the International Paralympic Committee. I've been lucky to have been coached by some of the best players in the sport.
Can you tell us more about the  sponsored pushes the club runs?
The Bears holds annual events to raise funds for the club. We try to keep the costs low to encourage people to play wheelchair basketball, but as it  costs more than £7,000 to run the team, (excluding the equipment costs) we have a lot of expenses to cover.
Our sponsored push (where a number of us push ourselves in our wheelchairs 10k) is during the summer and is  along the Greenway in Stratford-upon-Avon.  Each player tries to get as many people to sponsor them to do the push.  It is a great bonding day for the team and we make a whole day of the event.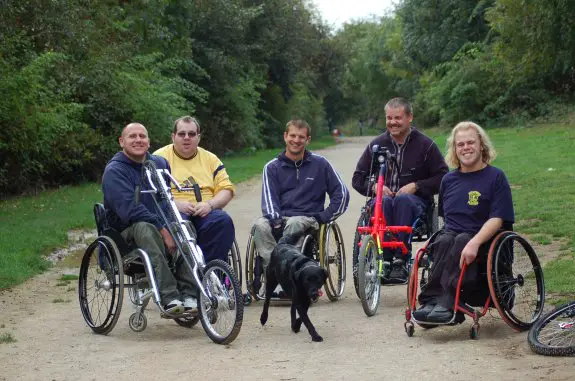 If anyone is interested in joining the club, how can they sign up?
Just give us a call and let us know you're interested!  This gives us notice that someone new is coming along. Then we can arrange for one of the coaches to look after them on their first night and it gives us a chance to get a wheelchair for them to use.
The Bears offers the first four weeks of training free of charge, as this gives anyone time to consider if the sport is for them. If they are still interested, then we ask for a monthly fee of £20 to help cover the cost of running the club.
What skills/qualities does a person need to become a professional basketball player?
To play wheelchair basketball, a person must have use of their upper limbs (arms/hands) and be strong enough to push a manual wheelchair independently.  To progress further in the sport and become a professional player, it takes dedication and a drive to keep improving.  All the basic skills are taught to the players during trainings, but it is up to the individual to become better, stronger and more consistent players.
What is involved in the training sessions?
A normal training session will include basic conditioning of players to improve their fitness, ball skills, shooting practice, defensive practice, and game practice.  Players are also coached on techniques and continually offered advice.
How do you adapt the game to work around various disabilities?
Wheelchair basketball is played under a classification system, where each player is classified by the level of their disability.  An able-bodied player would be classified as a 5 pointer and classification goes all the way down to a 1 pointer, depending on their level of injury.  Each team is always allowed five players on the court and their classifications combined cannot exceed 14.5 points. This means that all teams have to include players with different disabilities, and a 1 point player is as valuable to a team as a 5 point player.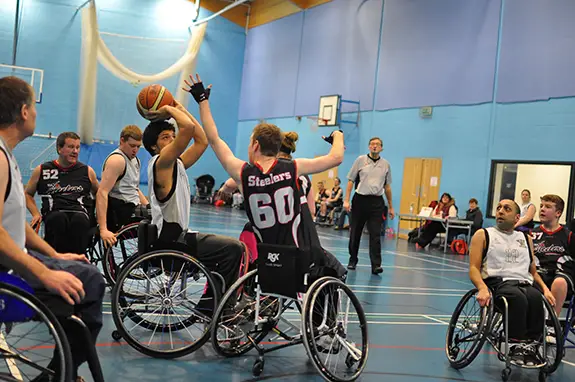 How do you feel wheelchair basketball can benefit a person with a disability?
All sports help players get fit and maintain their health and weight, which helps with daily life.  Wheelchair basketball in particular helps to strengthen the parts of the body that are unaffected by disability and improves balance.
Also, a major reason why I love this sport is because you experience being part of a community where you can get lots of support and advice.  Our club members always try to support each other, even away from the sport. The team has a vast wealth of knowledge about all aspects of living with a disability.
What advice would you give someone with a disability looking to take up wheelchair basketball?
The first step is to locate the nearest clubs to you, which can be done by going to the GBWBA website. You should then call your local club to ask about days and training times, any costs associated with it and to see if the club has stock chairs to use.
Many clubs will provide a basketball wheelchair for people who are just starting. The only way to get a feel for a club is to go along to a training session. When a new player comes to our training session, I always emphasise that they have already done the hardest part by turning up.
Can you tell us a bit about the social events that you run for your members outside of training?
The team members often meet up away from the sports hall, and go for meals and drinks together.  We usually have a Christmas party and an end of season celebration. We also have various challenge games during the season where the Bears will play against teams made up of work colleagues, friends and family or against local companies, who use challenge days as a team bonding session.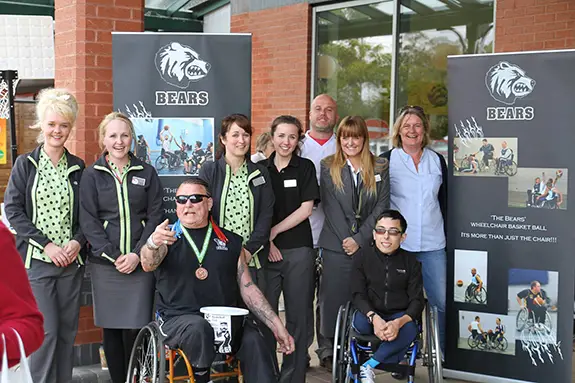 As a head coach, what do you do to keep your team motivated?
My main aim as head coach is to help the players become the best they can possibly be, and to always set the players goals to achieve. As a team it is important to move up through the divisions, to get back to where the club belongs.
A lot of people have perceptions that wheelchair basketball is a male dominated sport, what are your thoughts on this?
While there are not as many female players in wheelchair basketball, there are lots of opportunities for female players in the national leagues. They also have a separate league in which they play with players from different clubs.  The national women's team are doing really well and have steadily moved up in the world rankings. We still need to encourage more disabled females to take up wheelchair basketball.
What are the future plans for the club?
We hope to win the league the Bears are in now and qualify for the national play-offs.  We constantly try to recruit new players and to hopefully find the next generation of national players. We also go to local schools to give local disabled children the opportunity to try wheelchair basketball and get interested in the sport.
What has been the highlight of your career so far?
I love seeing a nervous player come through the door for their first training session and slowly turn into a confident basketball player.  Or when a starting player could not hit the bottom of the net, and after practicing are able to score a basket in a competitive game. It's great to see the joy and confidence it gives to that person.
What are your top  five tips for becoming a international/professional player?
1. Dedication – Never look for excuses to fail, but ways to succeed.
2. Practice often – The more you practice the luckier you become.
3. Focused – Be clear on your goals and stick to them
4. Always be open to learn – You can always learn from someone else and new techniques.
5. Be a team player – Always value your fellow team mates and give them encouragement.
Interview by Zubee and edited by Shannon Kelly
Get in touch by messaging us on Facebook, tweeting us @DHorizons, emailing us at editor@disabilityhorizons.com or leaving your comments below.