Visit The Mobility Roadshow, on from the 26th to 28th May, for inspirational independent living solutions and a variety of specialist products for people with restricted mobility.
This year we'll have our Get Going Live! experience again, where young and newly disabled drivers can try out a whole host of adapted cars. Leading motor manufacturers will be there so you can make hands-on comparisons to help you find the right driving solution for you.
Adapted vehicles on show
Ford, Suzuki and Hyundai, who will be including the new Tucson in its range, will be providing free test drives of their cars. Top conversion specialist, including Sirus Automotive, Lewis Reed, Autoadapt, Elap, Mobility Networks and Kivi will also be showcasing their accessible vehicles and driving adaptations.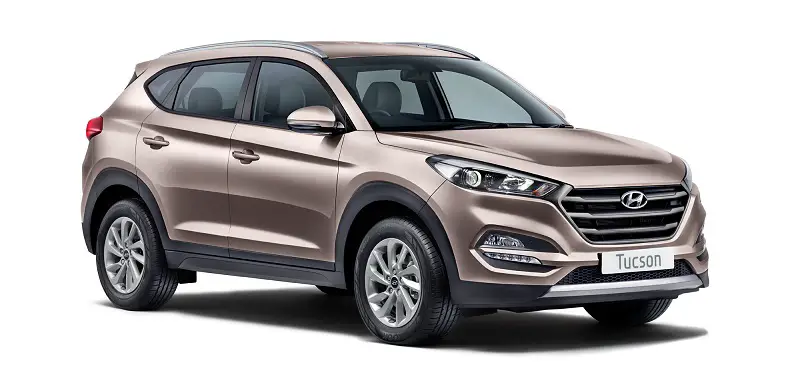 Sirus Automotive is planning two product launches for this year's event – a new 'drive from your wheelchair' car and a 'passenger up-front' vehicle, as well as a 'trendy' wheelchair accessible vehicles ideal for families. Visitors may also test drive leading cars from BMW, Citroen, Skoda and Peugeot – there will be over 40 vehicles available.
The Mobility Roadshow will once again provide the largest range of specialist adapted driving and steering controls including: push/pull hand controls, floor mounted controls, left foot accelerators, lightened power steering, ring accelerators, specialist electric triggers, 4-way joystick steering, remote secondary controls and more.
Independent living and mobility aids
Inside the Silverstone Wing, an extensive range of top independent living innovations from leading mobility product specialists will complement this impressive vehicle showcase.
TGA Mobility's new look Breeze S4 mobility scooter, which will be unveiled for the first time in the UK at this year's Mobility Roadshow. The new high specification 8mph Breeze includes an enhanced ergonomic tiller with ultra-advanced LCD control panel, a mobile phone holder and USB charging socket. The alloy wheels have been streamlined and the wing mirror has been designed to allow greater rear visibility. An optional seat with higher backrest is available for taller users. These innovative features are also available on the face-lifted 3-wheel Breeze S3, which provides enhanced manoeuvrability.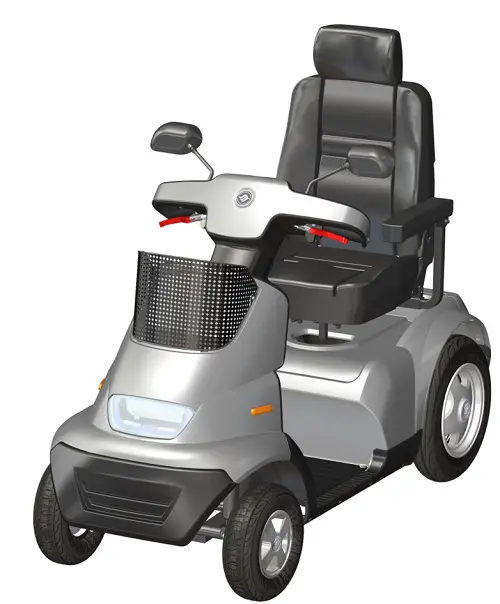 Famous for its stability and off-road capabilities, as demonstrated on BBC 2's Top Gear TV programme, the Breeze S4 scooter is ideal for tougher landscapes. Built with quality components, superior suspension and precision finish, this pioneering scooter is set to raise the bar in terms of mobility scooter technology, styling and comfort. Visit TGA Mobility at stands H2-54/55, or visit the TGA Mobility website.
Event visitors seeking the latest assistive bathing solutions should explore options from new 2016 exhibitor BatheAbility. Marian Newman and business partner Stephen Proctor created BatheAbility after witnessing difficulties faced by a family member with restricted mobility.
BatheAbility works with client's bespoke requirements to achieve the best practical and aesthetic results whilst remaining affordable. The company aims to create a pleasurable bathing experience for the user and include in their product range bespoke walk-in showers, wet rooms as well as bathing ranges.
Exhibited at The Mobility Roadshow will be BatheAbility's Rotating Level Access Shower Tray – a clever product solution providing easy access for wheelchair users to independently shower and dry whilst reducing the need for additional bathroom space for chair rotation. Visit Stand H2-36 or visit the BatheAbility website.
Wheelchair adaptions and solutions
Also exhibiting this year after a successful debut at The Mobility Roadshow 2015, is Loopwheels, which are revolutionary new shock-absorbing suspension wheels for wheelchairs. Invented and developed by Sam Pearce, a mechanical engineer and industrial designer from Nottinghamshire, the eye-catching product is now sold through stockists in 13 countries.
The suspension wheels, designed to fit all major brands of manual wheelchairs, enable users to employ less effort on rough and uneven terrain, due to extra power provided by carbon composite springs replacing conventional spokes. They also absorb vibrations and bumps to provide a smoother, more comfortable user experience.
Mobility Roadshow visitors should watch out this year for Loopwheels' new Carbolife Curve ergonomic push rims.  Developed in Germany and sold in Europe since 2014, they are recommended by German spinal injury centres. These push rims are designed to fit the contour of the human hand and, in particular, suit the needs of quadriplegics, both without finger control or with limited hand control.
The rims allow greater surface area for braking and changing direction and the improved pressure distribution prevents brake burning. As a result, using Curve is less tiring for hand muscles and benefits people suffering from carpal tunnel syndrome. Propulsion is easier on the joints and saves energy so users experience a relaxed, safe and sustainable ride. Visit Loopwheels' Stand H1-02 or the Loopwheels website.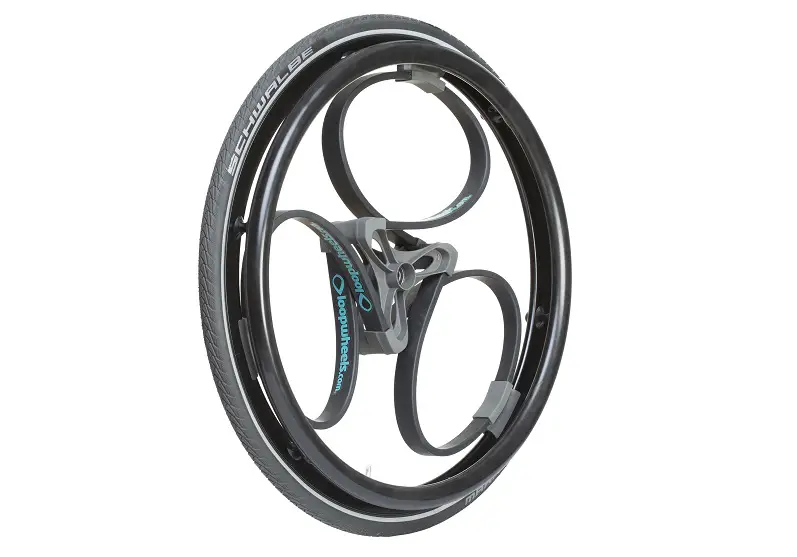 RGK Wheelchairs' 360˚ wheelchair travel solution is another inspirational mobility solution, designed to remove the hassle of travelling with mobility equipment. Twenty-seven years ago, the Staffordshire based manufacturer decided to provide wheelchair users with a chair fit for individual purpose. The company has evolved to offer solutions that remove physical barriers to active life.
The 360˚ solution includes 4 interchangeable, compact and lightweight products that fit together in different combinations to cater for different circumstances and abilities. All four items fit together in the smallest car boot and include RGK's all-rounder TIGA chair and the multi-award winning TIGA FX, which folds into a briefcase style shape to be stored in tight spaces.
The new FrontWheel easily travels across uneven ground by keeping the front castor wheels off the floor, and the new SmartDrive MX2 power assist device works with an intelligent wrist control powering users up steep hills and over friction filled surfaces. In addition, RGK's Jay Seating provides comfort and stability with wheelchair backs that enhance pelvic and trunk positioning whilst reducing fatigue and maximising function. All four products are available for viewing and testing at stand H1-19 or visit the RGK website.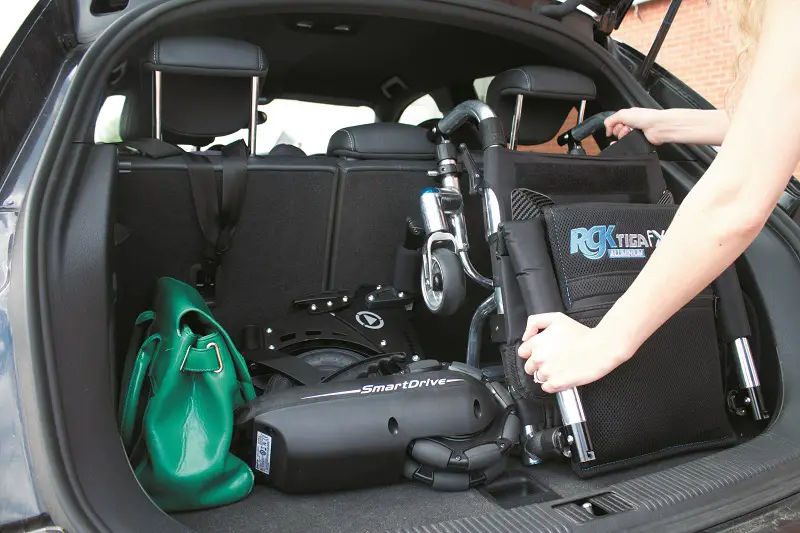 The Mobility Roadshow's range of innovative mobility products, from wheelchairs and mobility scooters to accessible vehicles and steering controls, ensures it remains a consumer-focussed event for anyone interested in mobility solutions.
Ann Frye, Chair of charity Mobility Choice who organise the event, concludes: "We are delighted to be holding this year's event at Silverstone for the first time with space to expand the range and choice of innovative, leading mobility products from around the world. The 2016 Mobility Roadshow will illustrate very clearly why it is invaluable for anyone interested in the latest options and solutions for independent mobility."
By The Mobility Roadshow, on from 26th to 28th May at the Silverstone Circuit, Northants.
Will you be going to The Mobility Roadshow? If you are, we'd love to hear about the new products you spot, so get in touch by messaging us on Facebook, tweeting us @DHorizons, emailing us at editor@disabilityhorizons.com or leaving your comments below.