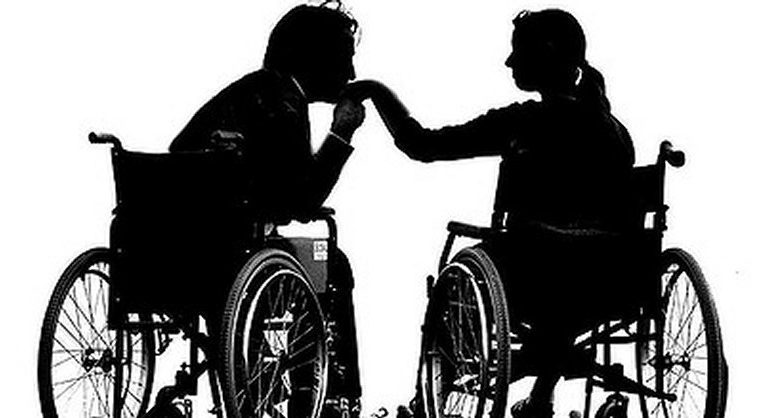 Relationships & Sex
Disability, sex and relationships: stopping anxiety getting in the way of love
In our series on disability, sex and relationships, expert and resident agony aunt Tuppy – who runs Outsiders, a private club for disabled people looking for a relationship – answers your questions. This week she talks about not letting anxiety get in the way of love…
Dear Aunty Tuppy
I am a middle aged woman living with multiple impairments. They all present different issues for me, but right now, it's social anxiety that is really holding me back. I rarely go out, in fact, the sum total of my social life is my elderly mother.
But that has its own problems. My mum never treated me well as a child, and still to this day treats me like trash, all because she did not want a disabled daughter.
I really need a solid man in my life, to support me, be someone I can talk to and to love me for who I am. But at the moment, that seems like an impossible dream.
Gem
———- ———- ———- ———- ———- ———- ———- ———- ———- ———- ———- ———- —-
Dear Gem,
I know that anxiety, which comes with all kinds of horrible physical sensations, can be caused by post-traumatic stress disorder, often a result of childhood abuse. Before trying to control your anxiety and find someone, I would suggest talking to a therapist who can help you identify the causes and learn to let go.
Many disabled people suffer from anxiety caused by anger, resentment, repression and frustration. This could be because of the past, or it could be because they aren't currently able to achieve what they want, such as finding someone.
Once you're a little more at ease with yourself and your past, it'll be time to find someone who is understanding and accepts your anxiety.
The website Calm Clinic's article 10 Tips for Finding Love and Dating with Social Anxiety is a very useful first step.
One of the biggest problems for people with anxiety is the art of making casual conversation. If eye contact isn't made (with a sighted person), or the person with social anxiety does not get their words out in time, the potential date could assume that they're not interested.
I would suggest trying to meet some new friends first, so you can become more comfortable with conversation and going out into social situations.
Look online to see if there are suitable meet-ups near you. Join specialist groups where people who enjoy the same things as you go. Interactive groups, like amateur dramatics, gardening or dancing are best as doing an activity will break the ice.
Outsiders runs an online Clubhouse where you can form friendships and get amazing peer support, including for social anxiety. Many members are really good at being patient with those who are struggling, often because they have been through it themselves. Members support each other when one is having a particularly bad time, so I think it would really help you.
Outsiders has a lively Midlands lunch, run by a really helpful guy called Sam. The lunches move around from town to town, to suit members. Currently, we have a new member who doesn't enjoy going to places she is unfamiliar with, so they are meeting up in one of her haunts. You can choose what suits you when you get your turn.
You can then use Outsiders to find a partner. We advise members to write a profile that talks first and foremost about the person of their dreams. In other words, less about them (which is what most people write in their profiles) and instead more about what kind of partner they seek.
We don't insist on a photograph accompanying the profile, but advise you to put up some, such as a picture of their best feature (nothing rude!) or an image that represents their inner selves. We are quite different to other dating sites. Our members are mostly intelligent, interesting people and very accepting.
Online dating can be very cruel, so we advise anyone using internet dating to have a buddy who will support them if someone they like the sound of fails to return a message. We also advise that you don't start falling in love with someone you have never met or even spoken to.
Before you meet, speak on the phone. Listen to their voice and, if you are still both keen, make plans to meet up. It's silly to wait until you have 'fallen in love' online to meet, only to discover you have no chemistry between you.
Some people with social anxiety have found that it can be advantageous to have a partner with an impairment. For example, you may find eye contact difficult, and so feel happier with a visually impaired partner.
I shall never forget being with a group of disabled Outsiders members on a walk across some rough land and suggesting to a young man with such extreme social phobia that he guided a blind girl by offering her his arm. Before that day he had never touched a female, but this small act turned his life was changed around.
Lastly, a reminder that everyone wants a genuine person as a partner, so hiding behind your impairments is a stupid idea – you should both be honest with each other.
So now you can stop dreaming and start having fun!
By Tuppy Owens
If you've got a question for Tuppy and would like her help, please email her: AuntyTuppy@Outsiders.org.uk
Outsiders is a FREE social, peer support and dating club, run by and for socially and physically disabled people. Its members have a wide range of impairments, including visual and hearing impairment.
Check out…
Get in touch by messaging us on Facebook, tweeting us @DHorizons, emailing us at editor@disabilityhorizons.com or leaving your comments below.