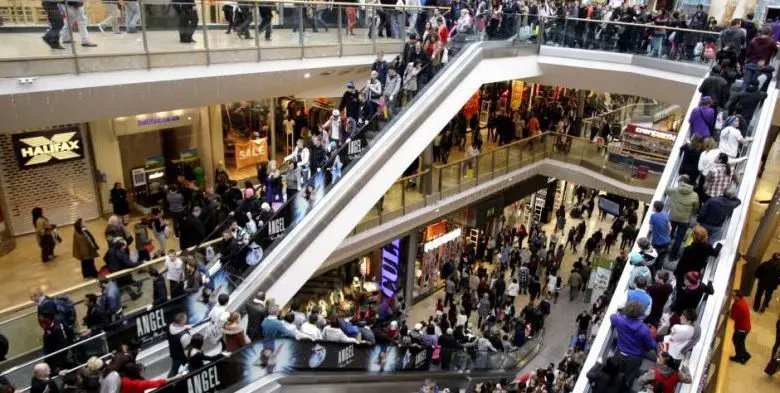 We all know that shopping on the high street can be tricky if you're disabled, especially around Christmas time when the Boxing Day and January sales are in full force. Disability Horizons reader and wheelchair user Simon knows this all too well. Read on to hear about his chaotic experience of shopping on Boxing Day last year. 
My name is Simon Sansome. I'm 34 years old and I have only been disabled for a few years after a spinal injury. Before becoming a wheelchair user, I worked as a social worker. I am now a mature student as I have returned to university to study journalism.
I have to say I love Christmas. It is one of the best times of the year and my wife like to spend, spend, spend, which means it's also the most expensive time of the year. The amount of rubbish she buys is incredible. She never notices that I hide a lot of it away for the following year, so we can give it away as Christmas presents.
Anyway, last year I made the horrible mistake of going to the Boxing Day sales. I had never been to a Boxing Day sale before while fully mobile, let alone in a wheelchair. I had seen all the commotion on TV, but thought; "it can't be that bad?" Oh no, it was a lot worse.
Fenwicks was the shop we were planning on heading to. It had an amazing offer that we couldn't resist – 90% off beds. Come on, 90%! Who could resist an offer like that? We needed a new bed for the spare room and didn't want to spend thousands, so we thought this was the perfect opportunity.
So, after watching Mrs Browns Boys on Christmas Day, we went to bed at a reasonable time and were out the door on Boxing Day by 5am.
We parked up, right outside the shop on the double yellow lines – great. I have to say, this is where I love my Blue Badge. There is a part of me that wonders whether my wife only wanted me to come shopping with her for the Blue Badge. So she could take advantage of her disabled husband who can park outside the shop front door on the biggest sale day of the year.
Anyway, it was still very dark. You could just about see some daylight popping over the top of the surrounding buildings. It also extremely very cold, yet some people had been sleeping out all night, just to be first to get into the shop. The queue was unbelievable – it was stretching around the corner. We weren't even able to see the front door when we joined the back of the queue.
Then, at 7am, the doors opened. The great weight of people rushed into the shop and swiped the shelves with their arms, as quickly as they could. People outside were getting anxious. They didn't want to miss out on the discounted perfume that they would probably never use, or just sell on eBay.
But for me, it was a little different. Fenwicks had clearly not thought about disabled people at all. At the entrance to the store there was a step, which meant I was then holding up the angry shoppers behind me.
Now people were getting really impatient, including my wife. There was just 30 beds on offer and we needed to get to the third floor. But I couldn't even get over the first step. So, what did she do, she left me and did a runner. For 90% off I can't blame her.
Like Speedy Gonzales, she was off up the stairs, climbing them like a bear does a tree. But her surge into the store had prompted others to do so. So now I had a crowd of people pushing passed me, not looking where they were going and so falling on me. I had four people do so in less than a minute. The staff had rushed off to get a ramp from storage, but until they were back, I had turned into a safety hazard.
I finally got over the first hurdle and inside the store, but then discovered that my wheelchair couldn't get around the isles. Fenwicks had put in extra shelves so it could sell more stock. But it meant the isles were too small and I couldn't get to any of it.
So for the next 20 minutes I stayed stranded between the pots and pans and the tea towel area, unable to move as people ran chaotically around me. Finally I managed to get to the lift. I thought: "surely it's going to be quitter upstairs?"
But what I hadn't taken into consideration was how much stuff people had bagged already and were therefore trying to take in the lifts. Each person was carrying a minimum of 10 bags. So instead of fitting the normal capacity of 16 people, the bags meant just three could get in the lift at one time. I had to wait 10 minutes for a lift to become available.
In the time it had taken me to wait for the doors to open, get into the store, work my way through pots and pans and wait for the lift, I could have driven to Eastbourne and be sitting in a pub on the pier having a nice pint. Instead I was in the middle of the city centre trying desperately to get to the 3rd floor.
I eventually got there, only to see my wife paying for the bed she so desperately wanted. Once she'd paid she came over to me and simply said: "Ok, I'm done now, shall we go home?"
The whole situation was a farce, and something I would never do again. But this wasn't just a ridiculous issue I had to face once a year on Boxing Day. People with disabilities have difficulty getting out and about all year round. We also have extra cost to incur in order to stay independent.
Because of these costs, most people with disabilities would benefit greatly from a sale of household goods, such as beds, saucepan, sofa and other items. But given my experience at Fenwicks, how can any person with a mobility issue have a chance of even getting into the shop, let alone actually grabbing a bargain.
But something needs to change. Shops and service need to take action, to take us into consideration so that it is not just the fully able that can take advantage of the Boxing Day sales.
By Simon Sansome
Check out…
Get in touch by messaging us on Facebook, tweeting us @DHorizons, emailing us at editor@disabilityhorizons.com or leaving your comments below.