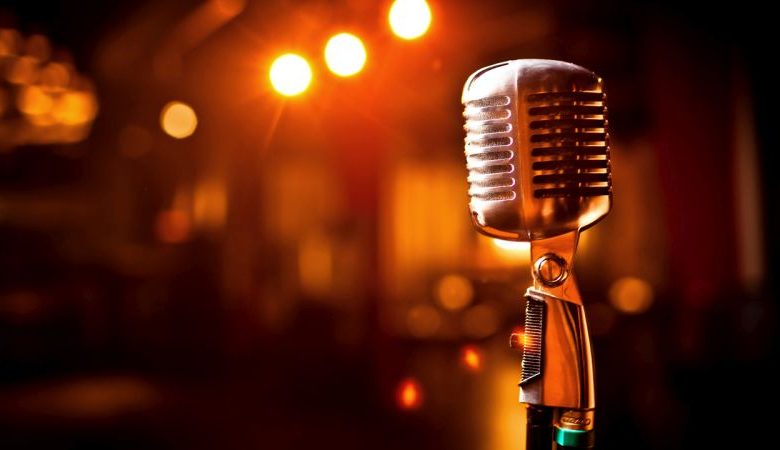 We've asked musician James Ian and Attitude is Everything, for their list of the top 10 most accessible venues across England. So whether you live near London or Manchester, get ready for a party this Christmas at one of these welcoming venues.
As you're all aware, the holiday season is upon us. It's the time of year when we all come together to celebrate the things we are grateful for, and music is literally in the air! With it being cold outside, and the daylight hours growing shorter, I prefer celebrating the season inside. If I'm not cozying up to a nice warm fire with a glass of wine, you can bet you'll find me at a local music venue supporting my favorite musicians.
But having a disability can make it more difficult to see live music. However, a little research and planning ahead often does the trick. I absolutely hate missing out on seeing one of my favorite acts live, and I'm sure you do too.
With that said, in the spirit of the holiday season, I'd like to bestow upon you an early holiday gift dear readers. Out of the goodness of their hearts, Adam Webb and Gideon Feldman from Attitude is Everything have highlighted some of the venues across England that are doing notable things in the area of accessibility.
For those of you who are not familiar with Attitude is Everything, it is a charitable organisation that works with the music industry, artists, and audiences to improve accessibility to live music for people who are deaf and/or have disabilities. It does this by getting venues to sign up to a Charter of Best Practice, and awarding those that meet the criteria brilliantly.
So, read on for all you need to plan you music outings this Christmas, and into the new year.
Band on the Wall, Manchester
Band on the Wall was the first small-scale music venue to be awarded Attitude is Everything's Gold Charter of Best Practice. To be awarded a Gold Charter, a venue has to be achieving the highest standards of accessibility possible, so this was a huge accomplishment for the venue.
Band on the Wall is fully accessible for wheelchairs and a significant amount of its staff have attended a session in Disability Equality Training, as is the case with all the venues on the list. It also posts audio files and videos of its event, opening up its performances to those who can't attend, or those who just want to relive the magic. So do yourself a favour and catch a show here!
Cecil Sharp House, London
Despite being a listed building, Cecil Sharo House, which is also a library, has worked with English Heritage to get a lift installed so that all floors could be accessed. Those of us with mobility impairments know just how critical lifts are in creating an enjoyable experience. It has also developed clear signage that improves accessibility for its attendees.
In addition to hosting live music, it also holds many dances. I've dubbed myself as an excellent dancer from the waist up, and I can see myself shaking what my momma gave me here! Make sure you visit the Cecil Sharo House website and attend one of its events. If you need a dance partner, you know where to find me…
Brighton Centre, Brighton
The Brighton Centre has achieved the Gold Charter of Best Practice, thanks to its dedication to accessibility. It has built Changing Places toilets, and has also doubled the size of its viewing platform. Additionally, staff have taken accessibility awareness training to make sure that patrons have a pleasant and safe experience at the centre.
The Brighton Centre also provides a very comprehensive guide to accessibility, which is certainly helpful. I see that my main man Craig David is playing here in March, so I may just have to skip across the pond for that one! If, for some reason, I'm unable to attend, please do me a favor and Fill Me In after the show!
New Cross Inn, London
The New Cross Inn is a small venue with a capacity of just 120 people. It also only has a small team running its operations. But despite this, it has made massive improvements to accessibility.
It has redone its accessible toilet so that it remains locked at all times, which ensures it is free, should a disabled customer need it. It has even had a section of its bar lowered for wheelchair users.
This venue shows that, no matter your size or resources, you can make significant improvements to accessibility just by putting in the work. Judging from the pictures on its website, it looks like a lovely place to catch a show in an intimate setting 😉
The Lowry, Manchester
The Lowry is a multi-space venue that houses a wide array of performances as well as visual art. It has achieved Attitude is Everything's Silver Charter of Best Practice, thanks to its ongoing commitment to improve accessibility.
One improvement worth noting is its newly developed access register, which is really useful and easy to find. If, for some reason, you can't find what you're looking for, do give them a call –  they're eager to help everyone have a great experience.
Echo Arena, Liverpool
This arena also was awarded Attitude is Everything's Silver Charter, due in part to the fact that accessibility was kept in mind when the building was actually designed. Accessible toilets, wide level entrances, and plenty of seating can be found at the venue, helping to accommodate all different kinds of disabilities.
One new addition to the arena is a Changes Places Toilet, which features a height adjustable changing bench for adults, as well as a hoist system. To see what else Echo Arena offers, visit the accessibility section on its website.
Nottingham Theatre Royal and Concert Hall, Nottingham
Being a musician myself, I'm a huge fan of live music, But what most people don't know about me is that I'm also a really big fan of live theatre. I saw Patrick Stewart play the lead in Othello when I was younger, and from that day forward, I was a changed man. To say the least, he did "Engage!" me with his performance. If you got that reference, you now know that I'm a gigantic nerd.
The reason I am telling you this is because the Nottingham Theatre Royal and Concert Hall is home to both theatrical and musical performances, as well as a wide variety of other types of events. Needless to say, I'm already in love with this place.
In an effort to address accessibility needs, the theatre has built a new lift in the foyer, and has implemented a new access booking system, which helps disabled patrons find the best seats available based upon their needs.
KOKO, London
Since 2008, KOKO has been working with Attitude is Everything to make significant improvements to the accessibility of the venue by putting into place new policies and procedures. For those with disabilities, the venue does not have an accessible bar, but they will provide you with a bartender if requested. That means, the pints come to you, and you can enjoy the show in true rock star fashion!
Also, should there be an emergency, all security personnel are trained to assist disabled customers. You can party hard and keep it safe at the same time – brilliant!
For performers, the venue even has an accessible stage via a ramp. One of my biggest pet peeves as a disabled performer is that most stages are not accessible for those with mobility impairments. I'm really happy to see this is not the case at KOKO. I'll definitely have to play here sometime soon.
The Roundhouse, London
The Roundhouse has come a long way since its days as a railway engine repair shed –  it's been awarded the Gold Charter of Best Practice. It has lifts that give patrons access to all floors, and its staff is trained at in-house audio description. Also, bartenders will come to you and take your order if you are a wheelchair user, thus bringing the party to you!
The Roundhouse has hosted many iconic acts throughout its history, and it is on my list of places to visit.
Well, dear friends, that about covers it for your guide to accessible venues. I hope you have found it helpful, and more importantly, I hope you take in some shows at these wonderful venues. Here's to visiting in 2017!
Until the next time we speak, make the most of it everyone, and enjoy your holiday season!
By James Ian
Find out more about disabled singer James Ian as he talks about his album Labor of Love. You can also like James Ian on Facebook and follow him on Twitter.
Want to get in touch with Disability Horizons? You can message us on Facebook, tweet us @DHorizons, email us at editor@disabilityhorizons.com or leave your comments below.