News
Work & Education
We talk to a disability rights activist who's not afraid to make his voice heard
Disability rights activist Simon Stevens, who has cerebral palsy, has just released his autobiography. It talks about his struggles with abuse, addiction and attempted suicide, contrasted with periods of self-discovery and a growing stability in his life. Fleur Perry interviewed Simon to find out more.
"I'm big. I'm balsy. I'm a rebel with cerebral palsy." This is how Simon describes himself on his website.
It's fair to say he's not afraid to ruffle a few feathers to make sure the voice of people with cerebral palsy is heard. In fact, he calls himself a 'controversial inclusion activist' and 'social change agent.' He's tackled issues related to social care, inclusion, transport and personal care.
As well as being an disability rights activist, he's also a consultant. He works with individuals and businesses in a range of ways and on a variety of topics: personal development, research, product development, online and face-to-face training, web design and marketing.
He's trying, bit by bit, to change the way society views people and impairments and, in turn, enable disabled people to live their lives as they choose.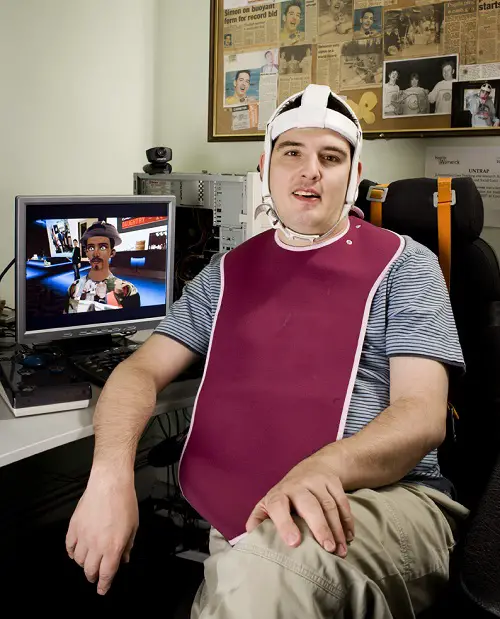 You're very open with the reader throughout the book. Why did you decide now was the time to publish your autobiography?
I think I have reached a good point in my life where I have had time to reflect. I believe I have a good level of influence in my field of work, which is not always acknowledged. I am considered controversial because I am maybe misunderstood, and this story may help.
I also wanted to put a mostly untold story of someone with a significant impairment at a time where cerebral palsy is not on anyone's agenda, and where the film I, Daniel Blake is hailed as the representation of impairment in 2017.
One of the chapters is entitled Denormalisation. Without giving too much away, what does this mean?
The chapter is about the process of reclaiming our lifestyle choices as people with impairments, as opposed to conforming to the norms of society when that conforming may make life harder. It is about being happy to be ourselves without being pushed into normal ideas of dignity.
For example, I have been uneasy about the recent publicity about inaccessible accessible toilets on trains. Many of the responses have suggested that people should use alternative continence solution for ease, security or comfort. Somehow this lacks dignity and is wrong. It is insensitive to the lifestyle choices of some people with impairments.
You describe the effect of the actions of a number of people, including social workers and unhelpful support services.
What do you think you think needs to happen for professionals working in health and social care to understand what support disabled people really want, need, and expect?
I believe in co-operation. People with impairments are not necessarily the experts on all issues, especially if they are new to their condition. Therefore, it is about working together with health professionals to provide what people want and need, based on outcomes.
People do not have the right to specific solutions, but rather the right to having specific outcomes met. Expectation needs to rise and I hope my book shows what can be achieved with the right support.
In addition to your paid consultancy work, you also write frequently, and sometimes controversially, about disability rights.
What are your hopes for the disabled peoples' movement as a whole over the next few years?
I am not sure there is a movement and I think the old movement is too out of date to the views of younger people with impairments. The 2010s movement was too biased in terms of being focused on welfare, socialism and chronic illnesses.
I believe people with significant impairments have lost their voice as most major charities and organisations have abandoned them. I believe that impairment movements and people with cerebral palsy need a new voice.
As I say in my story, I find it hard to lie, so it is hard answering this question knowing it will be controversial as it requires a large backstory to make sense.
The film I, Daniel Blake is about a 59-year-old worker trying to get Employment and Support Allowance after falling ill. What do you think of it?
I have not seen the film, but I have seen the trailer. I avoid seeing disability-related films at the cinema as I will not watch films related to my work 'for fun', and I know I would get focused on the technical inaccuracies.
If you take away the politics, I am sure that as an emotionally charged film it is a very good. However, it is important to remember that this is a work of fiction, unashamed socialism propaganda. We do not know if, in the real world, Daniel is fit for work or not. I would go with the theory that the film is based on a collection of a lot of real life bad experiences rolled into one journey, as any work of fiction has to be dramatic to be entertaining.
My concern is not that it is not a story that needs telling, but that it has been forced onto the general public as the definitive portrayal of anyone with an impairment under 'the Tory regime'. Our lives and stories are actually more complex.
It is worth noting that, according to reports, this is now compulsory viewing for all Labour staff, and those who are less enthusiastic about the film are being bullied. It ignores the real voices of people with impairments, which I find uncomfortable.
Looking back, what would you say to your younger self?
Carry on mate! I probably wouldn't have listened to any advice from myself though. I needed to make the mistakes I have made to be the person I am happy with now.
You can download Simon's book from his website for free.
We'd like to make our readers aware that the book is only suitable for those over 18 years of age, and comes with several trigger warnings, as some passages deal with complex and emotionally charged topics.
If you have been affected by or want to know more about any of the issues discussed in his book, please follow the links below:
Mind – provides advice and support to empower anyone experiencing a mental health problem. It campaigns to improve services, raise awareness and promote understanding.
Drinkaware – it engages and works directly with both the alcohol industry and public sector bodies to tackle alcohol-related harms. On its website you'll find information about who they are, what they do and how they can help you.
By Fleur Perry
Check out…
Get in touch by messaging us on Facebook, tweeting us @DHorizons, emailing us at editor@disabilityhorizons.com or leaving your comments below.