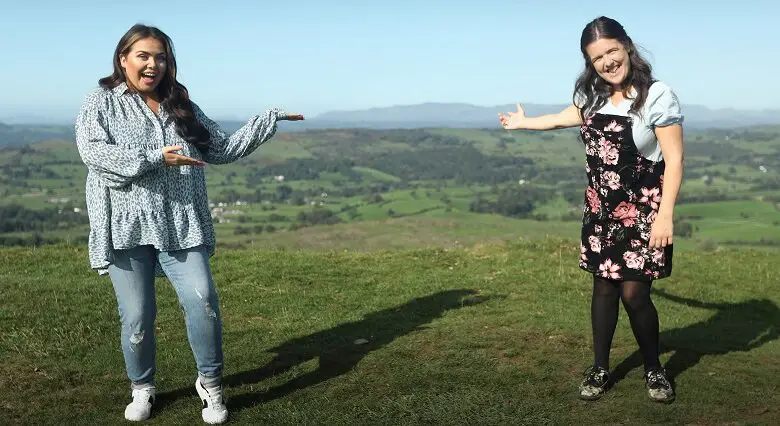 Disabled comedian Rosie Jones has not let a global pandemic stand in the way of her travel plans. She's been on a unique UK road trip as part of a new show on Channel 4 called Trip Hazard: My Great British Adventure.
In this new four-part subversive travelogue, Rosie – who has cerebral palsy – endeavours to prove that you don't need a big budget to have the time of your life – you just need to have the power of minority and an infectious sense of humour.
In the heightened reality of this series, Covid-19 and subsequent financial constraints put an end to Rosie's planned global, luxury travelogue.
But this doesn't damper Rosie's enthusiasm to get the show made, as she convinces Channel 4 telly bosses to instead let her explore the UK and all its amazing eccentricities, oddities and beauty spots – all on a shoestring.
---
Don't miss our full interview with Rosie Jones on Disability Horizons
---
What to expect from Trip Hazard: My Great British Adventure?
With a different location to explore each episode, Rosie finds adventures in the unlikeliest of places, each week joined by a celebrity guest, ready to get stuck into the nature, nightlife, and quirky culture of Great Britain.
On her adventures, Rosie explores the Lake District, Whitby, Norwich and Anglesea. She explains how her home town of Bridlington in Yorkshire, inspired her to visit these places:
"I grew up in a little seaside town that I thought was absolutely rubbish and I couldn't wait to leave.

But coming back for lockdown, I appreciated it a lot more and I would take walks by the beach and go 'it's alright, this'.
So that was the starting point and then I really just wanted to find other places in Britain that people from there, like me, would go 'Norwich is rubbish, Anglesey is boring', so it was going to places you wouldn't really expect to be fun and beautiful and just making the most of it."
Guests joining Rosie on her adventures include presenter and TV personality Scarlett Moffatt, comedian Joe Wilkinson, comedian and broadcaster Jamali Maddix and comedian, novelist and actress Jenny Éclair.
Rosie said these celebrities were chosen was because, "We wanted them to be the yin to my yang. We wanted to take people who would be like 'why are you taking me to Norwich? I don't want to be there. Rosie turn it down, you're too loud, stop talking to me.'
All four of them, and they might have been lying to me, but by the end of the trips, all of them were like, 'I didn't want to, but I've had a lovely time!'
It was a challenge for me to win them around. I hope people agree, but all four of them, brought something different to it and they're all brilliant in their own ways."
The show will be narrated by Oscar-winning actress Olivia Coleman, after Rosie requested her to the producer.
Rosie said: "She's just a hero and I love her energy and her humour so much, so I just said, 'Ask her, even if it's a no email, I will literally frame that no email!'
But she came back and she said 'I love Rosie, I'm a big fan, I'll do it.' Honestly, I've just taken a permanent residency on cloud nine because of that.
And when you watch it, hearing her funny, beautiful and slightly judging voice of me, is just brilliant. For her to be a massive part of the show is just mind-blowing."
From glorious vistas of the great outdoors to buddy road trips, this unique series will seek to parody all the tropes of a traditional travelogue.
But with the additional scripted layer of a Commissioning Editor character whose endless demands drive the actuality of the travel programme, this series aims to celebrate diversity whilst lampooning the TV industry.
Rosie Jones' love of travel
Rosie explained how it felt to be out and about again following months in lockdown:
"During lockdown one, I spent it with my mum and dad in Yorkshire and it was nice, I was glad I was up here rather than in London.
To then go from five months of isolation to zip-wiring over a quarry in Wales, it was incredible. I always love adventure and getting out there and exploring, but especially after five months doing nothing I was taking every adventure like it was the first thing I've ever done."
Rosie goes on to encourage others to explore places around the UK and gives a possible hint to a second series:
"It sounds like I'm making it up but, honestly, every episode, go there. Go to Anglesey, go to Whitby, go to the Lake District and end your massive tour in Norwich because all four places were beautiful and had their own merits.
It was a shame we didn't have enough episodes and if there's a series two, we never even explored Scotland or Ireland, or the south, I'm a massive fan of Somerset and Bath is beautiful.
So wherever is near to you and safe to you, just go there with a picnic and a load of games and your walking boots and just explore the beautiful country we're so lucky to live in.
Even now, I'm not sure we'll be able to travel abroad but, certainly, I think there are still enough places in the UK to explore. By series eight, I'm sure I can be persuaded to explore South America but, for now, I'm staying safe and there's more than enough of the UK to explore."
The first episode of Trip Hazard: My Great British Adventure, in which Rosie Jones will be exploring the Lake District with Scarlett Moffatt, will be aired on Channel 4 on Friday 9th April at 8:30pm.  
You can also check out our interview with Rosie Jones on Disability Horizons.
By Emma Purcell 
More on Disability Horizons…