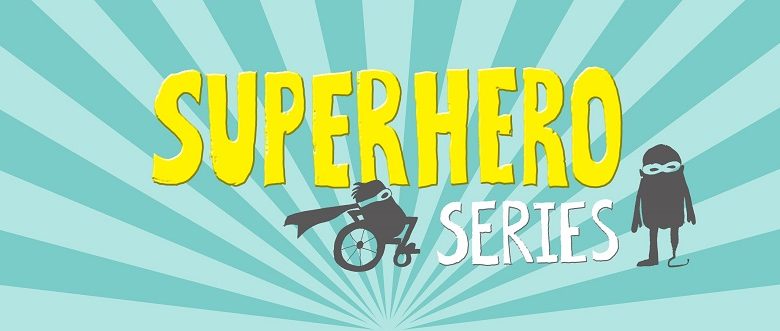 Paralympian Sophia Warner tells us about her Superhero Series, a mass-participation event open to disabled people from all levels of ability. Read on to find out how you can get involved in the Superhero Series this summer on 19th August 2017.
I was born with Cerebral Palsy and I love sports, on both a personal and elite level. As an elite athlete, I am very fortunate to have access to a whole world of sporting opportunities.
But, not everyone is as lucky as me. Over the years I've found that, despite there now being 1.5 million disabled people doing sport regularly, there still aren't many opportunities for them to take part in mass-participation events. This is why I created the Superhero Series.
The idea is simple – it's a big, bold and gutsy triathlon, which gives everyday people with disabilities the chance to compete alongside like-minded individuals.
I have been passionate about sports since my early twenties, and was the first disabled person to enter the London Triathlon back in 1998. As an everyday person with a disability, looking to take part in big sporting events for fun, I found it a real struggle.
There are so many rules and restrictions that prevent large sporting event organisers from catering for people with disabilities. So, I saw an opportunity to create a sporting event that's open to all, no matter what your age, disability or your sporting level.
I want to give everyday superheroes the opportunity to take part in an event and find an enjoyment in sports too.
Superhero Series: how to take part
There are three ways in which you take part in the Superhero Series. You can team up with friends and family, grab a sidekick or fly solo.
The Side-kick Tri
In the past, whilst competing in elite triathlons, I have had to ask other participants for help with my wetsuit, or to get my bike down from the rack. That's where the inspiration for the Side-kick Tri came from – and it's a world first!
Participants can have as much or as little help as they need from a friend or loved one, whether it's using canoes to tow your superheroes along the water, or pushing and pulling them around the bike and runs stages. There are no equipment restrictions holding you back – all you need is the guts!
Anyone can take part in a Side-kick Tri, as long as at least one of the team considers themselves to have a disability. If you need flippers or floats in the water, or want to use your powered wheelchair we make it possible, that's totally fine. In fact, as far as I'm concerned, anything goes.
Paralympic triathlons
Disability sport is currently open to disabled people either because they need rehabilitation, or because they want to compete as a Paralympian. The Superhero Series is for that gap in-between. I want sport to be available for everyone, in any circumstance.
So, for our first ever Superhero Series, I chose a triathlon. As three are three elements – swimming, cycling and running – it should appeal to a lot of people. As the Superhero Series gets bigger and better, we want to expand our options and make sure there's something for everybody.
We've already had a huge amount of support from both everyday superheroes and celebrities alike. The involvement of some famous faces means you can sign up to be part of a Celebrity Superhero Team! We have 20 celebrity team cpptains, including Paralympians Sophie Christiansen, Megan Giglia, Kadeena Cox and Anne Dickins and TV personalities Adam Hills, Sophie Morgan and JJ Chalmers. All you need to do is head to our website and tell us in your own words why you think you should be on a celebrity team.
My main aim for the Superhero Series is to create a place in which people with all kinds of disabilities can come together and compete alongside like-minded individuals who are experiencing similar daily challenges.
Whether your disability is intellectual, physical, through injury or invisible, there is an opportunity for you to take part in this unique event.
And if the competitive aspect isn't for you. but you still want to be involved, you can sign up to be a volunteer. We're looking for 300 enthusiastic people to help us make this experience sensational for everyone. All we ask is that you bring bags of energy and are 16 years of age or over.
The Superhero Series debut event will take place on 19th August 2017 at Dorney Lake, Windsor. I hope you'll sign up and take the plunge!
Book now at www.superheroseries.com
Follow us on Twitter: @SuperheroTri
By Sophia Warner
Get in touch by messaging us on Facebook, tweeting us @DHorizons, emailing us at editor@disabilityhorizons.com or leaving your comments below.
https://disabilityhorizonscom.onyx-sites.io/2017/03/podcast-interview-paralympian-sarah-storey/
https://disabilityhorizonscom.onyx-sites.io/2017/02/overcoming-fears-disabled-daredevils-story/