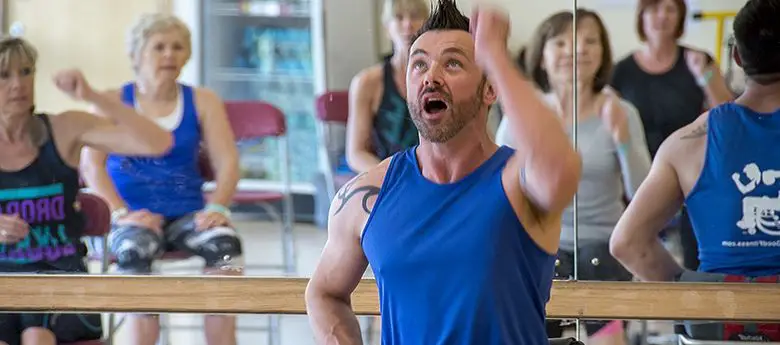 It's a new year and a new opportunity to get healthy – no matter what your level of ability. So we've teamed up with Kris from Wheely Good Fitness to bring you 10 stretching exercises to get you well in 2020 – all in an instructional video to watch from the comfort of your own home.
But that's not all, last year we ran a six-week course of exercise sessions on our DHorizons Tribe Facebook group, exclusively for you.
Read on to find out why fitness is so important, how everyone can get involved and how you can watch our sessions.
For many people, the words exercise and fitness are a bit of a taboo. They conjure up stereotypical images of sweaty gyms, huge muscles and a sea of able-bodied people showing off. Though this side of exercise and fitness does exist, it is just one of the many faces of a multi-faceted field. There are, indeed, lots of options that enable everyone, no matter what their disability or level of ability, to get fit.
The range of fitness options
There are a lot of different types of group exercise classes, where everyone works together in a studio, all led by an instructor. Intense cardio workouts, such as aerobics and circuit training, are hard and demanding workouts designed to push your body and improve your fitness levels.
But, at the other end of the scale, low intensity, slower programmes, focus your individual posture, range of movement and flexibility. These include pilates, yoga and gentle mobility.
In between there's a whole mixture of class styles and levels, offering you a choice in what you do, ensuring it's suitable for your own abilities.
You're doing exercise already – you just didn't know it
But, what we often forget is that we all do exercise every single day. Because our bodies are used to it and, as a result, it perhaps doesn't challenge us so much, we don't realise we are doing it. So, without thinking, we're exercising when we:
wash;

lift a cup;

move from room to room;

get washing in and out of the machine;

and even clean our teeth.
Depending on ability, these are all things we couldn't do when we were little kids. But as we have grown and become stronger, our bodies have become used to doing these things.
Starting to exercise is the same. To begin with, it is difficult and tiring, and perhaps too much hassle. But the more we perseverance, the more our abilities improve and it gets easier. What was once hard is no longer as much of a struggle.
It is then that you can think about increasing the effort to challenge ourselves further. For once our bodies are used to it, our bodies are no longer physically challenged and so we maintain instead of improving our fitness levels.
The impact of stretching on your health
One of the major things I see with people of all abilities is the impact of failing to stretch. Many people who attend gyms miss out stretching, not seeing it as important. As a result, their range of movement and flexibility is affected.
If like me, you are a wheelchair user or use other aids, stretching is extremely important as it helps to undo all the side effects that come from how you've adapted to use your aids.
Holding crutches, sticks and walkers as well as wheelchair wheels, for example, mean our hands spend a lot of time in a curled position instead of extended. In addition, our arms often get tight and, over time, our posture deteriorates as we naturally start to lean forward.
Left unchecked, these things can lead to long-term problems. As the muscles get used to the new posture, correcting it becomes even harder. Our muscle tightness means we relax back into the poorer position, making it worse. It's a vicious cycle.
This is where stretching can be extremely beneficial, to try to reduce tightness, freeing these areas up to improve your range of movement and flexibility. Enabling you to improve and maintain better posture, for ease of movement and for better long-term wellbeing.
We've put together what we feel are the top 10 stretch exercises for you to try, to help you improve your posture and flexibility.
How to get involved in our exercise classes
DHorizonsTribe members can WATCH our six exercise sessions by visiting the video section of our DHorizons Tribe closed Facebook group.
If you're not a member, sign up NOW to our closed Facebook group! It's completely free.
More on Disability Horizons…