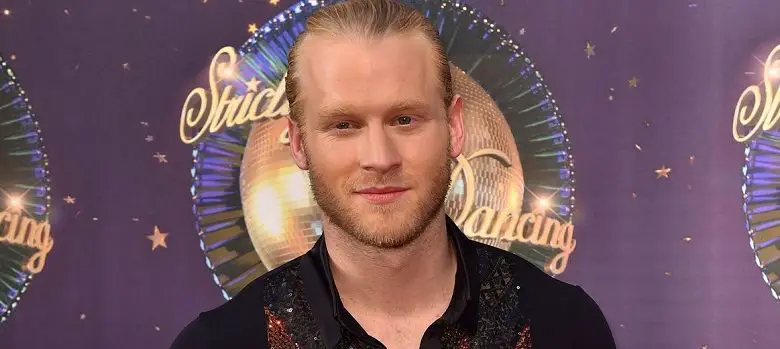 Have you been watching Strictly Come Dancing? Are you one of the many superfans? Disability Horizons writer Carrie Aimes certainly is. But what's made this year all the more exciting than any other is the appearance of Paralympian Jonnie Peacock and his blade. Is this the breakthrough in the portrayal of disability in the media we've been waiting for?
As a die-hard Strictly Come Dancing fan, and being disabled myself, I was pretty excited when I heard that Paralympian Jonnie Peacock MBE would be competing in the 15th series.
In a landmark move forward for the representation of disability in the media, the 24-year-old sprinter is the first physically disabled contestant to appear on the main show.
Jonnie has said he's taken on the 'glitterball' challenge in the hope that his appearance will break down peoples' negative views and "change some of the stigmas" around disability. He added: "Some people have preconceived notions of what people can and cannot do based on looking at them, but I think sometimes, it's just a case of not judging a book by its cover."
Jonnie Peacock
Jonnie's right leg was amputated below the knee after contracting meningitis, aged five. Clearly, though, this has not held him back. He competed at the London 2012 and Rio 2016 Paralympics, winning gold medals in both games, and breaking a record for the fastest 100m T44 time in the process.
Strictly Come Dancing
Partnered with professional dancer, and last years runner-up Oti Mabuse, he made a smooth debut with a charming and technically adept waltz, where his prosthetic wasn't on show.
In week two, however, Jonnie opted to dance with a brand new blade – a decision that paid off! He danced an energetic jive to Chuck Berry's Johnny B. Goode, which caught the attention of the judges and public alike. He earnt 29 points, putting him fourth on last Saturday night's leaderboard.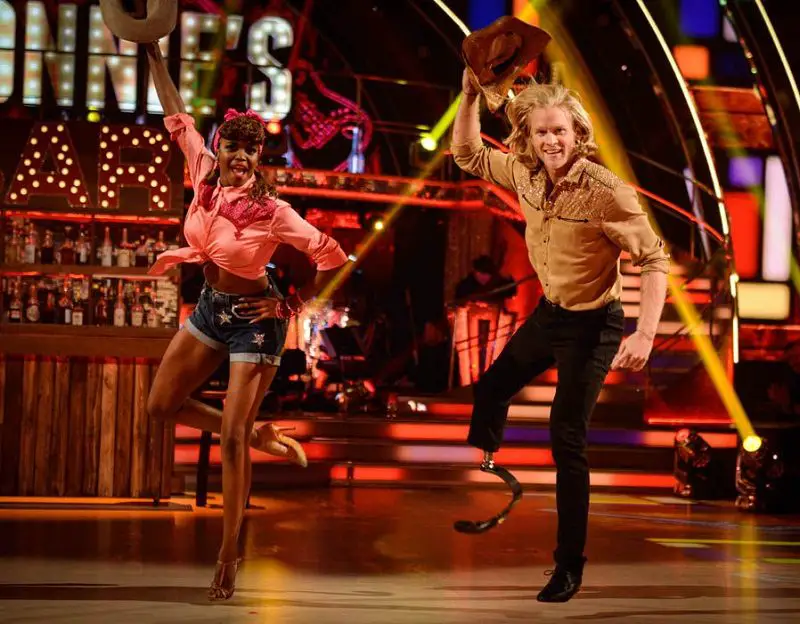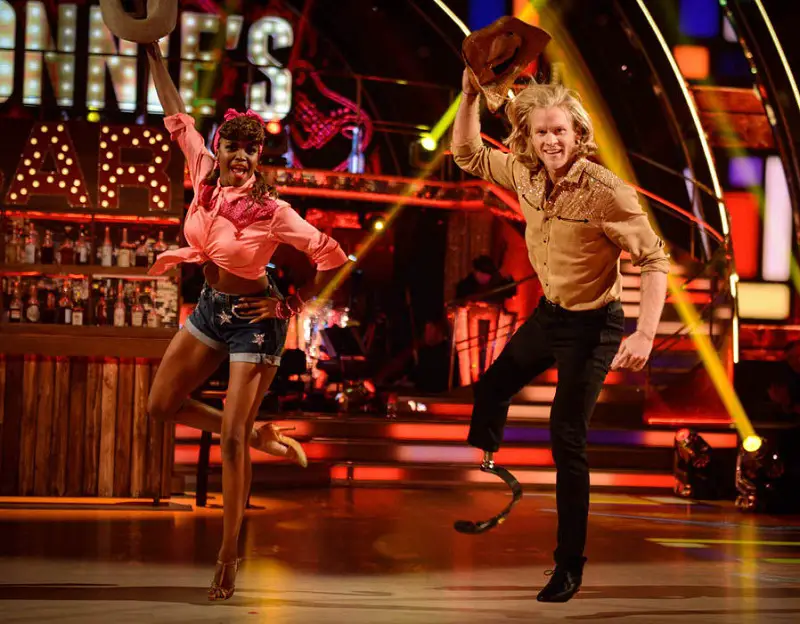 His combined score with the first week's dance placed him sixth overall. It's only after celebrities have danced twice: one ballroom and one Latin routine, that they face the public vote, which they did last Saturday. He has quipped that if voted through to week three, he will "glitter up" his prosthetic leg.
Jonnie's blade
Since the jive is such a fast-paced dance that requires a lot of bounce, he felt he needed to wear a blade instead of his 'standard' leg, where the foot doesn't point. This decision clearly paid off as he was highly praised by all four judges for his "outstanding kicks and flicks."
Although it may have looked great, Jonnie later commented that it was "tough" dancing with a blade as it is much longer than his usual prosthetic limb. But the only criticism he received from the judges was for his upper body, particularly the lack of focus and refinement in his arms. Both Jonnie and his partner Oti agreed, this is something he has found particularly challenging.
The improvement from the previous week was evident, with greater enthusiasm and commitment to the complex choreography, characterisation and story-telling. If you missed his dance, or just want to relive it, take a look at the video below:
Jonnie's journey on Strictly Come Dancing
After his waltz in week one, Jonnie revealed his disappointment with the dance, saying he felt it could have gone better, in part because it wasn't his "kind of dance". In contrast, the action-packed jive suits his fun-loving personality much more. He certainly gave it his all, shedding the nerves and demonstrating increased confidence and showmanship.
His memorable jive rivals those of former Strictly winners Ore Oduba, Jay McGuiness and Jill Halfpenny. What makes it all the more impressive is the fact that the jive is notoriously difficult to master, and this was only his second performance. Furthermore, unlike several fellow competitors, Jonnie has no dance experience whatsoever.
The couple's latest dance, a Paso Doble to the Indiana Jones theme tune, achieved a respectable 26 points, placing them eighth on the leaderboard for movie week. Jonnie's openly said he's not keen on the Paso, which demands a stern, serious expression.
For this dance, like with the waltz in week one, he wore his usual prosthesis. The sportsman said of his choice of leg: "When [the dance] is controlled, slow and not so much jumping around, it will probably be my standard leg." So, it seems the blade will make a reappearance for at least some future Latin routines.
Disability on Strictly Come Dancing
Having captivated the nation with such an endearing and inspiring start, could Jonnie be headed for Strictly glory? He has the skill, stamina, drive and discipline, which means he has the potential to go far in the competition. So, why not! It would be amazing to see the winner of one of the biggest shows in the UK be someone with a disability.
This, however, is not the first time we've seen an amputee dance with a blade on Strictly. Lance Corporal Cassidy Little, a Royal Marine medic, performed a winning Paso Doble with pro-dancer Natalie Lowe on a one-off edition of The People's Strictly for Comic Relief in March 2015.
Cassidy, a former comedian and avid tap-dancer, lost his right leg below the knee in 2011, when hit by an improvised explosive device (IED) while on tour in Afghanistan.
Following the loss of his lower leg, Cassidy, who in fact studied ballet at University in Canada many years prior, thought his dancing days were over. But a perfect score of 40 for the dramatic and expertly executed Paso Doble proved that his disability need not impede on his natural ability for dance.
Producers invited the war veteran to return for a Christmas special that same year, since the impression he made on the viewing public was so evident. Partnered once again with Natalie Lowe, this time the couple danced an equally impressive, festive-themed jive, competing against able-bodied celebrities – take a look at it in the video below.
Earlier this year, Gold medal winning Paralympic sprinter Heinrich Popow dropped out of the German version of the show, Lets Dance, because of swelling to his stump – a concern for prosthesis wearers due to fit and friction. Heinrich, who incurred an injury in week two, pushed through to the semi-final. But, in the end, he was unfortunately forced to concede defeat to prevent further damage.
British amputee and former model Heather Mills wowed audiences with her daring moves on the American version, Dancing with the Stars, in 2007. She approached the experience with determination and humour, joking candidly that her prosthetic limb could well fall off mid-dance! The undefeated disability advocate later appeared on the popular ITV show, Dancing on Ice.  
Back here in the UK, a Sport Relief edition of Strictly in 2014 featured four Paralympians: wheelchair racer Hannah Cockroft, blind footballer David Clarke, former World Champion javelin thrower Nathan Stephens and sitting volleyball player Maxine Wright. For the show, 10-time Paralympic Gold medalist Lee Pearson took the seat of regular judge Craig Revel Horwood to help select a winner.
Strictly Come Dancing, established in 2004, is now a mainstream television programme in British popular culture. Reaching viewing figures of over 11 million, it is a perfect platform for contestants to raise their profile.
The inclusion of Jonnie Peacock in this year's lineup has already made a huge impact on the disabled community. It represents forward-thinking, equality and disability in the mainstream. Furthermore, we are encouraged and yes, inspired to focus on ability as opposed to disability and limitation.
Widespread visibility of disabled individuals, such as Jonnie, in the media, will naturally be met with curiosity and questions. But that's okay, that is progress. Questions result in answers, which in turn leads to familiarity, recognition and 'normalisation'. So I say, Go Jonnie Go!
By Carrie Aimes
Are you excited to see Jonnie Peacock on Strictly Come Dancing? Is this a breakthrough when it comes to the portrayal of disability in the media? Let us know by messaging us on Facebook, tweeting us @DHorizons, emailing us at editor@disabilityhorizons.com or leaving your comments below.
You can also check out Carrie's blog at www.lifeontheslowlane.co.uk and follow her on Twitter @claimesuk or on Facebook. 
For the Billion: help make a difference to disabled people's lives – including your own