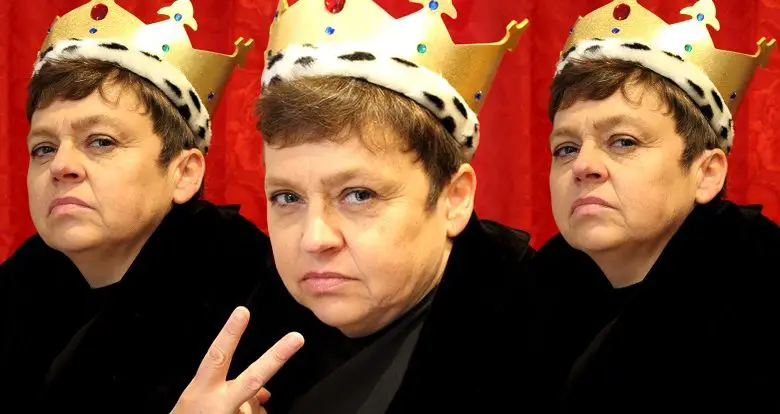 Next month sees the reimagining of Richard III – a king with scoliosis who was vilified by Shakespeare. But what was his true story? Was he really a villain and evil incarnate? What if he was she? What if the 'hideous…. deformed, hobbling, hunchbacked cripple' were to be portrayed by someone funny, female, feminist, and with the same form of scoliosis? Our regular writer, Emma Purcell, spoke to award-winning playwright Kaite O' Reilly and disabled actress Sara Beer about the play.
Playwright Kaite O'Reilly
How did you come up with the idea of this representation of Richard III and why has the play been written as a one-woman show?
When I was at the International Research Centre in Berlin, I explored how disabled characters are represented in classical plays. Shakespeare's Richard III differed hugely from the historical king, who was popular and viewed as a fair, reforming monarch. In Shakespeare's play, however, Richard III becomes the supreme 'baddie' – the embodiment of evil – reflected in his 'twisted body, twisted mind' characterisation.
Shakespeare's 'villain' is now seen as a construct, a piece of Tudor propaganda created to please powerful patrons and discredit the dead king. He was made 'monstrous' through his physical 'deformities' (as Shakespeare put it) and cruel behaviour.
But none of this stands up historically, especially now the body of the real king. The real Richard had scoliosis, but not the drooping hand, the withered arm or the dragging leg that Shakespeare had given him.
I wanted to unpick this negative representation, alongside the way non-disabled actors often view 'cripping up' to play Richard III as a rite of passage. In my one-person play, I focus solely on Richard – it is not a production of Shakespeare's play.
This new play is about the fear of difference and how atypical embodiment is portrayed. It is also a satire about acting and the re-writing of history. It's done with lots of humour by a fantastic disabled actress who is funny and fearless, and also happens to have scoliosis.
What inspired you to specialise in disability arts and culture?
I work both within disability arts and the so-called 'mainstream.' But I like to innovate, and I think I got a reputation for doing so. For example, in my play Peeling, which was produced originally by Graeae (a theatre company for deaf and disabled artists) in 2002, I embedded audio description in the script.
I have also worked with a lot of fantastic deaf performers, through whom I have learnt how wonderfully theatrical visual language in performance can be.
I'm very interested in subverting the usual (often negative) representations of difference and disability. I like telling different stories, with different protagonists and different endings.
After touring Wales throughout March, will the play tour other parts of the UK?
Owing to my schedule over the next few months, we have to do an initial tour of just Wales. I'm working with Arts with Disability Hong Kong in April, then going straight to Singapore in May for the premiere of my Unlimited International Commission 'And Suddenly I Disappear: The Singapore 'd' Monologues'. It is a dialogue about disability and difference between the UK and Singapore.
It will then come to Southbank Centre in early September as part of the Unlimited Festival, then tour to select venues in England and Wales.
Depending on how Richard III is received, we may take the production on a wider tour in 2019 – we've already had interest from places outside the UK.
Actress Sara Beer
You were involved in helping to put this play together and influence the script. How did that work?
As we were not producing a straight version of Shakespeare's Richard III, the play needed a lot of thought. We were creating a play that did three things:
explores of the historical king Richard;
looks at how non-disabled actors have portrayed Shakespeare's Richard over the years;
and examined how I might go about looking for my Richard if I were to play him.
So, the script was created over the development phase with input from myself and the director Phillip Zarill. Katie then wrote the final script.
Have you ever performed solo before and how do you feel about this play?
No, I have never done a solo show before so it is quite a challenge as there is no one else on stage to feed off. It also means that there are a lot of lines to learn. But I love storytelling and this is a great opportunity to explore a fascinating character from different perspectives.
In your mind, are you playing a man or woman?
I am thinking a woman because I spend most of my time playing characters other than Richard. I play three personas in Richard III redux: the one that is closest to the actual me; an actor trying to find a way to create her interpretation of Richard for a production and an actor playing Richard.
What are your thoughts on current fictional narratives around disabilities on stage and screen?
I mostly dislike them because they are usually very one dimensional and don't do disabled people any favours. Sadly, we are too often portrayed as frail, sad, lonely individuals who need to be rescued in some way by a beautiful non-disabled person.
Also, far too often disabled characters are still played by non-disabled actors. In 2018, it is just lazy as there are a lot of very talented disabled actors out there. People in the industry still seem to think that we are an insurance risk, unreliable or just don't 'look right', even if we have the correct impairment. Things are improving, but at a slower rate than they should be.
For those who may not know, please can you tell us about your disability; when were you diagnosed and how has it impacted on your life?
I was born with scoliosis, which is a curvature of the spine, and am 4'3″ tall. I have been active within disability arts for more than 30 years and I love the culture I am part of. I was very involved in the direct action network in the early 90's and proud of the huge part disabled artists have played in fighting for disabled people's rights.
The tour will open on International Women's Day (8th March) in Cardiff. It will also tour across Wales in the following locations:
8th, 9th, 10th, 16th and 17th March at Chapter Theatre, Cardiff
14th and 15t March at Aberystwyth Art Centre Studio
19th and 20th March at Theatre Clwyd, Mold
21st March at The Torch Theatre, Milford Haven
23rd March at Small World Theatre, Cardigan
Every performance will be captioned and there is a touch tour available at every venue, one hour before the performance starts.
By Emma Purcell
You can learn more about Emma and read more of her work by visiting her blog, Rock for Disability. 
Get in touch by messaging us on Facebook, tweeting us @DHorizons, emailing us at editor@disabilityhorizons.com or leaving your comments below.