Entertainment & Culture
Strictly Come Dancing 2018: how Lauren Steadman and Katie Piper are changing perceptions around disability
Following on from Paralympian Jonnie Peacock's influential appearance on last year's Strictly Come Dancing, the latest line-up includes Para-triathlete Lauren Steadman and acid attack victim Katie Piper. Lauren has no lower right arm, and Katie suffered significant facial disfigurement following a violent attack when she was only 24.
The inclusion of these two young women on such a high-profile BBC 1 talent show, with viewing figures in excess of 11 million, will no doubt play a big part in the promotion of positive views on disability and diversity, as well as encouraging body confidence.
Read on to find out more about these two remarkable women, and their journeys on Strictly Come Dancing 2018 so far – plus watch video interviews and some of their dance routines.
Katie Piper – acid attack victim and charity founder
35-year-old TV presenter, author, philanthropist and charity campaigner Katie Piper was left permanently scarred after a vicious acid attack in 2008. The former aspiring model has subsequently undergone more than 60 essential surgical procedures.
The industrial-strength sulphuric acid thrown in Katie's face has caused extreme damage and left her with sight, swallowing and breathing issues, requiring ongoing, invasive treatment. The perpetrator was instructed to carry out the callous attack by an abusive former boyfriend, whom Katie had met online.
Over the past decade, Katie has found admirable strength and persevered through the most trying of times. She bravely shared her story in two autobiographies and the 2010 BAFTA-winning documentary Katie: My Beautiful Face.
Katie has written four more self-help books, fronted several televised shows relating to body disfigurement, and most notably established The Katie Piper Foundation, to support fellow victims of acid attacks. She is also now happily married and has two young daughters.

Katie Piper and Strictly Come Dancing
Prior to being paired with professional Strictly dance partner Gorka Marquez, Katie said: "there was a time not long ago that I wondered if I'd ever be glamorous again and now I know that is going to happen!" Watch Katie's interview with the Radio Times when she first joined Strictly.
Katie Piper is all about embracing body confidence and celebrating diversity. She does all of this whilst raising awareness of the consequences of acid attacks, a crime that is sadly on the increase. Her appearance on this hugely popular primetime BBC show will have enabled her to reach a wider audience and spread that message.
Katie was widely known to be the most anxious of this year's celebrity contestants. Having really struggled to overcome the nerves during her first performance of a Waltz to Adele's When We Were Young, Katie scored 17 out of 40. Her confidence was knocked by negative feedback from the judges, particularly Craig Revel-Horwood who, as always, did not hold back.
Katie has since revealed: "in the first week it did really affect me, but it was silly because whenever I would wake up on Sunday at home it was like 'your 35-years-old and it's an entertainment show, calm down'."
Katie and Gorka received their lowest score when they returned the following week with a Paso Doble. The choreography was intended to reflect the motto of the song they danced – Confident by Demi Lovato. However, Katie was visibly close to tears upon hearing the judges comments.
While Darcy attempted to focus on the positive attitude Katie possessed, the others described her as "stompy", "plank-ish" and in need of improvement.
Nevertheless, the couple were supported by the viewing public and voted through to week three, when they did the Foxtrot. Their Foxtrot earned them 22 points – their highest score. Katie said: "By week four I was in the groove, laughing and enjoying it and it was okay. You go to the green room afterwards and the [judges] are just normal, nice people."
Sadly a Jive was to be Katie's last dance on Strictly. She was disappointed to leave the competition relatively early. But Kaite admits that although she overcame her nerves, insecurities and improved, she is not a natural dancer, and wouldn't have wanted to be patronised or pitied.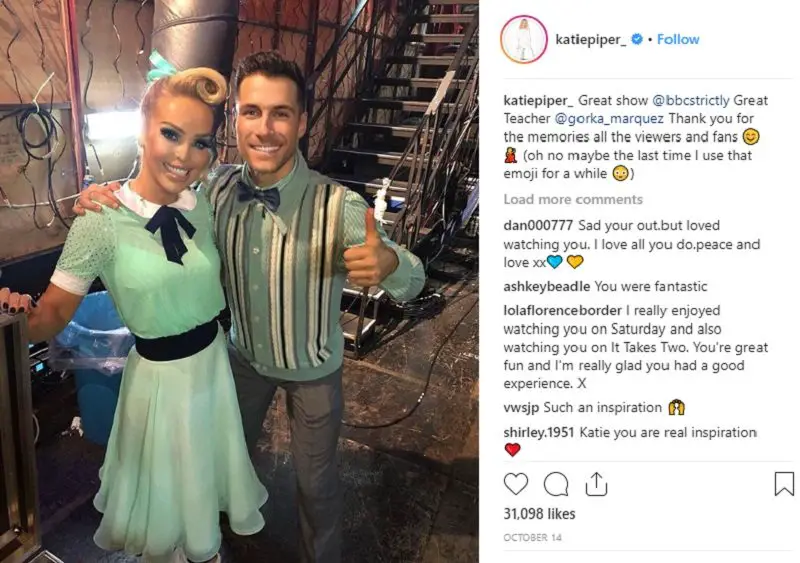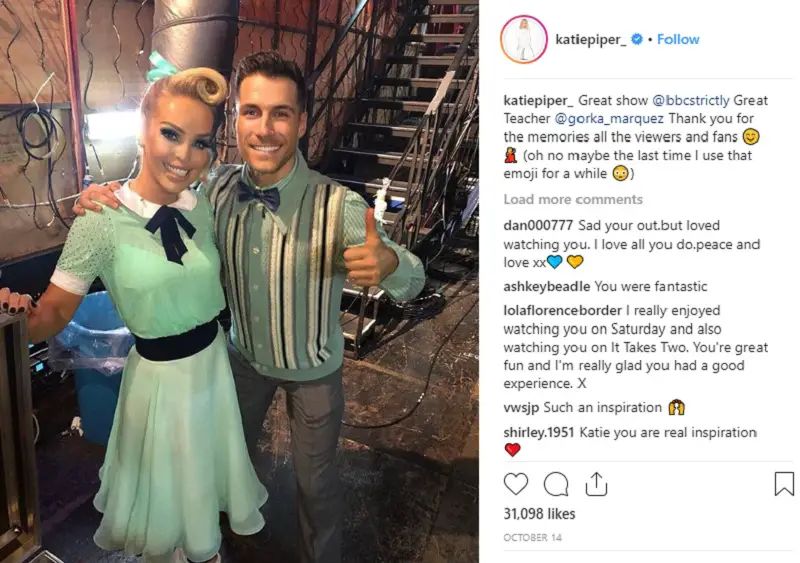 Find out what's next for Katie by following her on Instagram and Twitter.
Lauren Steadman – Paralympian
26-year-old Paralympian Lauren Steadman, originally from Peterborough, was born without a lower right arm. However, this has never prevented the determined sporting star from pursuing her dreams.
The Elite Para-triathlete is already a Double World Champion, Paralympic silver medallist (Rio 2016 – Women's PT4) and six times European Champion.
Encouraged by her uncle, who was himself a triathlete, she began competing in her local swimming team from age 11, representing Team GB. Two years later, Lauren took part in her first international competition in Denmark, as well as the 2008 Beijing Paralympic Games. Intent on pushing the boundaries of possibility even further, she switched sports, from swimming to the triathlon, after the London Paralympic Games in 2012.
Alongside her demanding athletics career, Lauren has pursued academics and achieved a first-class Psychology degree in 2014, followed by a Master's in Business and Management.
Talking about her success, she said: "In one year I had taken all three titles – British, European and World Champion – for the first time, and graduated from university with first class honours. It really couldn't get much better than that!"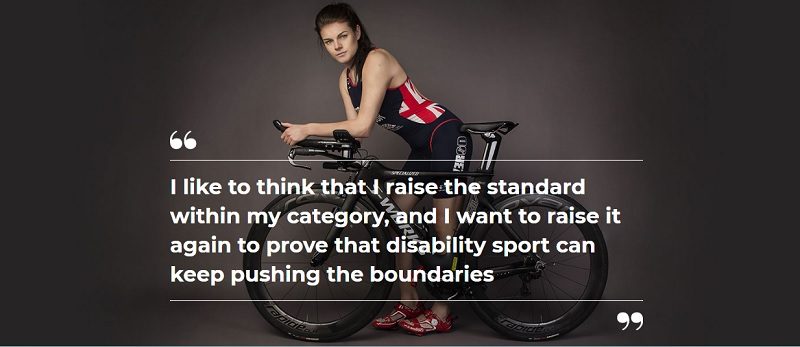 Lauren Stedman and Strictly Come Dancing
Lauren signed up to appear on the latest series of Strictly Come Dancing as she wanted to set herself a new challenge, learn another skill and test her "own levels of uncomfortableness." When asked what she was most excited about, she replied: "Pushing myself and any boundaries I may encounter with having one arm. I like to succeed even if the odds are against me."
With no experience whatsoever, Steadman claims her friends and family would describe her amateur dancing style as that of a baby elephant!
The glitz and glamour of Strictly is indeed a stark contrast to her sporting life. Not only that, dance itself is a very different discipline to what she is used to as an athlete. Dancing requires fluidity, expression, emotion and creativity, rather than the rigidity and stern focus necessary for triathlon events.
Despite all the odds, Lauren and partner AJ Pritchard stepped out with an impressive Waltz in the opening week of the show, scoring 25 from the four judges.
The couple dropped three points with their second dance, a Charleston, and were awarded 20 for their slightly awkward Cha Cha Cha in week three. However, they returned on top form the following Saturday with an elegant Quickstep, earning them 25 points.
Their latest performance marks a first in Strictly history – a contemporary dance, newly categorised as the Couple's Choice. It was a highly personal interpretation with choreography designed to represent Lauren's personal journey, her defiance and disability. The emotional dance was awarded a standing ovation from the studio audience and 24 points from the judges.
Lauren has chosen not to wear a prosthesis during her time on Strictly as she would prefer that her disability remain visible. She is keen to break down barriers, challenge convention and encourage other disabled people by demonstrating how dance can be adapted to suit different bodies and abilities.
For Lauren, the rollercoaster Strictly journey continues…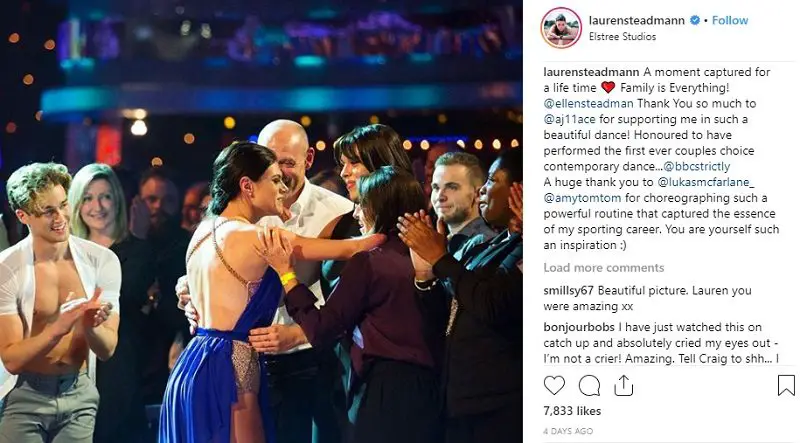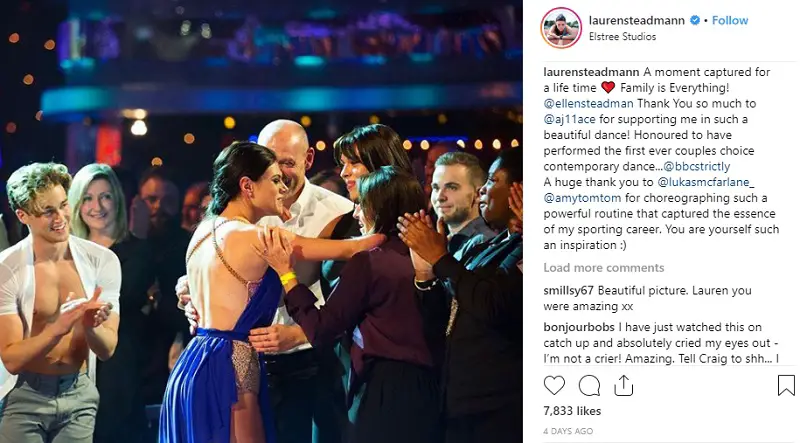 Keep up to date with Lauren and AJ's journey by following her on Instagram and Twitter.
By Carrie Aimes
More on Disability Horizons…
Have you been watching Strictly? What do you think of Katie and Lauren being on the show? Let us know your thoughts by leaving your comments below, messaging us on Facebook or tweeting us @DHorizons.