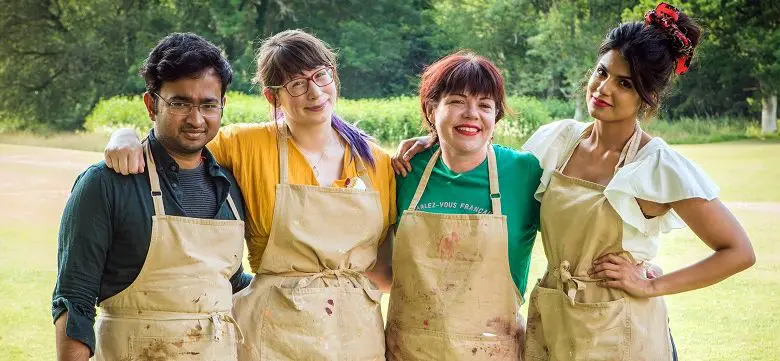 As the Great British Bake Off comes to a close, Disability Horizons writer and Bake Off superfan Raisa debates whether contestant Briony William's disability not being mentioned was a good thing. Her verdict – yes and no. Find out why and tell us what you thought…
I'm Raisa and I have cerebral palsy. I am a writer, blogger and poet, and completed a degree in creative and professional writing from UEL in 2017. I am also a disability rights campaigner and currently volunteer for several charities. I work with Scope on its Right Words. Right Mind campaign, volunteer as an English tutor for Action Tutoring– which helps children from disadvantaged backgrounds – and I am a trustee of the charity CPotential, the London centre for children with cerebral palsy.
Amongst all of this, I always make time to watch the Great British Bake Off. I've always liked cooking shows and have loved the Bake Off from the beginning. For those of you who don't follow the Bake Off, you're truly missing out! Now judged by Paul Hollywood and Prue Leith, (Prue replaced Mary Berry last year, and yes, I do miss her sometimes!), 12 of the country's best amateur bakers compete over 10 weeks to become the winner.
Each week they complete three daunting challenges, making and baking almost everything, including cake, bread, biscuits, pastry and, this year, vegan food. The last challenge, where the bakers must make a 'showstopper', is always incredible to watch. Each week someone is named Star Baker and one person has to leave that talent-filled tent.
At the end of series 9, Rahul Mandal unsurprisingly claimed the prize this year. But my focus was on a different contestant, Briony Williams. It was clear to everyone that Briony was a gifted baker from the outset, and frankly, I wanted her to win! But what I was also interested in, was Briony's disability, and the fact that it was hardly mentioned.
Briony Williams
Briony lives in Bristol with her husband and daughter. Inspired to achieve perfection with her bakes by her nan, she is a self-taught baker having watched numerous YouTube tutorials. She started baking seriously in 2013 and is never short of baking requests from her friends and family. She has baked her fair share of wedding and novelty cakes, including gluten-free, dairy-free and vegan options.
Briony is very active online and on social media. She has an Instagram, Twitter and blog, Briony Bakes, where she wants her recipes to be fun, yummy, and easy to make.
Briony confirmed on Twitter that she calls her disability an "undiagnosed birth defect", and affectionately calls her hand a "little hand". She only referred to it on the show once, in cake week.
I've always liked Briony – even before I found out that she has a disability. She always seemed happy, humorous and supportive to her fellow contestants, no matter what the results were.
Briony's Bake Off journey has been a rollercoaster. Even though she created "the best shortbread in the room" during biscuit week, it wasn't enough to claim star baker. After perfecting her pastry skills, she finally won the star baker accolade in pastry week. But she's also had a few disasters, including her chocolate sphere collapsing, which saw her almost leave the tent.
Weeks seven and eight saw Briony easily through thanks to her unsurprisingly amazing showstopper challenges. But her biggest disaster, where she confused sugar with salt, came in the semi-final patisserie week, when her time was finally up.
Briony's disability
If I'm completely honest, I'm extremely conflicted by the fact that nobody mentioned Briony's disability. She probably wanted it to be that way, I'm guessing. Part of me thinks that not disclosing it means it is not a big deal, making disability 'normal'. It stopped her from simply getting votes or pity and meant that she could just get on with the baking itself.
But the other part of me wishes someone had said something at the beginning, to show disabled people that they are being represented on TV in a positive way. I hadn't even realised Briony had a disability until she mentioned her "little hand" during cake week. I would have liked to have felt solidarity with her from the very beginning, instead of it being treated as a minor detail. Because, at the end of the day, this is a huge milestone for TV, to have someone with a disability on such a high-profile show.
She's a great example of how disabled people are just 'normal', everyday people. Briony was so resilient, every week. It highlighted how a disability doesn't have to be a big thing. Her 'little hand' didn't seem to hamper her at all – she just got on with it.
Ultimately, I hope it was her decision how her disability was portrayed on TV, and we have to respect that. All Briony wanted to do was to "do herself and her family proud." We all know that she did SO much more than that. She's an amazing role model, and she did me proud. She did Bristol, Britain, mums, dads, disabled people and aspiring bakers proud.
She will be remembered for all the right reasons from Bake Off, but put simply, it'll be for being amazing!
By Raisa Hassan
Did you watch the Great British Bake Off? What did you think of Briony's disability not being mentioned? Let us know by leaving your comments below, messaging us on Facebook or tweeting us @DHorizons.
You can follow Raisa on Twitter @raisahassanXOX and read her self-published book, Spotlight.
More on Disability Horizons…