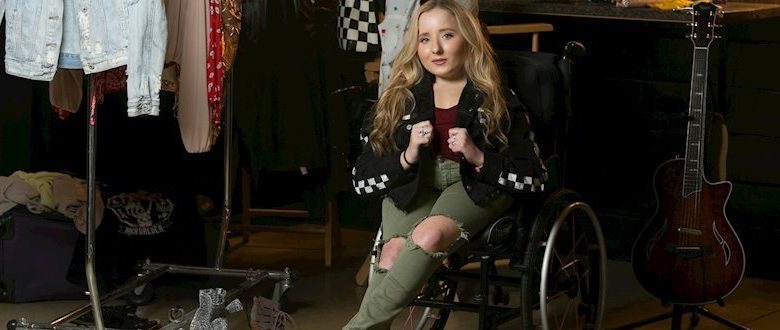 Ali McManus is a 21-year-old singer-songwriter and motivational speaker from Detroit, USA. She was born three months premature, weighed 2lbs 7oz and had a 50% chance of survival. She was later diagnosed with a rare form of Osteogenesis Imperfecta.
Despite this, she's beaten all the odds, and is now fulfilling her dreams as a musician and sharing her positive mind and 'unbreakable' spirit. Our writer, Emma Purcell, went to find out more about Ali's life and how she is inspiring others through her music.
Ali spent much of her young life in hospitals. She had to endure 11 surgeries, including halo tractions, steel rods to fuse and straighten her spine, a full body cast, and more. She believes music played an important part in saving her life:
[blockquote author=""]"One song means three minutes of no pain. And I can say things with a song that I can't speak in words alone."[/blockquote]
Her critically acclaimed debut album, Unbreakable, highlights the issue of people seeing the wheelchair before her. It was produced by legendary music producer, Jack Douglas, who has worked with the likes of Alice Cooper, John Lennon and Aerosmith.
In October, Ali released a music video for her new track Roll This Way, which is is a sassy take on Aerosmith's Walk This Way. The video includes a cameo of Stephen Tyler from Aerosmith.
The song knocks down walls, breaking the stigma and revealing Ali's feisty, vivacious nature. Roll This Way is a cheeky statement that Ali won't let anything stop her from having a good time and living life to the fullest.
In addition to her music, Ali also makes a lot of motivational speeches in schools, hospitals and businesses. Moreover, she is as an ambassador for Shriners Hospital for Children, where she was treated as a patient and performs for fundraisers, as well as in the hospitals. 
Can you tell Disability Horizons readers more about your disability and how it affects you?
I have a condition called Osteogenesis Imperfecta, also known as Brittle Bone Disease or OI. But the type that I have is very rare. The doctors have said that only one other case similar to mine has been found in the world.
The primary features of OI are weak bones and scoliosis. This affects me on a daily basis as I have been in a wheelchair since I was 7 years old. I also have to be careful about big bumps when wheeling myself around, so that I don't break any bones.
What was it like growing up with your disability?
Being a young child with OI was challenging and frustrating. At the time, I knew something was wrong, but the doctors couldn't figure it out! Every time I had tests done, they came back negative. It was the craziest thing. It was not until I was 21 that I was finally diagnosed.
Growing up with my disability also made school and relationships with friends hard. Because of my wheelchair, I was left out of a lot of things that I would have been invited to if there was no chair.
How did you become a singer-songwriter?
I started singing and making music when I was just 7. Because of my condition, I was stuck in the house a lot. So I gravitated towards the grand piano in my living room.
Around the same time, I joined my school choir, and got to sing a solo. Until then, nobody knew I could sing. Afterwards, people came up to me with tears in their eyes. I asked: "Was it that bad?" "No," they said; "it was amazing!"
When I saw that I could move people with my singing, I knew it would be a very important part of my life. I wrote my first song at age 11 as part of a competition to win Hannah Montana tickets. My entry got more than 50,000 votes and I won! I was hooked. Once I knew what songwriting was, there was no turning back!
Who are you influenced by within the music industry?
Ed Sheeran and John Mayer are big influences for me. They are both amazingly talented musicians that I aspire to be as good as someday!
How would you describe your music?
I would say it's Americana, with some soft rock influences. I write all my songs based on what I have gone through within my life, to hopefully inspire my listeners.
How did Jack Douglas become your producer?
After I met and started working with my fantastic manager, Susan Michelson, she asked me to send her all of my songs and material. She flew to LA and played my songs to the legendary Jack Douglas.
He loved what he heard and when Susan finally told him that I was in a wheelchair, he said:  "I don't care. I see her as an artist first." I've always wanted someone to say that about me, so it meant a lot.
Jack liked my material so much that he flew from LA to Detroit in the winter to meet me! We hung out at my house and played some music. He told me that he wanted to produce my album! I couldn't believe it! So, I flew to LA for a month – the best month of my life by far – and I recorded my album Unbreakable.
What can you tell us about your debut album Unbreakable?
The music on my album was inspired by all the hardships that I have had to endure in my life. Every song was written during those hardships. It helped me to get through those times. It was my way of expressing myself and relaxing. It also gave me the motivation to keep going and never give up!
What was it like meeting Steven Tyler and having him appear in your music video for Roll This Way?
My time spent with Steven was incredible. He is one of the nicest, funniest, and most genuine musicians that I have been privileged to meet. I will be forever very grateful for the time he spent with me!
What is the best thing about being a musician?
For me, it's the way that music comes from your soul can impact someone's life in a great and powerful way. That is what means the most to me. I also love being able to share my story through music and to inspire my listeners.
What is it like to be a Shriner's Youth Ambassador?
It's really rewarding to be a Shriner's Youth Ambassador. I held my first fundraiser when I was 14 years old. I made a promise to myself that once I was well enough, I would give back and help others that are in a similar situation.
I remember how much it meant to me to have a volunteer come into the hospital and just simply play a game with me. It helped me to take my mind away from all that was going on while I was an inpatient at the Shriners hospital for nine months.
What do you hope to achieve with your motivational speaking?
I want to use my story and the music from my album to spread my message:
[blockquote author=""]Everyone is unbreakable in their own way.[/blockquote]
I also hope to show people that you can follow your dreams, no matter what you're going through. You might need to do some things a little differently, but that's ok because you are still doing it. You're doing it your way!
For me, because my spine is fused, I had to learn to play the guitar differently. I had to learn it all by feeling because I can't tilt my neck down to look at the strings.
I speak to all kinds of groups – business people, kids and teens. Everyone has their own challenges to cope with. But whatever it is, it will pass, and you'll get through it to a brighter future!
I hope that my audience leaves there with a more positive outlook on life. And the next time they have to go through something tough, I hope they will look at that obstacle and turn it into an opportunity.
What is your advice for disabled people with ambitions to become musicians?
I would say that there are going to be hard times, and know that your heart and bones can break. But your spirit will never break. Keep going and never give up.
I hope that reading what I've been through will impact the reader in a positive way and give them a new or better outlook on life. Lastly, remember, you are Unbreakable!
By Emma Purcell
Visit Ali McManus's website to buy her album Unbreakable. You can also follow her on Facebook, Twitter and Instagram. 
To see more of Emma's work, visit her blog Rock For Disability.
More on Disability Horizons…