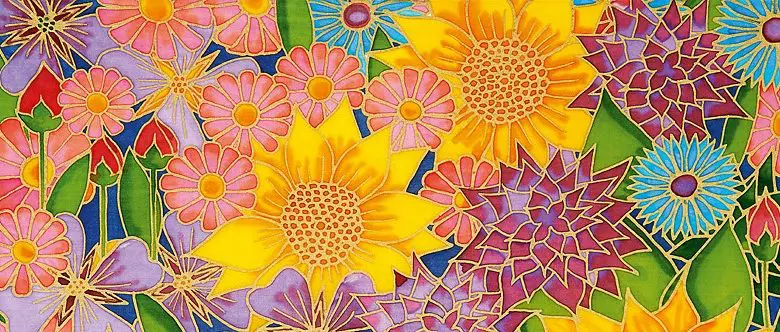 Professional mouth and foot painter Tom Yendell has been an artist for more than 30 years. Born without arms, he hasn't let his disability come in the way of his passion for art. Our writer Zubee spoke to him about his life, disability and, of course, his art.
Born in March 1962 in Winchester, Tom is the youngest of five children. His mother took Thalidomide during her pregnancy, a drug used at the time to alleviate nausea for expectant mothers. Shortly after it was first sold, it was discovered to cause malformities in babies. It's predicted that around 10,000 children were affected.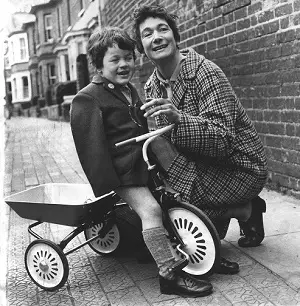 Tom soon learnt to do everyday tasks using his feet, mouth and chin. Although he tried to use artificial limbs growing up, at the age of 14 he decided he didn't need any. Having first attended a mainstream school, Tom felt unchallenged and was branded as 'lazy'. He was later moved to Treloar's, the largest school and college for disabled children. There, he was encouraged and pushed to achieve.
Having completed a foundation art course at college, he got a place at Brighton University to study an Expressive Arts degree. In 1993, Tom went on to join the Association of Mouth and Foot Painting Artists (MFPA) as a student.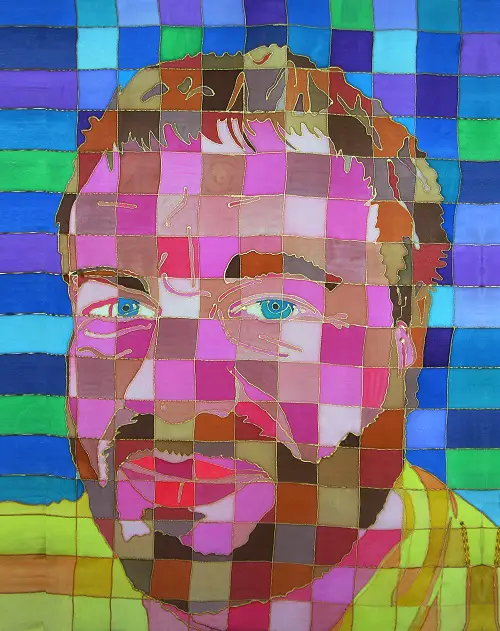 Before becoming a professional, self-employed artist, Tom worked with a number of different organisations. He volunteered as a youth club leader and then as an art room assistant with his old school Treloar's. He also worked at Treloars for three years as an Activities Co-ordinator.
He also worked in London for a company small businesses to grow. It gave him the confidence and knowledge to start working as a self-employed artist.
In 1986 he was chosen as one of the Men of the Year for his work helping others. The following year Tom was made a full member of the MFPA, meaning he was a professional and financially-independent artist.
Tom continues to be connected with both Treloar's and the MFPA. In recognition of his contribution to the MFPA, Tom was promoted to the Board of Artists in July 2013.
He met his wife Lucy at Brighton University and the couple has two children, Oliver and Holly.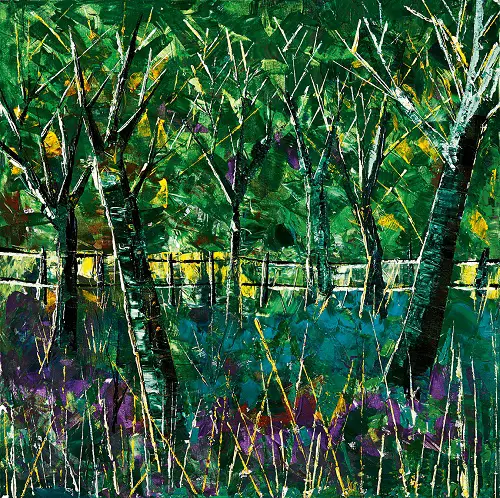 What challenges did you face growing up with a disability and how did you overcome them?
I don't actually see myself as having a disability or any challenges. I just have a different way of doing things. In my view, disability is a negative word. So, instead, I like to see myself as a unique individual.
When I was younger, I was fitted with a number of different prosthetic arms. The first pair were gas-powered and metal. They had no dexterity and were useless.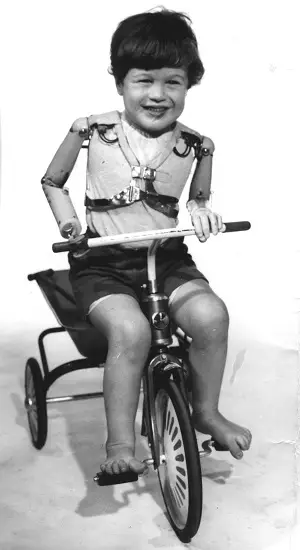 The second pair were purely cosmetic and had to be moved manually. I ended up using them for entertainment. Having discovered that I could swing them backwards, forwards and around in a 360-degree circle, I played `helicopters'.
I eventually decided that I didn't need any 'adjustments' – I was perfectly capable of doing things my own way.
How did you find moving to Brighton and being independent for the first time?
Passing my driving test is one of the most important developments in my life, enabling me to be independent and travel around Europe.
My time in Brighton, where I purchased my first home and met my wife, was also a transformative time in my life. Before then, other people would do the cooking, cleaning and washing for me. But I was finally able to prove how much I could do myself.
I also loved the diverse nature of what I did there. I focused my final year on photography, which I really enjoyed, although I think it was the 'easy option' for me. I also continued to act, something I had been interested in at Treloar's.
It all taught me a great deal about people's attitudes towards disability. I used my final drama presentation to confront these beliefs, to `come out' and acknowledge my own perception of my disability.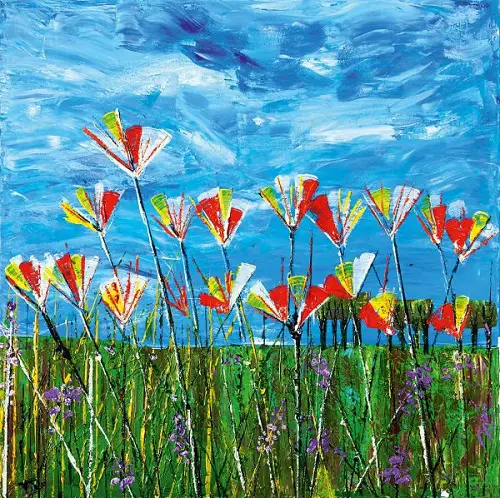 What first inspired you to get into art?
I wasn't very academic at school. I do thank Treloar's for how the teachers encouraged me. If it wasn't for them, I wouldn't have come out with any formal exam results. But it is not necessary to be an Einstein to succeed in the big bad world!
I also had a very good art teacher who saw that I had a talent for being artistic. He encouraged me to peruse my talent and succeed as a professional artist. He was a great influence on me artistically and in being unashamed about my disability.
Do you use any special techniques when working on a piece of art and what do you like to paint?
Although I paint with my feet and mouth, some of the ways in which I paint are the same as other artists. However, I do use credit cards like a spatula to get in the fine detail of a painting.
My favourite thing to paint is abstract flowers. You can see me using the credit card technique in the video below.
What do you believe is key to creating a good painting?
I have been painting for 30 years and it can get boring if you don't keep up your motivation. It's about having an inclination to know what I am going to do and what the end result will be.
When I started as an artist, I bought a house in Seaford. It was in an idyllic setting in the South Downs, so ideal for inspiration to paint. It was in need of total renovation, but that enabled me to create a purpose-built studio at the end of the garden.
I spent many months painting there, but eventually found that the total isolation did not help me work. I realised that having an audience watch me paint makes it more exciting. I love to see their reactions.
Which artist do you most admire?
I link artists who were not artists before acquiring their disability, or rather, their uniqueness. Keith Jansz is one of those artists. He had a car accident and went onto become a successful artist.
What has been the highlight of your career so far?
Being elected on the board of the association of Mouth and Foot Painting Artists by workmates in 2013. It was great to be recognised for the work I have done with the organisation, and for young artists.
Do you have a favourite piece of artwork that you have been commissioned to paint?
Yes, a silk painting called, The Dancers.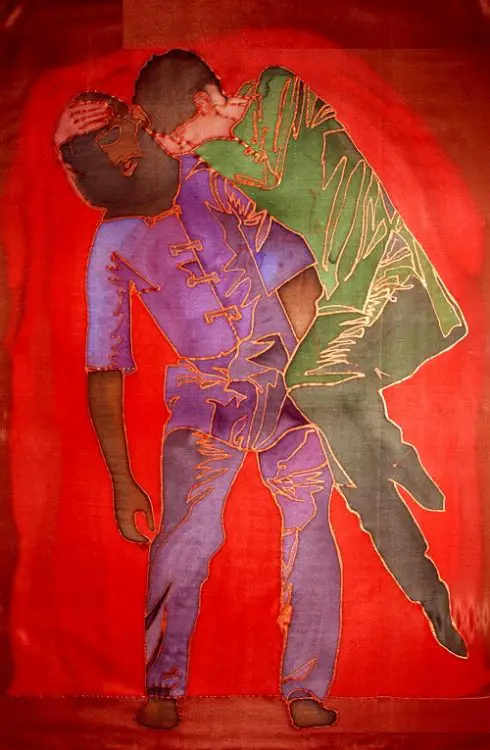 If anyone with a disability wants to consider taking up art as a career or hobby, what advice would you give them?
My advice would be stick at it. Take your time and get advice from friends, family and professionals in the industry.
What do you love most about being an artist?
As well as the painting itself, I get great satisfaction from is visiting different groups to talk about my life and disability. I've spoken at Women's Institutes, schools, church groups and youth clubs. As well as talking about myself, I love to tell people about the Mouth and Foot Painting Artists and its work.
Interview by Zubee
If you'd like to get in touch with Tom to ask him about his work, how to get into art yourself or to have him or a member of the MFPA talk at an event, you can contact him via his website, Tom Yendell, and Facebook. You can also buy any of the pieces in this article on his website.
More on Disability Horizons…