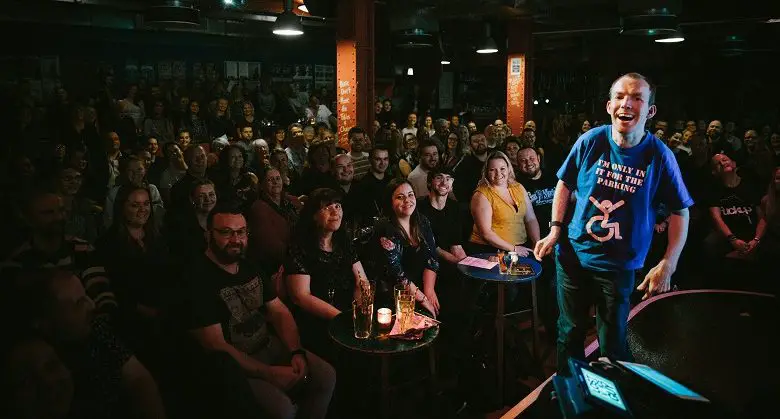 Entertainment & Culture
'Lost Voice Guy' Lee Ridley on winning BGT, his comedy tour and people's reactions to him being a disabled comedian
Back in June 2018, disabled comedian Lee Ridley, also known as 'Lost Voice Guy', shot to fame after winning the primetime TV show Britain's Got Talent. It secured him a place on the Royal Variety Performance, which aired in December, and he won £250,000. We spoke to Lee about his big win and life since BGT. And scroll down to the bottom of the interview to watch Lee in action.
Born in 1980 in County Durham, Lee, who has cerebral palsy, has been performing as a stand-up comedian since 2012. He uses a voice app called Proloquo2Go to convey his wicked sense of humour, which both enables people to laugh with him about disability, and derides those who are patronising or prejudice. The names of his shows typify this – Disability for Dunces and Inspiration Porn.
His first solo show, where he used a mix of pre-programmed jokes and improvisation, was in 2013 at the Edinburgh Fringe Festival. But it wasn't until 2015 that he began doing stand-up comedy as his full-time career.
BGT may have propelled him into the mainstream limelight, but it's not the first award he's won. In 2014 he won the BBC Radio New Comedy awards.
In 2018 he became the star of Radio 4 sitcom Ability, which he co-wrote with comedian Katherine Jakeways. Closely reflecting his own life, it centres around Matt, a disabled man leaving his parents' home to live with a friend and establish his career and independence.
This year, he's touring the UK with his comedy show I'm only in it for the Parking, and has released an autobiography book by the same name. Both document the ridiculous and amusing questions about his disability that he's been asked over the years. And this April, the second series of Ability will air.
Here, Lee tells us more about how he felt winning BGT, how he's found fame since, and where he sees his career going next.
What made you decide to enter Britain's Got Talent?
The main reason I decided to audition for Britain's Got Talent was obviously to meet Ant and Dec. But I also did it because I thought it would help me develop as a performer. Of course, I never expected to win it. In fact, I had to cancel my summer holiday because it clashed with the final.
It was definitely worth it though. I think the look on my face when I won said it all.
What has life been like since winning Britain's Got Talent?
Winning the show has changed my life in so many ways. As a comedian, I'm busier than I ever was before. But, one of the best things to happen since I won is that people are engaging with me a lot more than they would have in the past.
For the first time, they seem comfortable talking to a disabled person. I'm used to being stared at for negative reasons, so it's nice to be stared at for positive reasons for a change.
Where does the inspiration for your comedy come from?
I think most of my comedy comes from my real-life experiences. On the one hand, that's quite frightening because some of it is unbelievably ridiculous. But on the other hand, it gives me some great material.
I'd be silly not to use these experiences, and if I didn't laugh about it then I'd most definitely cry!
As an example, I was once ordered by a train inspector to give up my disabled seat for someone else. This inspired my episode on the Sky Arts Comedy Shorts series last year.
What have people's reactions been to you and the fact that you have no voice?
You would be surprised at how many people come up to me after gigs and ask if I really can't speak. Because, of course, it would totally be acceptable to pretend to be disabled for a laugh.
I can safely say that I have never been able to talk. I have lived in Newcastle all my life, but for some reason, I still haven't picked up the accent. However, if you are trying to place my accent, it's from PC World.
Although you're from the north of England, your iPad 'voice' is very posh. Did you choose to go with a less Geordie accent?  
To be honest, I didn't have much choice. The app I use to speak only had a limited number of voices to choose from, and my particular voice was the best of a bad bunch.
I'm quite used to sounding like a posh version of RoboCop now though, and I think the posh accent makes my jokes even funnier. I've sounded like this for most of my life now, so I do think of it as being my own voice. I think I'd feel weird if I had to change it now.
What do you like most about being on tour – and what's the worst thing?
I think the best thing about being on tour is getting to see some really lovely places that I probably wouldn't have ever visited otherwise. I also love getting to meet people from all different walks of life. I've got a lot of fans based all over the place so it's nice to be able to get to meet them.
One of the worst things is definitely being away from home. I quite like my home comforts, such as my bed and being able to sit in my pants and watch television all day. So I miss that when I'm away.
Audiences, of course, come in all different shapes and sizes, and life on the road wouldn't be the same without some odd incidents occurring along the way.
Now that you've hit the big time, where do you see your career heading in the future?
I honestly don't have any big ambitions. When I first started stand-up comedy, I just thought I'd try it for a bit of fun. I never expected to be this successful in my wildest dreams. So, I'm just taking it all as it comes and seeing what might happen next. I'm enjoying the ride and that's the most important thing.
Lost Voice Guy – some of his highlights
A snippet of Lee's performance at the Royal Variety Performance 2018.
Lee's stand-up routine in the finale of Britain's Got Talent.
Lee performing on Live at the Apollo last year.
Lee on BBC's The One Show Edinburgh Showcase 2015.
One of Lee's early shows, at the Soho Theatre in 2012.
By Brian Donaldson
Images of Lee on stage by Caroline Briggs and headshots by Steve Ullathorne.
More on Disability Horizons…