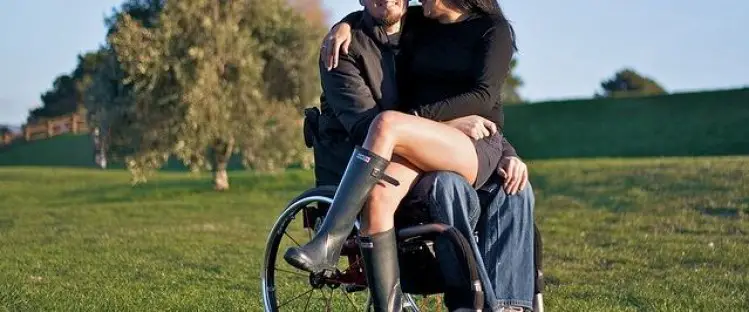 Online dating can have its challenges for someone with a disability. It can be a great feeling when you think you have found a potential match. But how do you decide what to do to impress him or her on your first date? Disabled dating site Disabled Mate shares six creative date ideas from one of its users to help you make a good first impression.
Organising a dazzling first date is always a difficult task, especially if the person someone wants to surprise is a wheelchair user. I've been in a wheelchair for 10 years now and I've noticed that most men and women simply don't know how to behave in the company of the person from the disabled dating scene.
To be honest, we really don't want to receive any kind of special treatment. But there are certain things we prefer on the first date. With that in mind, I am going to describe six wonderful first dates I have experienced during my 10 years of being in a wheelchair.
A date in nature or a local park
Because of our inability to walk, most of us don't often get a chance to experience the wonders of nature. We are simply not able to go on hiking trails or enjoy other similar activities on our own.
Therefore, if someone wants to impress us, organising the first date in nature is the perfect way to do that. I was once on a date like this a few years ago and I will always be grateful to the man who organised the whole thing.
One of my ex-boyfriends also took me to a local park for a picnic for our first date and I couldn't believe how classy the picnic was! I assure you, this kind of date is something most wheelchair singles prefer.
Going to the cinema and enjoying love seats
I've always loved going to the movies on the first date. Sadly, after my injury, I realised that most cinemas aren't wheelchair accessible. This means that disabled people have a lot of problems when it comes to finding a comfortable seat.
I struggled a lot at every cinema in town, so decided to give up on this type of date. However, three years ago, a guy who was my boyfriend at the time, suggested that we try out the love seats the new cinema in town promoted.
These seats are designed for two people, which means they are much wider and cosier than the regular seats, thus allowing the disabled person to enjoy the movie without any distractions.
These seats also allow the other person to smoothly execute the classic "arm around the shoulder" move. So, if you're in a wheelchair and your date wants to take you to the movies, make sure you try out the love seats.
A homemade meal and movie marathon
In case going to the cinema is a bit too much for you, preparing a homemade meal and organising a movie marathon with your date is definitely a good alternative.
One time, a guy invited me over to his place to cook some food and watch a horror movie. We had a wonderful time. So, if going to the movies is not an option, you should definitely try something like this.
A date in an art gallery
Movies are a fine form of art and I enjoy watching them very much, but paintings are something that really inspires me. I never knew how wonderful dating in an art gallery could be until one guy took me there a year ago. It was very classy and dignified.
Most museums and art galleries are wheelchair accessible, which allowed me to really enjoy the art displayed on the walls.
Volunteering
If anyone out there knows how important it is to help unfortunate people, it's me. I am very familiar with the pain and the struggles some people go through on a daily basis.
This is why I was genuinely impressed with one guy who invited me to volunteer with him at a local soup kitchen for our first date.
Table tennis
I really enjoy going to picnics, movies, and art galleries. However, sometimes I want a more exciting date. For example, I am quite good at table tennis. The nature of this beautiful sport allows me to compete with the good players who aren't in wheelchairs.
A  few years ago, I met a guy who also played table tennis. I challenged him to a match and he accepted. He was actually much better than me that day, but we had a wonderful and fun first date nevertheless!
By Disabled Mate
More on Disability Horizons…