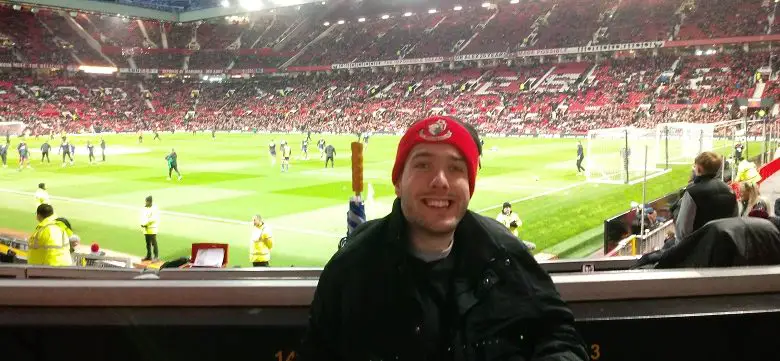 Passionate football fan and wheelchair user Nick Bishop from Leonard Cheshire reveals what it's really like attending Premier League away games as a disabled person after visiting a number of stadiums at the end of 2018 and beginning of 2019. In this two-part article, discover where you, as a wheelchair user, can get the best view of the football, and where you might risk not being able to see that all-important goal. 
The first goal I remember seeing as a child was scored by a very young David Beckham at Old Trafford in December 1995. After watching in my wheelchair with my dad, a keen Manchester United fan, I was hooked.
Not long after, we went as a family to watch AFC Bournemouth. I became a season ticket holder as soon as I could, relishing the drama as my local team – also known as the Cherries – fought to survive in the third and fourth tiers of English football.
In an era of untold riches in the Premier League, progress for disabled fans remains patchy. For wheelchair users, there still needs to be big improvements in stadium accessibility.
Watching live football can be an absolutely incredible experience. But it's not quite so good if, throughout the area for wheelchair users, you can barely see the goal.
Football clubs, like all service providers, have a legal duty under the Equality Act – they must make "reasonable adjustments" to ensure they do not discriminate against disabled people.
Clubs know their objectives on stadium access – the Football Task Force (1998) and the Accessible Stadia guidelines or ASGs (2003, updated in 2015) provide clear targets.
Amongst these is the requirement for clubs to have a certain minimum number of wheelchair spaces (based on their stadium size), and 75% of them should be elevated. Yet some clubs fail to meet even these basic targets.
By 2015, media investigations and growing fan frustration led to serious legal challenges. The Equality and Human Rights Commission (EHRC) stepped in, threatening legal action against Premier League clubs, including Chelsea and Manchester United.
Clubs responded with the Premier League Pledge, ambitiously committing to meet access requirements by August 2017. But the EHRC State of Play report in May 2018 showed that at the time of the investigation, while the number of wheelchair spaces had increased, 10 football clubs it surveyed did not even meet the minimum number of wheelchair spaces. Many more clubs did not have enough elevated spaces.
There were some signs of improvement, though: all Premier League clubs had an Access Statement and almost all had a Changing Places toilet with a hoist.  For fans of the several clubs still falling behind on wheelchair spaces, there was hope for the future: clear plans were submitted for major works.
So just how accessible are Premier League clubs today? Setting off with an intrepid band of dedicated disabled fans, I decided to find out.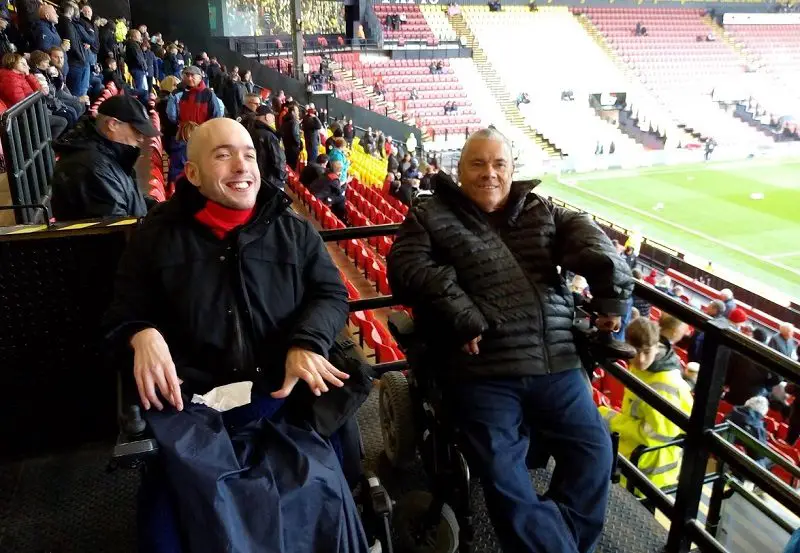 Vicarage Road stadium, Watford 0-4 AFC Bournemouth, Saturday 6 October 2018
Watford previously fell well short of a number of access requirements, according to the EHRC report, and had just 40% of its recommended number of wheelchair spaces. After entering into a legal agreement with the EHRC in 2018, the club is now rightly praised for turning things around.
I spoke to Watford staff in advance and I was impressed. An online virtual stadium tour shows many more wheelchair spaces, elevated wheelchair viewing platforms, a new sensory room and an accessible Changing Places toilet.
The Cherries record a brilliant 4-0 win, and we saw everything. Several away wheelchair platforms offer superb sightlines, so you can see the pitch clearly. There is no chance of your view being blocked by non-disabled fans standing in the rows in front of you.
There is one problem: on the platform for people using electric wheelchairs or scooters, you can't sit alongside a companion or personal assistant (PA). Their space is quite a way behind you. So you can't talk about the game together, as other fans do, and your PA can't help you easily as you have to shout for assistance!
Access guidelines clearly state that PA seats should always be alongside the wheelchair user. Still, with a 4-0 win and a great view, we are over the moon.
Craven Cottage stadium, Fulham 0-3 AFC Bournemouth, Saturday 27 October 2018
It was a great day out at Fulham. Callum Wilson was through on goal, blasting an emphatic strike past the keeper to put Bournemouth 3-0 up. Pity the view from the wheelchair area means I didn't actually see the ball go in.
AFC Bournemouth fans are the first to use the refurbished wheelchair area at Craven Cottage, a three-tier platform with 15 new wheelchair spaces. Sadly, friends on all three levels report the same problem: it's very difficult to see the goalmouth and impossible when people in front inevitably stand up.
A Fulham spokesperson responded by saying: "Your comments on the visiting wheelchair positions have been noted as part of our wider access project.
As a newly promoted club, we are committed to reaching Premier League standards and are hopeful of announcing further access improvements soon. We are liaising with the Premier League, EHRC and relevant bodies to ensure that Craven Cottage is fully accessible for all supporters."
Etihad Stadium, Man City 3-1 AFC Bournemouth, Saturday 1 Dec 2018
First used for the Commonwealth Games in 2002, Man City moved into its stadium a year later. This Premier League stadium certainly covers all bases for wheelchair access.
Man City has a Changing Places toilet with a hoist and a new sensory room. The club exceeds the number of wheelchair spaces required for the stadium and this season Man City ensured all PA spaces were located alongside the wheelchair user.
So my dad sat next to me as we took in a superb view of an unlikely goal for Bournemouth and brave performance in defeat.
Stamford Bridge stadium, Chelsea 1-0 AFC Bournemouth, Wednesday 19 December 2018
On my one visit to Stamford Bridge a decade ago, I vowed not to return until things improved. I did not even have a standard pitch-level view. I was, in fact, below pitch level – easily the worst view I'd experienced at a Premier League ground.
Not surprisingly, Chelsea was one of the clubs threatened with legal action by the EHRC in 2015. In 2018, the club signed an agreement to improve facilities at Stamford Bridge.
After a good journey on accessible transport arranged by AFC Bournemouth, I was looking forward to our League Cup quarter-final. Things immediately looked to be better.
In August 2018, Chelsea finally opened a brand new wheelchair platform for away fans. The view is now absolutely superb. Chelsea now also has an accessible toilet with a hoist – currently a portable one run by the charity 'Mobiloo', whose rep could not have been friendlier.
Despite a narrow defeat, we are again in a positive mood. Once I'd seen how much things can change for disabled fans, the lure of away games is inescapable – joining the atmosphere, the shared hope of an against-the-odds victory, and a band of hardy souls who will follow the team no matter what.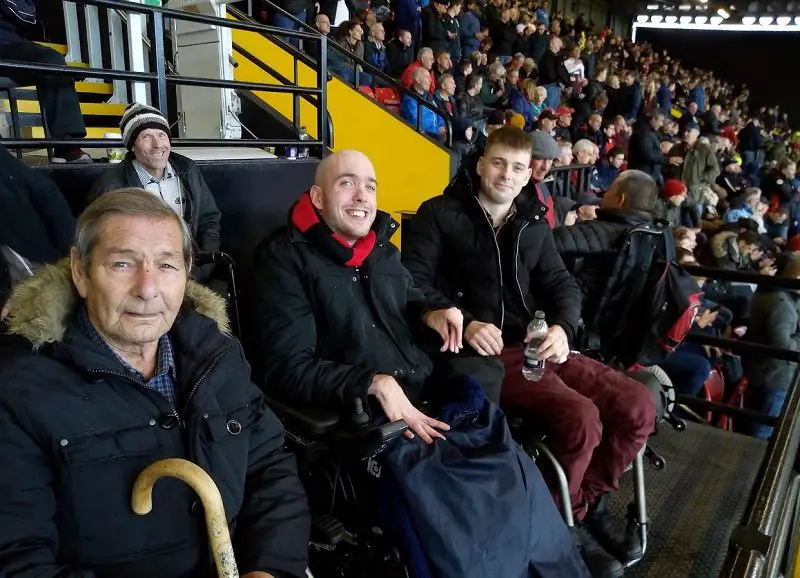 Old Trafford stadium, Manchester United 4-1 AFC Bournemouth, Sunday 30 December 2018
My two worlds had collided: I was watching Manchester United v Bournemouth at Old Trafford for the first time.
At the time of my first to Manchester United visit in 1995 as an awestruck eight-year-old, the club was an accessibility pioneer. When many football grounds had their wheelchair spaces only at ground level, Old Trafford had elevated platforms.
Later the club had the Ability Suite for disabled fans and was among the first to install a Changing Places toilet. The disabled supporters' association, MUDSA, established in 1989, is very active and widely respected.
But, after the Accessible Stadia Guidelines (ASGs) in 2003, the club did not add enough wheelchair spaces given the size of the stadium. With a capacity of more than 74,000 at Old Trafford, United should provide at least 274 wheelchair spaces.
In 2015, when the EHRC threatened legal action, the club had 120 spaces. United now has 160 and plans to be fully compliant by the 2020/21 season, with a phased improvement process bringing the number of wheelchair spaces up to 277.
I've been to Old Trafford a few times over the years, but this was my first visit in the away end. Many of my fellow Cherries fans came up on the Jumbulance – a huge accessible minibus funded by the Premier League, which each club uses for a couple of long trips per season.
After we entered the stadium, the stewards were responsive as I spotted an information sign in the accessible loo with a gap where they meant to add a contact number.
Fully behind my local team, I had a good view of Bournemouth's 4-1 defeat in the away end, which will also be extended when more wheelchair spaces are added.
Wembley stadium, Tottenham Hotspur 0-1 Manchester United, Sunday 13 January 2019
When Tottenham needed a base in north London while waiting for the new stadium to be finished, there was a clear option: Wembley. The national stadium is also another example of good practice for accessibility as it meets all the guidelines.
I arrived too early before the game and there was some confusion over the location of the nearest accessible loo, which was eventually found.
At Wembley, the sightlines from the away platform in the corner are fairly good. We had a decent view of a very entertaining game as an attacking United side took the lead and held out for the win. Now that Wembley has returned to hosting England games and other international fixtures, I'd recommend fans try the home end, which has an even better view.
After the match, I started thinking about a return trip to Spurs next season. Friendly stewards talked to me about the difference in facilities between Tottenham's old White Hart Lane ground – which did not come close to meeting regulations – and the upcoming brand new version. Entirely new grounds are great for me as they should be fully accessible from the start.
Selhurst Park stadium, Crystal Palace 1-3 Manchester United, Wednesday 27 February 2019
Crystal Palace: struggling to hit the target but recently showing signs of improvement. And no, I'm not talking about Palace's long search for a reliable central striker, but basic accessibility guidelines.
Selhurst Park is still short of the 165 wheelchair spaces needed for a 26,000-seat stadium. And once again, the PA space was behind me on the away platform. The club has, however, made some improvements:
increasing provision to 128 spaces;

installing a Changing Places facility;

adding a sensory room.
Crystal Palace plans to be fully compliant by 2021/22 when the new main stand is developed.
If you're a wheelchair user at low height the view is not good. The platform was not elevated enough: our sightlines were blocked by the heads of supporters in the standard seats. Palace removed one row of seats a couple of years ago, so our view is not completely obscured, but we still can't see the near side of the pitch.
After a few minutes of the first half, three of us deployed the extra feature on our electric wheelchairs – a 'riser' that we've paid quite a bit of money for – and elevated our chairs. This does not help much on platforms with really poor sightlines – it didn't help at Fulham – but this time, a lucky few of us have a temporary solution.
If you didn't have the means to turn your chair into a low-tech transformer, players on United's left side frequently disappeared from view (Alexis Sanchez disappeared even more than usual.)
A Crystal Palace spokesman said: "We work closely with our Disabled Supporters' Association and regularly consult them about the facilities we offer. We have received planning permission for a new Main Stand. Improved facilities for supporters with disabilities and a substantial increase in wheelchair spaces will be an important feature of the development."
Conclusion
The best accessibility I have experienced was at Manchester City's stadium, with a great view from the away platform and key access needs for wheelchair users met. Wembley, briefly Tottenham's base, is also excellent – but for away fans, City's ground still has a better view.
For clubs that were falling behind on accessibility, legal pressure and a renewed willingness for change have driven impressive improvements. However, the biggest worry for me is what the smallest clubs will do, especially when they drop out of the Premier League.
Whilst all clubs need to make "reasonable adjustments" for disabled fans, without the Premier League spotlight, things can fall by the wayside.
If next season is a rebuilding season for the likes of Fulham, I hope they can set an example to clubs in the Premier League and the wider Football League: all clubs, however big or small, must be committed to disabled fans.
By Nick Bishop
More on Disability Horizons…