Have you always longed to go to a music festival but always assumed none would be accessible? It's time to rethink! Last weekend, Disability Horizons reader and wheelchair user Alex Squire attended the Isle Of Wight festival. Held in Seaclose Park on the Isle of Wight, Alex tells us about his experience and how accessible it was for wheelchair users.
Travelling to the Isle of Wight festival
In order to get to the Isle of Wight, we first had to go to Southampton to get the Red Funnel ferry. We drove my absolutely packed car down, filled with my shower chair, portable hoist, suitcases, and me.
Travelling on the ferry was pretty straightforward. We arrived at the terminal about an hour before the ferry was due to depart. After waiting in our car, when it came time to board we simply drove up a ramp into an accessible parking bay. You can't stay in your car during the ferry crossing. But this wasn't a problem as there was plenty of space in our parking bay for me to get out and a lift up to the passenger deck, where there were lots of seating and a canteen.
The crossing took one hour and when we arrived in Cowes on the Isle of Wight we got back into the car and drove off. Simple.
Accessible accommodation on the Isle of Wight
For the duration of the festival, I stayed in a wheelchair accessible static caravan nearby at Thorness Bay Holiday Park.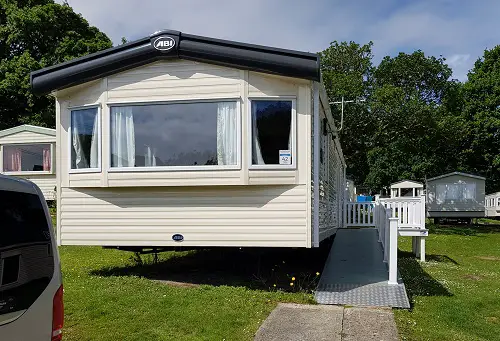 I could only book the caravan for a full week, so I stayed there from the 10th to the 17th of June. As the festival started on the 13th and finished on the 16th, I had a chance to explore the Isle of Wight a little bit beforehand.
The caravan had everything I needed and was pretty good in terms of accessibility. It had a ramp up to the front door and inside there was a living room at one end, two bedrooms and a bathroom with a roll-in shower.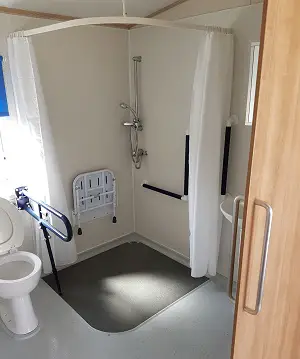 One of the rooms had a bed that was raised by 'elephant's feet'. But we found that it wasn't quite high enough to fit my mobile hoist under. In fact, the first time I tried to get into bed the hoist toppled over because it got stuck on something under the bed.
Luckily I landed on the bed, but I did bang my head on the headboard. So we had to get some bricks to put under the bed to raise it up a bit more, which solved the problem.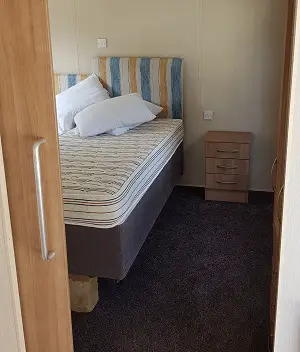 I had tried to find an accessible hotel room to stay at during the festival, but everywhere had raised its prices, so it was ridiculously expensive. Travelodge in Newport, for example, hiked its prices from about £400 the week before to almost £2,000 the week of the festival.
In contrast, the static caravan cost about £400 for seven days and was only a 10-minute drive from the festival site. My advice – do your research and book early. Early Bird tickets for Isle of Wight 2020 are already on sale!
Isle of Wight festival accessibility
Wheelchair access at the Isle of Wight festival was pretty good. There was a viewing platform at the main stage, guarded by stewards, and accessible portaloos next to them.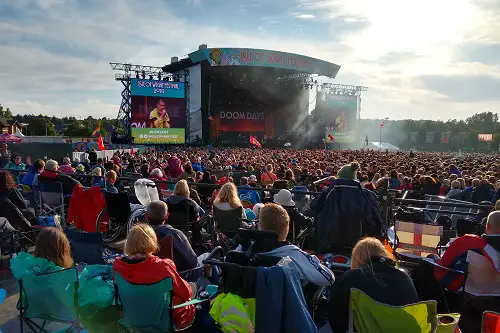 But, there was one problem – mud. It rained quite a lot in the days leading up to the festival and on the first day, so parts of the site were a mud bath. Because of this, some areas were off-limits to me – I didn't want to risk getting completely stuck.
Luckily, the following few days were a bit drier, so the mud hardened up, allowing me to cross it. However, I did still have to keep an eye out for the odd muddy patch that remained for the duration of the festival. 
Lots of wood chippings were also put down over the muddy areas to help provide traction. But more hard pathways running throughout the festival site would have been useful to wheelchair and scooter users.
Isle of Wight festival accessible viewing platform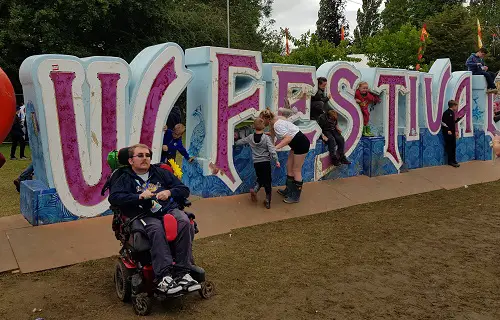 The viewing platform at the main stage was great and provided an excellent vantage point. It was on two levels, with the lower one at the front and a higher one behind it, connected to each other by a ramp. There was plenty of room for everyone, even though there were quite a lot of people using it. 
Although the viewing platform itself was good, getting to it was quite tricky. This was particularly the case when the main acts were on stage as the area around the platform got very crowded.
I had to weave my way through an ocean of people, camping chairs, picnic blankets, and children, all while trying not to run anyone's feet over. Unfortunately, some feet did fall victim to my wheels.
A simple path to the viewing platform would have made it so much easier for wheelchair users to get through.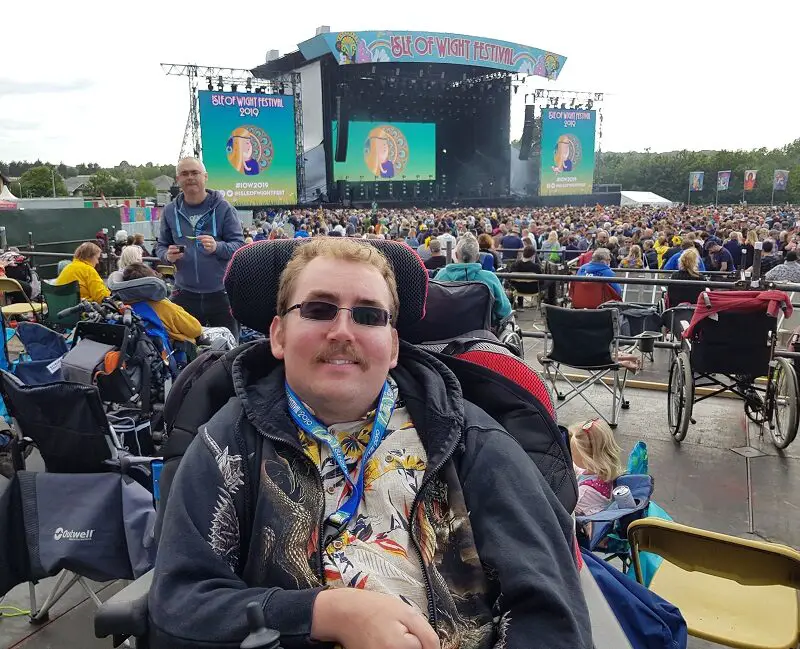 The Isle of Wight festival did have an accessible campsite, which contained a very useful Mobiloo toilet for disabled festival goers to use. Even though I wasn't camping, I was granted access to the campsite to use the toilet.
There was also an accessible van available to transport disabled people to wherever they wanted around the festival site. This was really useful when I needed to get to an area that was blocked by mud or too many people.
Music
The main headliners at the festival were Noel Gallagher's High Flying Birds, George Ezra and Biffy Clyro. I didn't see Noel Gallagher because I didn't have a coat that evening and it got really cold. So I headed to a slightly warmer corner of the festival – there are lots of other tents and performances going on all the time.
George Ezra and James were brilliant. At one point during James's set, the band got a load of people from the crowd to join them on stage and dance. I enjoyed Biffy Clyro more than I thought I would. I'm not the biggest fan of heavy rock, but I had to admire the energy that they have. The lead singer was drenched in sweat most of the time from rocking so hard and they were going for more than two hours. I also enjoyed Bang Bang Romeo, Richard Ashcroft, Madness and Bastille.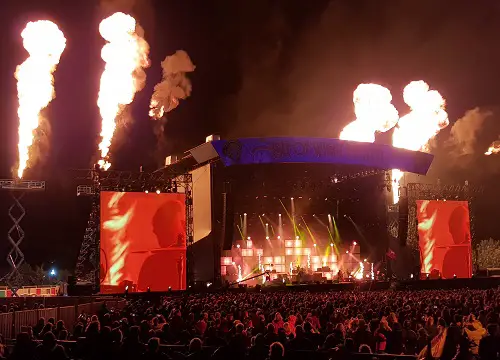 Keane, one of my favourite bands, was playing right at the very end of the festival after Biffy Clyro. So, after Biffy Clyro finished at the main stage, we dashed over to a different arena as fast as we could to try and catch them.
Unfortunately, everyone else had the same idea. This meant that the big top, where Keane was playing, was absolutely packed. There were people spilling out of the doors, so it was impossible to get inside. We waited outside for a bit, trying to hear the music, but I couldn't, which was a bit disappointing. I think Keane should have been on the main stage instead.
Would I go to the Isle of Wight festival again?
Overall I enjoyed the Isle of Wight Festival and I will probably go back again in the future. Disabled access was pretty good, but there is room for improvement. For example, more hard pathways throughout the site would help wheelchair users to avoid the mud. Also, having a path leading up to the viewing platform at the main stage would help a lot when trying to get through the crowd.
By Alex Squire 
Visit Alex's blog, Quad Life, to find out more about Alex and read more of his posts. 
More on Disability Horizons…