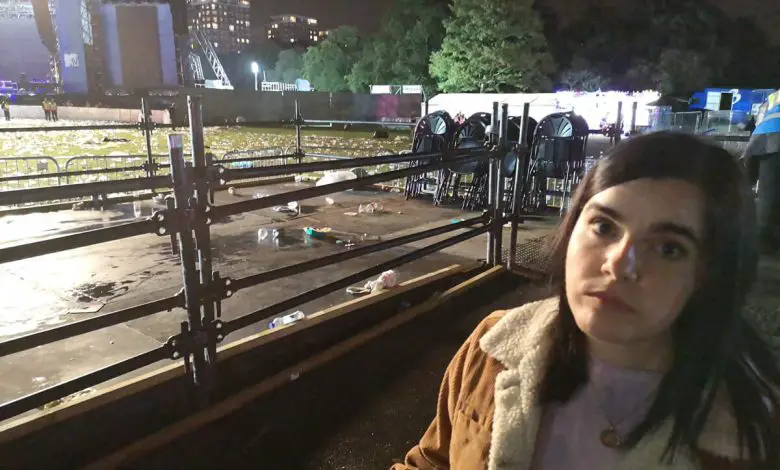 A disability blogger has rated Fusion Festival as a "shambles" for its lack of disabled access and poor customer service.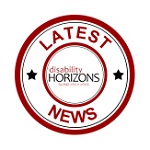 Emma Muldoon, who has muscular dystrophy and is an avid festival-goer, was left devastated after attending the Fusion Festival in Liverpool this summer. Emma and her partner Allan travelled from Scotland to see their favourite band Kings of Leon at the festival.
Booking accessible tickets at Fusion Festival
Problems accessing Fusion Festival already began when Emma booked her tickets. She purchased a standard ticket and a free PA/carer ticket on Ticketmaster. She then emailed the festival organisers to confirm she had access to the viewing platform.
Unfortunately, there was no reply. Over the following weeks she sent continuous emails asking to clarify whether she definitely had access to the viewing platform.
Two weeks before the festival, with still no reply, Emma sent another email explaining her annoyance over the lack of communication. This time, the festival staff replied, simply saying: "You will need to contact Ticketmaster directly to confirm this."
She was also advised to contact Ticketmaster regarding disabled parking and accessible toilets, which she found strange as she had never been to a gig or festival that passed all its enquiries to a ticketing agency. Usually, the organiser, venue or promoter handles and controls these queries.
Accessible toilets at Fusion Festival
In terms of accessible toilets at the festival – well, there weren't any. Just the standard porta-loos and one slightly larger with a disabled badge but couldn't fit a wheelchair in.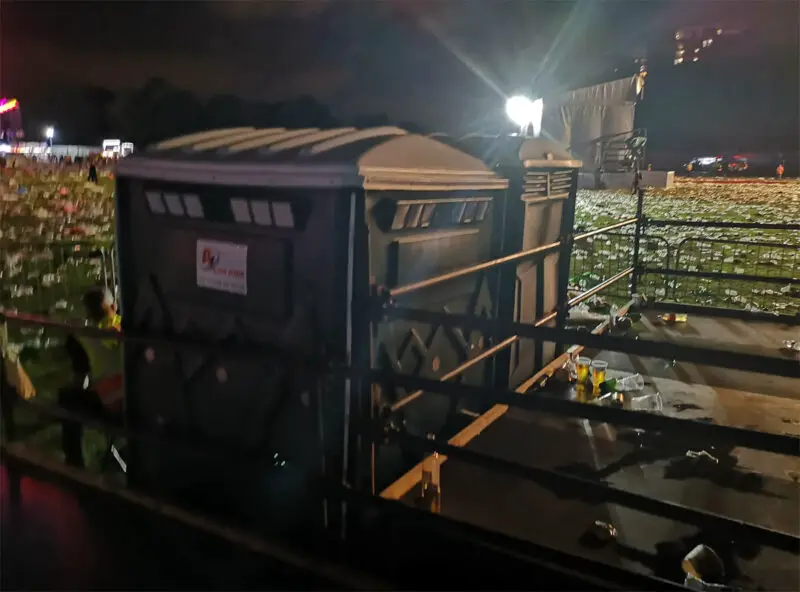 Emma tried contacting the organisers prior to the festival to find out what type of accessible toilets would be available, but she never got a reply. Instead, Emma and Allan left the hotel just before the Kings of Leon's set so that she could use the toilet in their hotel room, meaning they missed the rest of the festival.
Disabled parking at Fusion Festival
One week before the festival, Emma received a text message from Ticketmaster advising her to fill in a survey to book disabled parking. She filled in the form and hit submit.
It said the bank card she used to book the tickets would be charged for the parking, but there was nothing to say how much it would be. After booking the parking, Emma received no confirmation, meaning she had no proof that she booked disabled parking.
A few days before the festival, she received an email with the street name for disabled parking. So on the day, Emma and Allan drove the 10 minutes from the hotel.
When they arrived, the first couple of stewards had no idea where the disabled parking was. After driving a bit more, a third steward then let them into the disabled parking area. They were told to follow the path and find a spot to park.
As they drove down the path there was no one around. They weren't even sure where they were in the right area as there were no signs to say it was disabled parking for the festival. But decided to park up anyway.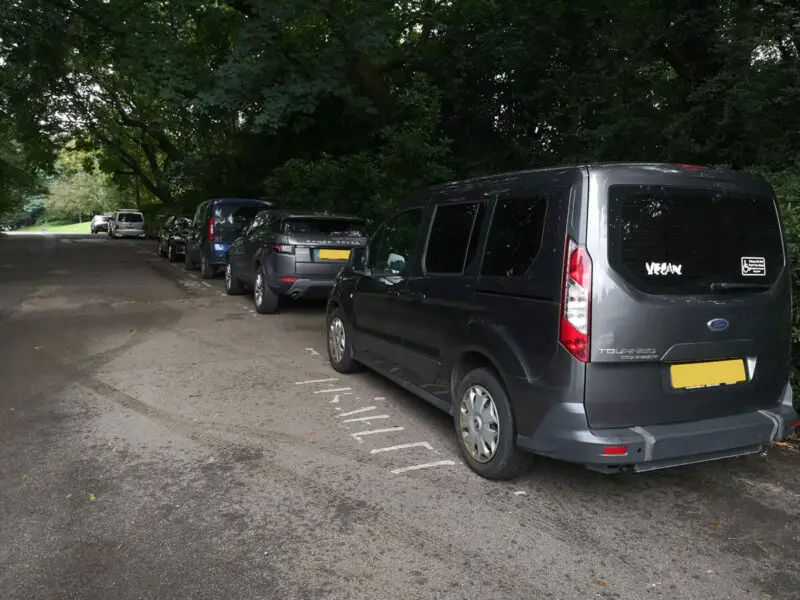 Accessible entrance and viewing platform at Fusion Festival
After parking, Emma and Allan went to find the accessible entrance. Sadly, there were no signs or stewards directing people to the accessible entrance.
Eventually, they spotted a group of stewards in the distance and Allan went over to ask where the accessible entrance was. However, there was no accessible entrance, just the main entrance on the other side of the festival site.
The main entrance was extremely muddy, crowded and had barrier lanes, which were difficult to navigate in Emma's powered wheelchair.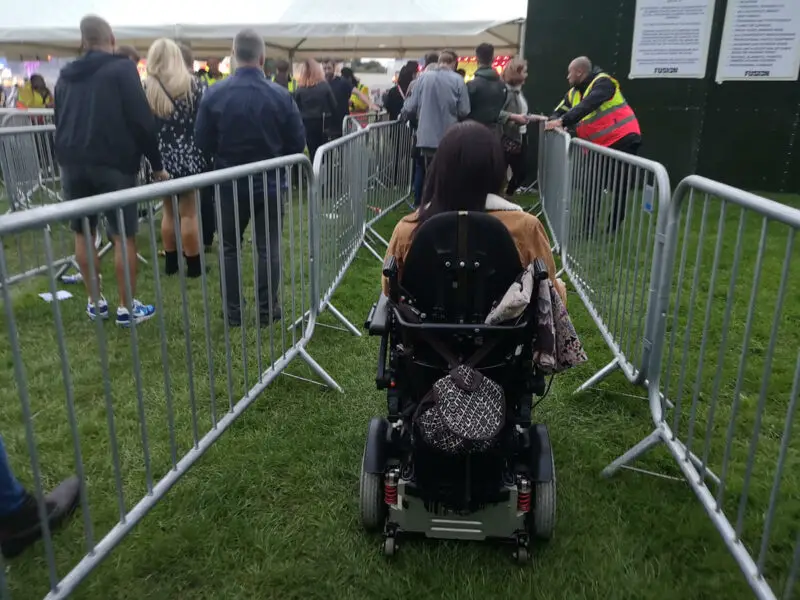 Once they got through the entrance and checked-in their tickets, Emma and Allan discovered the viewing platform was on the opposite side to the entrance.
It took a long time to actually locate and get to the viewing platform, fighting through mud, crowds and litter. When they found it, they discovered there were people surrounding the viewing platform and wheelchair users sat at the bottom of the platform ramp.
It appeared that the stewards were allowing anyone on the platform. There were approximately 25 disabled people booked to use the viewing platforms, but there were more than 50 people rammed on the platform, many of them drunk.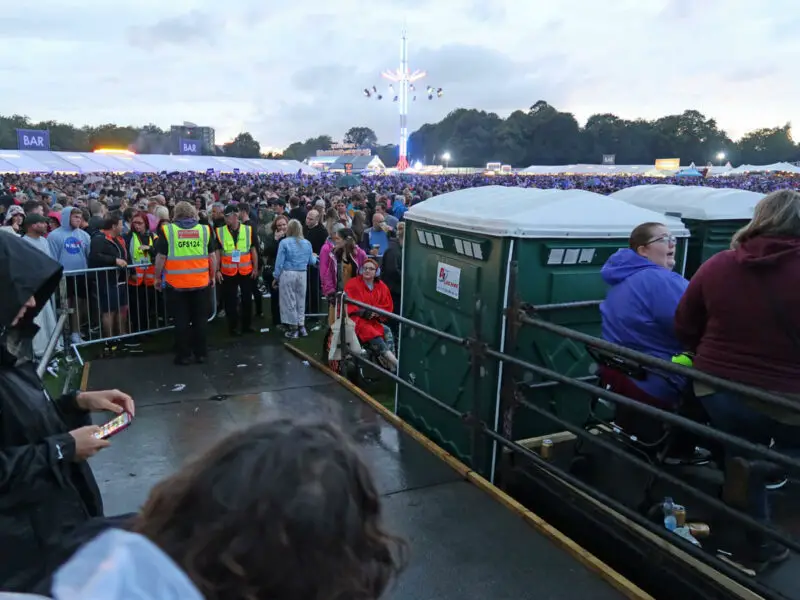 Moreover, the platform was at the same height as the rest of the crowd, which meant the people on the platform couldn't see the stage.
Just before Kings of Leon began, a steward asked Emma to get on the platform. She managed to do so, but it was very tight and Allan had to stand behind her throughout.
Emma tried to speak to someone in charge, but nobody appeared to be available.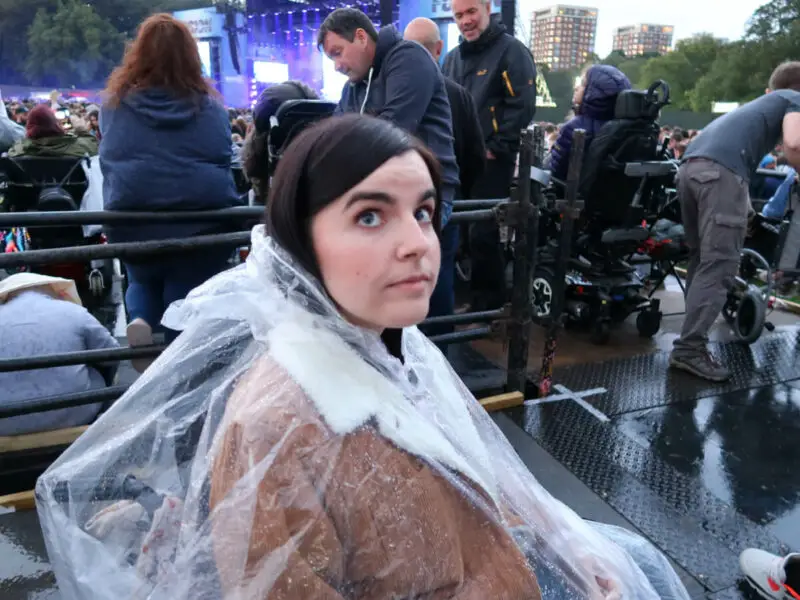 Complaints to Fusion Festival
Since Emma returned home, she has tried contacting the festival organisers to complain about her experience. However, several weeks onwards, Emma and many other disabled people who have complained, have not received any responses from Fusion Festival.
Posting on her blog, Simply Emma, Emma said: "Fusion Festival was a shambles from start to finish. As a wheelchair user, never have I experienced an event this awful in all my experiences of gigs, festivals and other events. The lack of disabled access and provisions for disabled people was appalling.
Everything from lack of disabled information on their website, poor communication, disabled parking, no safe accessible entrance, long walks from parking through crowds to the viewing platform, overcrowded/dangerous viewing platform and poor 'accessible' toilets."
Fusion Festival organisers told the ECHO it did not receive any complaints from any of the 122 disabled users at the festival, including Emma and her partner.
It said that the Fusion Festival goes above and beyond to make sure everyone feels safe and welcome.
Did you attend Fusion Festival this year? What was your experience of the disabled access? Share your stories in the comments box or on Facebook and Twitter.
By Emma Purcell
More on Disability Horizons…