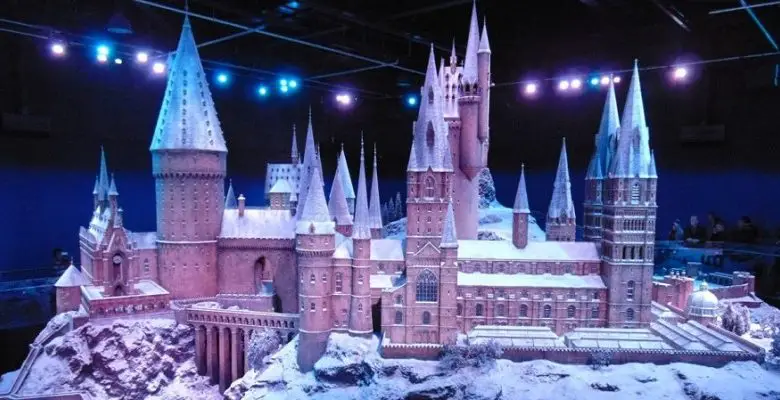 Travel & Holidays
Harry Potter Studio Tour accessibility: walking in a wizardry wonderland
If you're a Harry Potter fan, then there is no better and more enchanted place to be than Harry Potter Studio Tour at Warner Bros. Studios, London, whatever the time of year. But its magic is amplified at Christmas. Visually impaired wheelchair user, Emma Purcell, who has visited Harry Potter Studio Tour numerous times, recently got to visit at Christmas. Find out how accessible she found it.
I've grown up with the wizarding world of Harry Potter since the age of three. There is no other book series that I have loved as much as this one, and I have never seen a film franchise of a book be so successful.
The captivating words of J.K Rowling inspired me to become a writer. I have read the books and watched the films far too many times. I would count myself as a Harry Potter guru.
As a journalist, my dream interview would be with J.K Rowling herself.
Bringing J.K Rowling's words to life, the Harry Potter Studio Tour at Warner Bros. Studios near London was first opened to the public in 2012. I was lucky enough to visit it twice that year.
But, this year, I got the chance to go at Christmas time, with all the decorations and snow. I also got to see sets, props and interactive experiences that were not there previously.
Harry Potter Studio Tour accessibility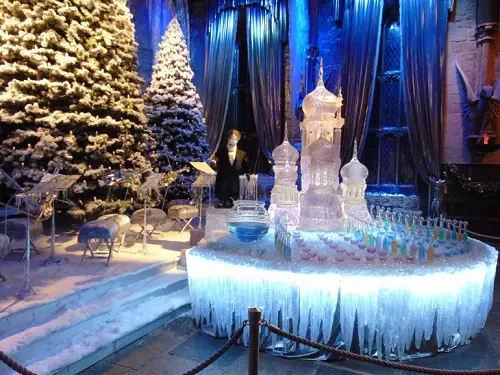 Unfortunately, due to my disabilities, there were some limitations. On my second visit in 2012, I was able to hold and feel a few props – Tom Riddle's diary, the Prophecy glass ball and the love potions from Weasley's Wizarding Wheezes in Diagon Alley.
However, when I asked a member of staff if this was possible to do again, he said that they were no longer providing that service. Very disappointing.
There was the option of a guided tour with an audio headset, which you need to book in advance. For me, I felt it would be difficult to keep up. Plus, having headphones on would have meant it wasn't very sociable.
There were also a few areas where there is no wheelchair access, which was frustrating.
Harry Potter Studio Tour at Christmas
My highlights were the Forbidden Forest, the Hogwarts Express train and visiting my favourite character, Dobby the house-elf.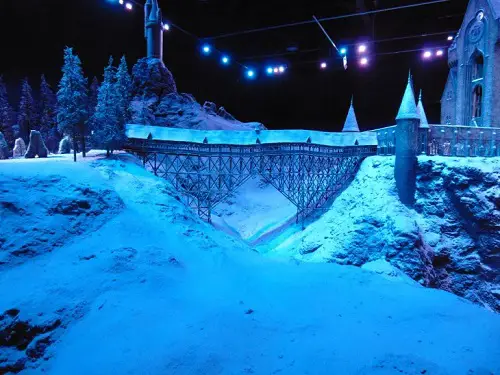 Although I couldn't see much in the Forbidden Forest as it was so dark, the sounds and lighting made it feel very eerie and spooky. I could hear the scuttling of spiders, Aragog, the largest spider moving, and the sound and flashes of thunder and lightning.
The Hogwarts Express train was amazing. Its red colour looked a lot brighter and bolder than on screen. A crew member told me than an old man visiting the studio tour had remembered riding the exact train when he was young. I never knew that it was an old passenger steam train that was actually in use.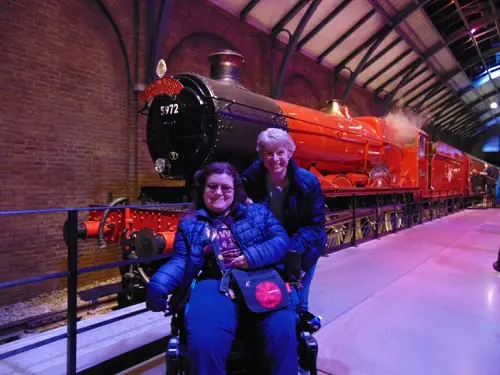 I was somewhat heavy-hearted, however, to discover that I couldn't access any of the train carriages. I was told that inside they had recreated some scenes with sweets, cloaks and luggage. I would have loved to have seen it for myself.
On the platform, I did get to hold the trolley that goes through the barrier, which was cool. There was also a small shop selling merchandise.
I got to feel some of the wands on sale. I was surprised at how many different shapes and sizes there were.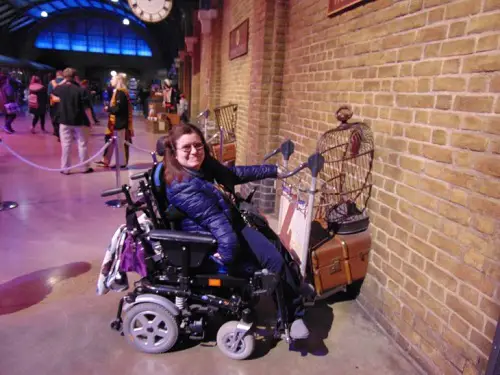 My highlights of Harry Potter
During my visit, I was determined to be reunited with my fictional friend Dobby. He was so high up in a glass cabinet I had to raise my chair. For some reason, he had his eyes partially closed, which was saddening to see.
Next to him, there was an interactive CGI Dobby. People could stand on a mat and make movements and Dobby would copy them. I gave it a go but I don't think he liked my wheelchair. He looked like he was having a seizure or having a spastic attack – I think he has cerebral palsy too!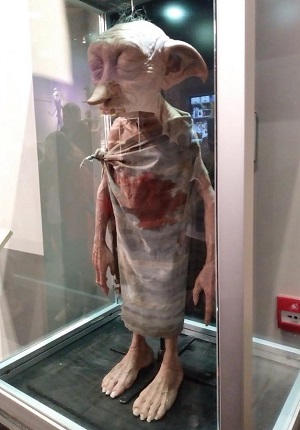 Other favourite parts included the mechanical Buckbeak the Hippogriff, who bows to you, and the mechanical Whomping Willow tree that hits the boot of the Weasley's Ford Anglia car with a branch.
Finally, let's not forget the festive aspects. In the Great Hall, there were numerous tall Christmas trees and Christmas puddings on the long tables.
Outside there was a device that created a snow shower, which meant I got covered in snow on – probably for the first and last time this year.
On the large model of the Hogwarts castle, snow was all over the school grounds. This brought a wintry, festive feel to the scenery. But I did have one thought while admiring it: how do they remove the snow in the new year?
By Emma Purcell
More on Disability Horizons…