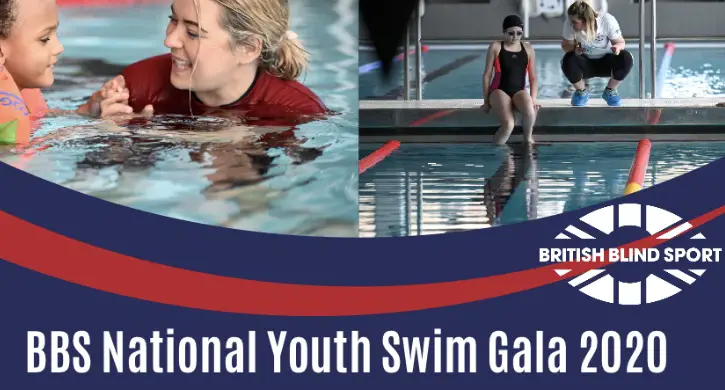 British Blind Sport is pleased to announce that registrations are now open for its flagship event: the National Youth Swimming Gala. The swimming gala will take place on Saturday 7th March in Solihull, West Midlands.
What is British Blind Sport?
Based in Leamington Spa, British Blind Sport (BBS) is the national disability sport organisation that represents visually impaired people in sport across the UK.  The charity helps blind and partially sighted people get active and play sport. Sport and recreational activities can enhance the lives of people with visual impairments, by improving their health and increasing their social interaction. It encourages adults and children to participate in activities at all levels, from grassroots to the Paralympic Games.
Since its inception in 1976, British Blind Sport has assisted over 100,000 visually impaired people to access sports including football, cricket, tennis, athletics and swimming.
British Blind Sport National Youth Swimming Gala 2020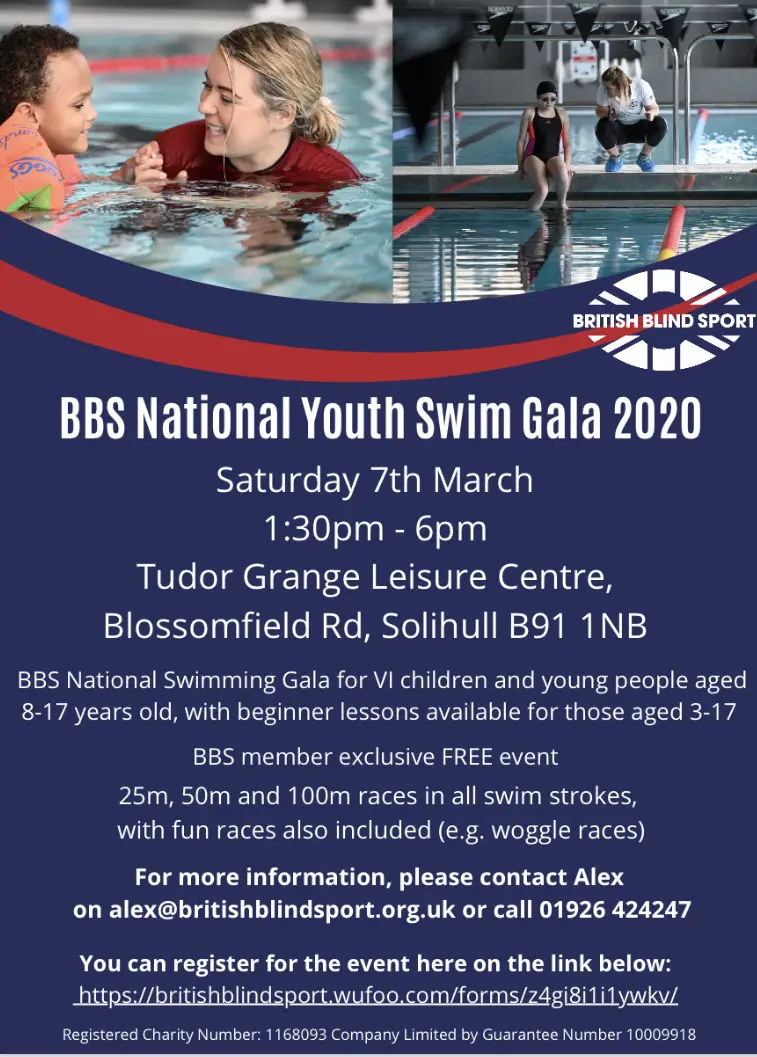 The National Youth Swimming Gala is an annual event organised by the national sports disability organisations for blind and partially sighted people and has been held successfully for over 20 years.  This event is a wonderful opportunity for children with a visual impairment to come along, race against their peers and make new friends!
It welcomes children from the age of 8 to 17 to take part in the races from all over the UK. But it's not all serious – there will also be beginners swimming lessons for anyone aged 3 to 17 who wants to build their confidence in the water.
In addition, there will be a masterclass by a Swim England diving coach who will be giving tips and instructions to anyone who wants to improve their diving!
As well as the competitive races, the organisers will also be running fun races, including floats and blocks, and its famous team relay race!
Alaina MacGregor, CEO of British Blind Sport, said "The BBS Swimming Gala has grown year upon year since its inception. It is our flagship event and a day where we really get to interact with our junior members and see how they are blossoming through physical activity. It is a wonderful opportunity for children and young people to take part in a competitive event that has been formed and adapted with accessibility and enjoyment at its heart; something which many of our participants may not have experienced before. The event is a fantastic chance for us to showcase the work that British Blind Sport does on a daily basis, and allow our members, supporters and volunteers the chance to get involved in an event that brings everyone together.  We are thrilled that the event continues to be an annual success!"
Participation Officer Alex Pitts, said "The BBS National Youth Swimming Gala holds extreme significance, as it provides participants with the opportunity to integrate and socialise with others who have had similar life experiences, as well as developing their swimming proficiency.  The event also offers signposting to local clubs so that participants can train and compete year round. We receive such positive feedback year on year for our Swim Gala and we love to see the difference just one event can make to young peoples' lives."
The British Blind Sport National Youth Swimming Gala 2020 takes place on Saturday 7th March from 1:30pm to 6pm at Tudor Grange Leisure Centre, Blossomfield Road, Solihull, B91 1NB.
 For more information about the event and how to register, please visit the British Blind Sport website.
 If you wish to sign up a group of swimmers or interested in volunteering at the event, please contact Alex Pitts on 07929 356428 or email Alex@britishblindsport.org.uk.
 By Emma Purcell
 More on Disability Horizons…