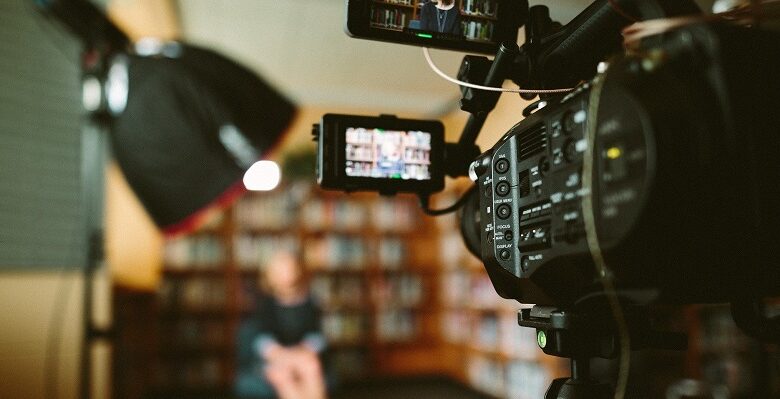 Entertainment & Culture
News
TV Access Project: a coalition of broadcasters pledge to make the TV industry more accessible for disabled talent
The TV Access Project (TAP) is a coalition of 10 of the UK's biggest broadcasters and streamers who have pledged to work together to deliver real improvements in access for disabled talent across the TV industry.
It was launched at last year's Edinburgh Festival and in February, Channel 4 and the BBC appointed two of the industry's most experienced practitioners to lead and manage the TAP.
What is the TV Access Project?
The TV Access Project (TAP) was created by Channel 4, the BBC, ITV, Paramount, Sky, Netflix, Amazon, Britbox, UKTV and Disney.
There is also support from PACT and the Creative Diversity Network and in partnership with disability-interest groups including Deaf & Disabled People in TV (DDPTV), FWD-Doc, TripleC/DANC and Bridge06.
TAP was set up in response to the campaign by Underlying Health Condition (UHC), which was founded by disabled creatives Genevieve Barr, Katie Player and Holly Lubran along with screenwriter Jack Thorne, following his impassioned McTaggart Lecture at Edinburgh TV Festival in 2021.
Together all these organisations want to ensure an inclusive television production sector for disabled talent. TAP aims to improve access provision substantively and permanently across the UK TV industry, looking at solutions that are pan-genre, considering both scripted and unscripted.
TAP complements the work individual broadcasters and streamers are already doing to address access for disabled talent in the TV industry and intends to be a forum for best practices.
Access on productions guidelines
To ensure the full and equal inclusion of Deaf, Disabled and/or Neurodivergent talent, both behind and in front of the camera, TAP has produced a set of simple guidelines and principles that any organisation in the industry is welcome to adopt.
These are known as The 5 As :
Anticipate
Ask
Assess
Adjust
Advocate
The guidelines are deliberately not detailed tips or technical instructions, as these can change over time and it would be impossible to provide a definitive list of every access requirement, reasonable adjustment or best practice approach in every circumstance for every individual or production.
It is for each organisation to adopt them and agree on how they intend to implement these guidelines. However, some guidance is provided about how the standards could be put into practice.
The guidelines are available in full as a PDF. This document is also available in large print, easy read, BSL and audio versions on request to rachel.jupp@bbc.co.uk
Access to studios and facilities
In the course of their work, TAP has recognised that a significant barrier to progress in the area of inclusion for Deaf, Disabled and Neurodivergent talent is a lack of access provision at facilities companies and in studio spaces, despite duties under Equality Act 2010 and related to Building Regulations.
A survey conducted by Jack Thorne's Underlying Health Condition campaign in 2021 revealed an industry which is largely inaccessible, denying disabled people the right to participate; particularly concerning was the lack of accessible toilets, all-round step-free access, and crucially accessible fire regulations that they discovered in studio spaces and facilities.
In light of this, TAP intends to come together as an industry with all major studios, post-production houses and facilities companies to encourage the development of new industry standards for inclusivity in their workspaces as well.
Ally Castle and Tanya Motie take the reins at TV Access Project
Ally Castle and Tanya Motie have been hired as Project Leads to work with TAP's members to coordinate plans and prioritise recommendations, in roles that have been funded by Channel 4 and the BBC.
Ally and Tanya will work for TAP for a day a week each, and will be supported by Becky Bailey from CBBC, who will provide admin support.
Chief Content Officer at Channel 4 Ian Katz said: "Ally and Tanya command huge respect. They are a pair of formidable change-makers, and are the perfect choice to help us use our combined weight to deliver the change we so urgently need in this industry."
The BBC's Charlotte Moore said: "The TV Access Project aims to significantly improve access provision for disabled talent across the TV industry. I know that Ally and Tanya will bring all their experience and networks to this vital task, and we're excited to have them on board."
Who is Ally Castle?
Ally Castle is Channel 4's Creative Disability Consultant, helping commissioners and independent producers grow the Channel's disability inclusion both on and off-screen.
Last summer she devised Channel 4's new Disability Code of Portrayal, a manifesto for how the broadcaster would build on its legacy of game-changing representation of disability on screen.
She was named in the 2021 Shaw Trust Disability Power 100 and works as a Consultant on both disability access and creative strategy in TV and beyond.
Ally said the new role has special significance for her. "Twenty years ago
Tanya gave me my first-ever job in TV in the BBC's Extend Scheme on CBBC's Xchange, and she has been a great mentor and role model throughout my career.
To be working with her again means so much. She is a true industry pioneer. I am also thrilled for the opportunity to co-lead a project, which I believe can bring about much-needed permanent, tangible change in the broadcasting world, for disabled talent. There is such great momentum and commitment across the industry, thanks to TAP."
Who is Tanya Motie?
Tanya Motie is an experienced Executive Producer and Consultant, advising the sector on how to achieve authentic portrayal.
She has worked in the broadcast industry for over 35 years, having started in the BBC World Service and Radio 4 before moving to News and Current Affairs and then BBC Children's.
Tanya became a Commissioning Exec before moving to BBC One and BBC Three as the Channel Exec, where she worked with Jay Hunt, Danny Cohen and Zai Bennett.
Now a Consultant, Tanya continues to mentor people from under-represented backgrounds in TV. Working with her creative collaborator Liz Carr, she recently devised The Fundamentals, a set of commitments that disabled creatives can use in contract negotiations.
Tanya Motie said: "These are exciting times with disabled professionals and industry leaders coming together to find solutions.
Ally Castle and Rachel Jupp at the BBC have overseen an extraordinary collaboration, which has resulted in an ambitious plan to remove barriers and ensure that television is open and accessible.
It's wonderful to be reunited with the exceptional Ally and I'm looking forward to working with her and other committed people to create inclusive sustainable change."
By Emma Purcell 
More on Disability Horizons…