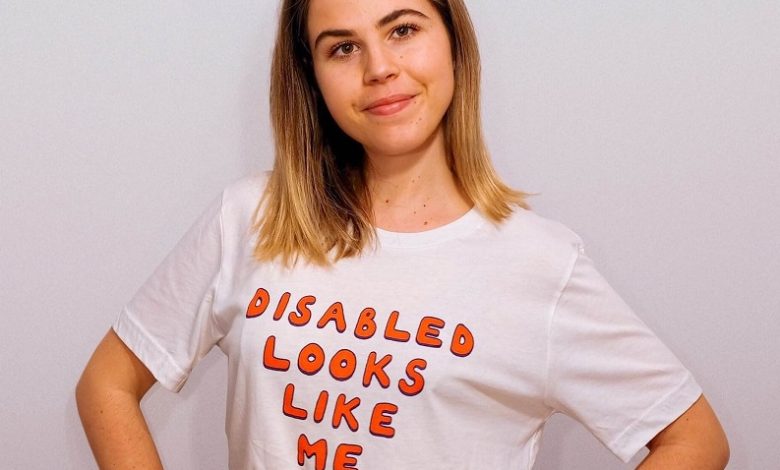 Lifestyle
Leonard Cheshire 'Disabled Looks Like Me' campaign raises awareness of invisible disabilities
As coronavirus cases continue to rise across the UK, there has never been a more important time to increase awareness about non-visible disabilities and health conditions.
Over the past month, disability charity Leonard Cheshire, in collaboration with artist and illustrator Mimi Butlin, has been working to breakdown stereotypes of what disability 'looks like' through a limited edition 'Disabled Looks Like Me' t-shirt campaign.
With so many people across the globe living with invisible disabilities, we as a charity wanted to create something that will start a conversation around this topic and encourage people with and without disabilities to show solidarity.
The idea for the t-shirts initially came from one of our Change 100 interns, Miriam Jones. She had the idea to design a t-shirt that would raise awareness and demonstrate to the world that actually, disabled looks like all of us.
Having a non-visible disability herself, Miriam felt like she didn't fit the 'disabled stereotype' and wasn't always taken seriously by her peers, the government and society in general.
She wanted to help other people in this position by creating something that could challenge these perceptions.
We knew that Mimi would be the perfect collaborator, having followed her illustrations on Instagram, @cantgoout_imsick, since she began posting in February 2019.
---
Pre-order a 'Disabled looks like me' T-shirts before 19th April 2020. Profits will go towards helping Leonard Cheshire support disabled people.
---
Mimi's story
Artist Mimi (pictured at the top) has been using her illustrations and unique typography online to help raise awareness about non-visible disabilities for the last couple of years.
 

View this post on Instagram

 

After becoming sick herself, she realised how people with chronic illnesses were often treated, and wanted to shine a spotlight on these issues.
She began by sharing celebrity portraits of women with different chronic illnesses, which led her to her exploring the complexities that women often deal with when navigating the medical industry and how people often have to battle to get a diagnosis.
Before Mimi was diagnosed with Ehlers Danlos Syndrome, Postural Tachycardia Syndrome and Fibromyalgia, doctors had put her symptoms down to depression, or said that it was 'all in her head'.
"It was the first time I had felt like I was experiencing discrimination due to my gender," she said, "I felt like everyone was treating me like an attention-seeking, confused little girl."
It took her a long time to get answers, but she knew she wasn't alone and that spurred her on to create her artwork.
Challenging stereotypes around invisible disabilities
As well as raising awareness about the experiences of women with chronic illnesses and disabilities, Mimi was keen to raise awareness about how disability in general is treated by society.
"Disabled people are so often marginalised and not included in society. Yet it feels like we are excluded from mainstream activism," she said.
"I also feel like people don't really know what to do when confronted with disability. Because disabled people are separated so much of the time."
The concept behind her collaboration with Leonard Cheshire is to confront these myths and misconceptions. Talking about the inspiration behind the slogan, she explained:
"The slogan came from my frustrations in how people believe that to be disabled you have to have a certain look. You need to be in a wheelchair and you most likely should be in the later stages of life.
For example, I, a woman at 26 with no visible signs of disability can't be disabled surely? Wrong! I very much am, and there are thousands of people like me out there.
But we are all different. We all have different gender identities, different styles. We are different sizes, colours, from different backgrounds, some of us are rich and some are poor.
Yet we are all disabled. I really wanted to break down the stereotype and I think this slogan does that in an inclusive way."
Invisible disabilities t-shirt going global
Since our campaign launched on International Women's Day, it has gained wide-ranging support from the disabled community, including notable influencers:
Paralympian Olivia Breen (pictured above)
sex and relationships Youtuber Hannah Witton
Amar Latif and blogger (pictured below)
Zebedee model Caprice Kwai
TV presenter and disability rights activist Sophie Morganentrepreneur
budding comedian Poppyoa.
Notably, the campaign has even had backing stateside from Hollywood actress Selma Blair.
Selma was the subject of one of Mimi's original celebrity portraits when she first started sharing her illustrations on Instagram.
Selma was diagnosed with Multiple Sclerosis in 2018 and has been using her platforms to raise awareness about disability and representation.
A self-professed fan of Mimi's artwork, Selma shared a selfie in the charity t-shirt and spoke about how people with disabilities, particularly non-visible disabilities, can be left feeling isolated and even disconnected from the disabled community as well.

T-shirts are available for pre-order on Everpress until 19th April with profits going towards helping Leonard Cheshire supporting disabled people to live, learn and work as independently as they choose.
By Leonard Cheshire