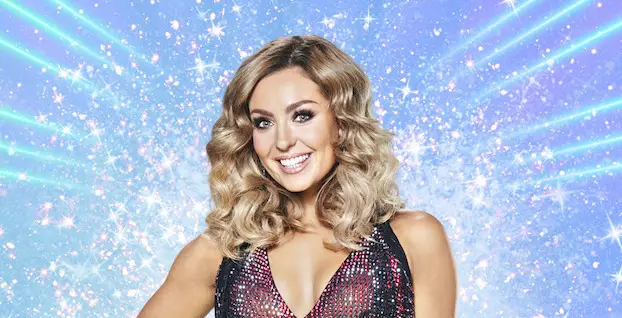 Amy Dowden is a 30-year-old professional dancer who is best known for competing on the BBC show Strictly Come Dancing. As a teenager, she was diagnosed with Crohn's disease, but that has never stopped her from fulfilling her dreams to be a dancer.
Our writer, Emma Purcell, got the chance to speak to Amy Dowden about what it is like living with Crohn's disease, her career as a dancer and performing as a professional on Strictly.
Amy Dowden is a professional ballroom and Latin American dancer from Caerphilly, Wales. She began dancing at the age of eight and has gone on to succeed in national and international championships.
In 2017, she became the British National Champion alongside her dance partner, and now fiancé, Ben Jones – and remains one of the highest-ranked ballroom and Latin American dances in the UK.
Amy is also a four-time British National finalist and in 2015 she reached the semi-finals of the World Champonships.
Amy joined the Strictly Come Dancing family in 2017 and her first celebrity dance partner was with presenter and entertainer Brian Conley. Sadly, they only made it to week four of the competition.
The following year, Amy partnered with actor Danny John-Jules, in which they received the first 10 points of the 2018 series.
 

View this post on Instagram

 

Amy and her dance partner Karim Zeroual – an actor and TV presenter – made it all the way to the grand final in 2019, but missed out on winning the Strictly glitterball against Kelvin Fletcher and Oti Mabuse.
Last year, Amy was partnered with ex-soldier and television presenter JJ Chalmers, who sustained significant injuries in a bomb blast in Afghanistan.
She managed to adapt the choreography to JJ's physical restrictions, and they reached week seven of the competition.
Away from the dancefloor, Amy opened up in 2020 about living with Crohn's disease, a chronic illness and type of inflammatory bowel disease (IBD) in which parts of the digestive system become inflamed.
She shared her story and experiences of living with a chronic health condition in a BBC documentary titled Strictly Amy: Crohn's and Me.
In the programme, she filmed her daily routine, times when she got flare-ups, her stays in hospital and conversations with other people who have Crohn's disease.
Read on to find out more about Amy Dowden in her own words.
 

View this post on Instagram

 
Amy Dowden living with Crohn's disease
What was it like growing up with Chron's disease and how were you diagnosed?
Growing up, we didn't know what was wrong with me. I would just have these really, really bad stomach pains and diarrhoea.
From the age of 11, I missed a lot of school. I loved school and just wanted to be there, learning in the classroom. There were many times when I'd be in hospital one day going back to school the next day because I didn't want to miss out.
Despite my passion for it, I lost a lot of my education. But I was lucky enough that I was able to work really hard and catch back up.
It was also scary for my friends to watch. They'd see me going off in an ambulance and know that I would be subsequently staying in the hospital for a long time. It was tough for my siblings, too.
When I was 18, it turned into severe constipation and vomiting. Initially, we thought it was suspected appendicitis.
Then, at 19, I was diagnosed with Crohn's disease. It felt like such a relief because we finally knew what was wrong.
I don't know of anyone who ever celebrates actually being told they've got a chronic illness, but we did because we finally had answers. I was put on the right medication and treatment to be able to finally move on with my life.
How does Crohn's disease affect you on a daily basis?
I generally have it well under control. I take medication daily and am on a strict diet. Other than that, I just try to be on top of my symptoms and listen to my body. That's the most important thing.
The signs of a flare-up are usually extreme tiredness and fatigue, swollen eyes, feeling sick, poor appetite and stomach pains.
Obviously, I can't help it when it does lead to a flare-up. So, when the signs occur, I do what I can – I rest or up my medication, which can prevent me at least from being hospitalised.
How does it work with Strictly if you're Crohn's flares up and how does the team support you?
The Strictly team is amazing. I couldn't ask for better people around me. We always have a backup plan with a professional dancer on stand-by if I'm not well enough to perform.
As long as I keep them up to date and am honest about how I'm feeling, the team provides me with tremendous support.
What responses have you received after revealing you have Crohn's disease and following your documentary Strictly Amy: Crohn's and Me?
Every day, I wake up to the most amazing messages online from suffers and people who know someone with Crohn's or colitis and how it helps educate them.
It's honestly been absolutely brilliant. I can't express my gratitude enough for them all.
Amy Dowden becoming a dancer
Where it all started. My first dance partner… my twin sister! I was the bossy one 😂! Our first pair of dance shoes and dresses and I remember coming home from school and trying them on and not wanting to take them off…. felt like a princesses!!! pic.twitter.com/eFbNo5ycfS

— Amy Dowden (@dowden_amy) February 6, 2020

What inspired you to become a dancer?
I just fell in love with dancing from the second I started at eight years old. I can still remember walking into my first class and seeing little gold sparkly shoes and being so excited.
I also vividly remember going to the ballroom tower in Blackpool for the first time. I turned to my mum and said: "Mum, I want to be a professional dancer", and "this is better than Disney World".
I just love everything about it, from the feeling of being absorbed in the music, to the sparkly costumes, shoes and the hair and makeup. The glamour of it combined with the competitive side are totally me.
Which is your favourite type of dance to perform and why?
My favourite type of dance is Latin American. With dance, and particularly Latin dances, I love how you can express yourself, both as a dancer and as a woman. I also love the characterisation of each dance.
What has been your proudest achievement as a professional dancer?
Winning the British National Championships in 2017. It was the most nerve-wracking day of my life. Thankfully, my coach from America flew in to be there for us. All of our family and our nearest and dearest were there too.
I wish I could go back and live it again. I felt so much pressure on me that I didn't enjoy it as much as I could have. I'd love to go back and do it again and just enjoy every second of it rather than feeling pressurised.
Amy Dowden on Strictly Come Dancing
How did it feel to be offered a role as a professional dancer on Strictly Come Dancing?
Wow, what an amazing first week at @bbcstrictly ❤️ thank you to everyone for making me feel so welcome! ❤️❤️❤️ pic.twitter.com/NJvXUJZpiD

— Amy Dowden (@dowden_amy) August 5, 2017
I've watched Strictly since I was a child, so the thought of being part of that line-up was incredible. I was also the first-ever Welsh national professional dancer to compete in the show, so it all felt like a dream.
I have also loved watching Brendan Cole and Anton Du Beke growing up, so being stood with them in rehearsals on my first day and dancing with them was so surreal.
It feels strange, even now, and I still pinch myself and think, "Oh my goodness, I'm on the biggest dance show in the world – it's crazy."
What dance moments would you say have been your favourite on Strictly over the years?
I would say my first score of 40 with my celebrity dance partner Karim Zeroual – it was also the first 40 score of that series.
Karim and I were so thrilled to have made it to the final too. We have both grown up watching Strictly so it was really surreal.
 

View this post on Instagram

 
I also enjoyed performing the Viennese Waltz with JJ Chalmers. It was very special.
What do you love most about being part of Strictly?
I just love the creativity and how we are one big family. I love being amongst my fellow pros who push me. I strive to be better by just being around them.
I also love creating and choreographing, and the challenge every year of having a different celebrity with a completely different level of ability and personality.
You take them along this journey and all of a sudden, they embrace it and fall in love with dance too.
I adore sharing the sheer joy and entertainment with the nation as well. Especially last year with everything happening with coronavirus – it was definitely something that the nation needed. It's just such a wonderful thing to be part of.
What was it like being paired with JJ Chalmers and did the partnership encourage you to open up about your Crohn's disease?
 

View this post on Instagram

 
Being partnered with JJ was an absolute honour. He is a true hero and a genuine, down to earth guy. He faces challenges with such courage and puts life into perspective.
We would have the craziest conversations about our stays in hospital and what we'd been through. We were so open and honest with each other. He made me feel more comfortable in my skin as well.
It was absolutely lovely, and I now have a friend for life.
How did you adapt dance routines for JJ's additional needs?
When working with JJ, I used to have to choreograph with my right hand in my pocket because he had restricted movement in that arm. I loved that side of things, being different with my creativity there.
We would just take it week by week. We faced new and different challenges every week and tested ourselves. With JJ, there was never, "I can't", it was always, "we'll find a way."
We didn't see problems, we just embraced everything.
---
Read our interview with JJ Chalmers to find out about his life, injuries, career as a presenter and experience of being on Strictly Come Dancing as a disabled dancer.
---
What advice would you give to other people with disabilities or health conditions wanting to become a professional dancer?
Always dream big. There will be obstacles in the way but you'll always find a way around them. And, because of this, the sense of achievement you'll have when you've got there and done it will be all the more incredible.
No matter how long it takes you, it's the best feeling ever and nobody can ever take that away from you.
Along the way, remember, don't get bitter, just get better. We learn more from the downs than we do from the ups.
You can find out more about Amy Dowden by following her on Twitter and Instagram.
Interview by Emma Purcell – follow her blog Rock For Disability 
More on Disability Horizons…