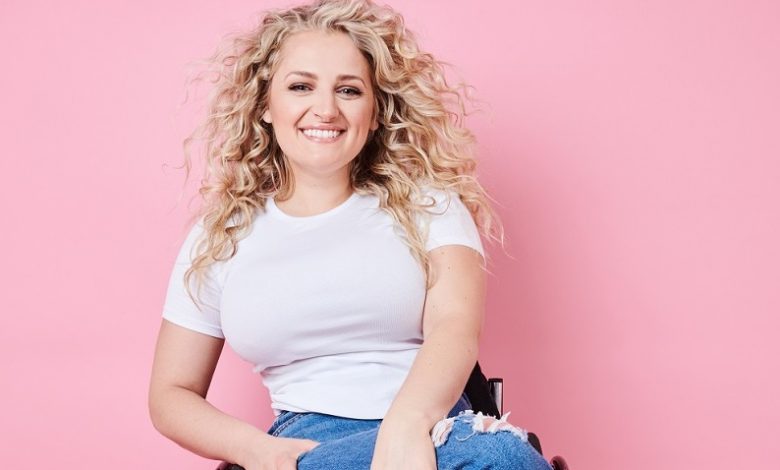 Ali Stroker is a 32-year-old American actress and singer, best known for being the first wheelchair user to perform on Broadway and win a Tony award for her performance in Oklahoma!. Our writer, Emma Purcell, got the chance to interview Ali about her career in the performing arts as a disabled person.
Ali Stroker grew up in Ridgewood, New Jersey. At the age of 2, she was involved in a car accident, which resulted in her being paralysed from the chest down and becoming a wheelchair user.
Ali began performing at the age of 7 and went on to star in musical productions at high school. In 2009, she became the first student in a wheelchair to graduate with a degree in Fine Art at the New York University (NYU) Tisch drama programme.
After graduating, Ali competed in the talent competition The Glee Project, where she reached second-place and won a guest role on Fox's Glee (scroll down to watch her appearance).
In 2015, Ali made history as the first actress in a wheelchair to appear on Broadway when she played the role of Anna in Deaf West's production of Spring Awakening.
Her exceptional career continued when she starred as Ado Annie in a production of Oklahoma! at St. Ann's Warehouse. In 2019, Ali broke more records by becoming the first actress in a wheelchair to win a Tony award for Best Featured Actress in a Musical for her role.
As well as her work on Broadway, Ali has also appeared in other television shows, including the Kyra Sedgwick ABC series, Ten Days in the Valley, Fox's Lethal Weapon and CBS' Instinct.
In addition, Ali has performed as a solo singer at world-renowned venues, such as the Kennedy Centre in Washington DC, New York's Town Hall, the Lincoln Centre for Performing Arts and Carnegie Hall.
Read on to find out more about Ali's extraordinary career and disability in her own words.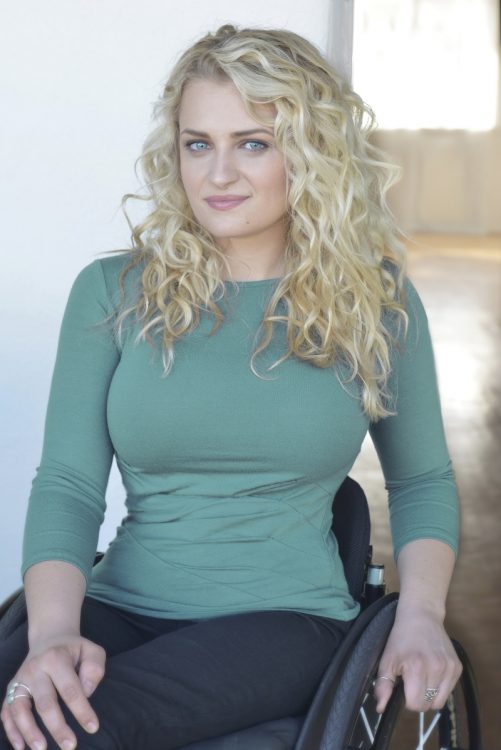 Ali Stroker on growing up as a wheelchair user
What is your disability and how did it affect you growing up and now on a daily basis?
I have a spinal cord injury and use a wheelchair to get around. Being in a wheelchair and living in this world with a disability means that accessibility sometimes affects me.
But I have been in a chair almost my entire life, so my relationship with my disability is very familiar and comfortable because it's basically all I have ever known.
Growing up with my disability was challenging, but also wonderful, supportive and full of connections with people.
Ali Stroker on becoming an actress
What inspired you to start acting?
I was introduced to musical theatre when I was 7 years old and loved both singing and acting. I also loved just being on stage.
I think the reason I love theatre, specifically live performances, is because I was used to being stared at because of my disability.
But when I am on stage and everyone is looking at me, it's a different kind of attention. It feels much more powerful. I felt like I am in control. Becoming other characters allows me to feel free.
View this post on Instagram

What was it like becoming the first actress in a wheelchair to graduate from the NYU Tisch drama programme?
Incredible but really hard. There was a lot of trial and error because I was the first. We had to figure out how to adapt some of the curriculum. But it was fantastic. I had such an amazing time at NYU.
Also, since I graduated, the program has made some significant changes to accommodate disabled people. A number of disabled students have been in touch with me, which is so great.
It's so lovely to hear from other people with disabilities who want to pursue their dreams and a career in this industry. To know that my experiences have helped and inspired others is the greatest feeling in the world.
Have you ever encountered barriers in becoming an actress because of your disability? 
Yes, every time I do something for the first time, people are unsure whether it's possible. In those situations, you must stay true to yourself and work really hard to get to where you want to be.
When I first left college, it was really challenging finding roles and auditions, so it took time. But now that I'm on the other side and have had some success, I have realised that everyone's journey in the industry is similar.
There are some people who get a break immediately and begin to get work. But for most of my friends, it has taken years and years and years.
View this post on Instagram
Ali Stroker in Glee
What did you love most about competing in The Glee Project and later getting a guest role in Glee? 
From the moment Glee came out, I was really excited. I loved the show format and it had the type of roles I was aiming for – musical theatre and about the underdog.
I know I would fit perfectly in that world. So it was instantly a dream of mine to be on the show. I just loved the way it was set up, the amount of music, singing, and dancing, plus the relatable stories.
The characters who were highlighted were not your typical leading characters, which I really admired and respected.
What kind of training techniques do you use to sing while in a wheelchair?
I've had vocal lessons since I was 8 years old. I sing all the time – during the day, in the shower, when I'm on route to different places etc. I really believe it's about practice.
I've worked, in particular, on a lot of different breathing techniques. Because of my injury, I don't have the same control and access to all the muscles that I would if I were able-bodied.
Singing is more than just making a sound – it's a physical activity. The breadth of support that you get from being able to control your diaphragm and lungs is incredible. So I have to do a little bit more work than others to get the amount of air I need to take in.
I've had to find different tricks to be able to use my breath properly and access all the physical parts of singing. So I focus on finding sensations in the parts of my body that I can feel that then create the same effect.
I also wear a brace around my core that helps me and gives me support when singing.
View this post on Instagram
Ali Stroker performing in Deaf West theatre's Spring Awakening
What was it like performing in a Deaf West production of Spring Awakening?
It was a life-changing experience. Spring Awakening started as a production in Los Angeles but was later performed in New York where I landed my Broadway debut. I got cast in the show as schoolgirl Anna, who is one of the friends of the main character, Ilse.
It was incredible to work on Deaf Theatre West because we both sang and signed for much of the show, so I got to learn American Sign Language.
It was great knowing that a deaf audience member would have been able to understand and enjoy the entire show as well as non-deaf audiences.
It was such an inclusive and creative production. It was also very successful in putting the deaf culture into the show. It worked really, really well.
Ali Stroker in Oklahoma! on Broadway
When performing the role of Ado Annie in Oklahoma!, what was your highlight?
View this post on Instagram

Performing as Ado Annie in Oklahoma! was such an incredible experience. It is my favourite role I have played so far.
Having been able to perform on Broadway more than 300 times for a year and a half was enough in itself. But to have pushed myself further than I ever thought I would have was an ultimate highlight.
It was also great that no changes to the script or choreography were made because of my wheelchair. I just translated and conveyed everything using movement, vocabulary and my singing.
Ali Stroker winning a Tony award
How did it feel when you won the Tony award for your role in Oklahoma!?
Incredible! I never set out to win an award. I always just wanted to work on amazing projects and do good work. It was beautiful to have recognition for all the hard work I've put in over the years.
It was also amazing to be praised for my work in the show when nobody had ever done it before as a wheelchair user. The director too had a great vision for the character and it paid off.
View this post on Instagram
Since winning the award, lots of people have been in touch and a number of things have changed, which is exciting. But it's so important to stay connected to who you are as a performer and not allow attention to change you and what your real goals are.
I continue to do a lot of work that is creatively satisfying, alongside commercial theatre to get a good balance and stay grounded as an artist.
Can you describe the meaning of your motto "turning your limitations into your opportunities."?
It means that your challenges can turn into gifts. With a strong will and the ability to shift your perspective, things that are really hard will turn into the most incredible and fulfilling adventures.
Ali Stroker in 2020
Do you have any new performance projects scheduled for 2020?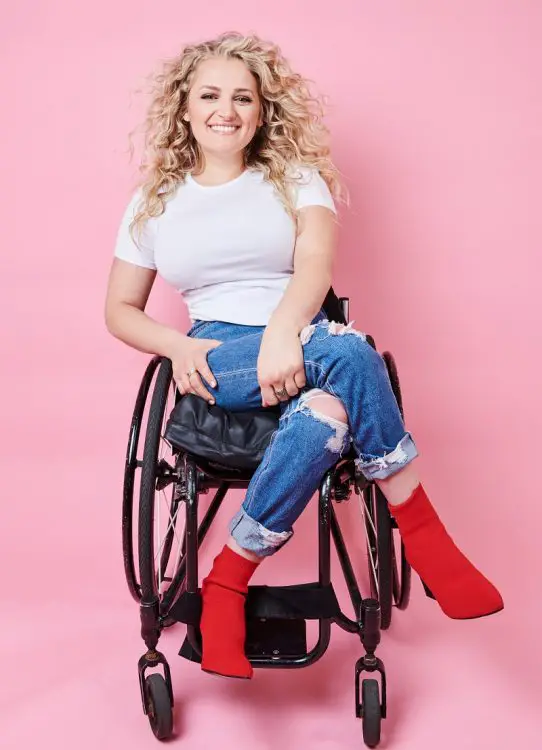 I just did a one-woman show at the Lincoln Centre back in January. But now, everything is cancelled due to the lockdown. Once things resume to normal, I am planning on performing with the San Diego Symphony this summer.
I am also working on a book that should be coming out in the next six months, and getting some recording equipment so that I can record some songs and readings of children's books.
I also have a theatre company with my boyfriend, David Perlow, called Tag Theatre Co. We are doing a Zoom reading series where we're just reading some plays aloud, which is really fun. We're about to start to work on Hamlet.
To find out more about Ali Stroker, follow her on Twitter and Instagram.
By Emma Purcell – follow her blog Rock For Disability
More on Disability Horizons…