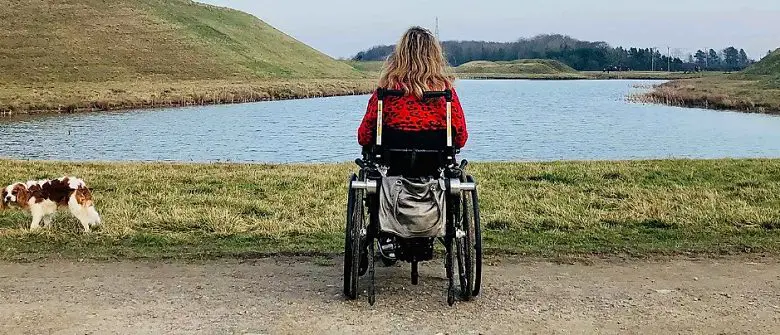 We're all finding different ways to cope with the coronavirus outbreak and self-isolation. Here, travel blogger Carrie-Ann shares her latest post on how she is finding ways to deal with and be happy in the new 'norm'.
When is a travel blogger not a travel blogger? A global pandemic might have something to do with it…
Clearly, I'm not going to be writing travel reviews for the next little while. As a wheelchair user who has Cerebral Palsy, like most disabled people I'm facing weeks if not months of isolation. In fact, travel is now inaccessible to everyone – disabled or not – for the first time in my lifetime.
After a couple of weeks of soul searching, asking myself questions such as: "Should I even be blogging right now?" "Are my words too trivial when the world faces so much uncertainty?" "What is my identity, my brand, without the industry that I've based my whole career on?" and so on, and so on…
I've decided to simply be true to myself. To write about what my life looks like right now, the things that I'm doing to help me cope with isolation and anxiety.
My intention is not to make anyone feel inferior. Please don't read them and think, "I should be doing those things too!" There simply is no should right now.
My hope is that you can get to know me a little better, learn about the things that make me happy, and perhaps along the way some of that happiness will reflect to help you find your own little pockets of 'normal' here and there.
So in no particular order, here is a little summary of things that I'm doing regularly to keep me anchored in a turbulent world.
The things that make me happy, that keep me focussed, that give me purpose and quieten the anxious voices in my head.
Cooking in self-isolation
'If in doubt, cook' should be my life mantra. Cooking allows me to feel creative, and useful, when I'm otherwise feeling a bit useless.
I have an accessible kitchen, and now that my husband Darren is isolating at home with me, we can cook things together that I might find physically more difficult on my own. It's like having a live-in sous chef.
My favourite way to cook is 'Ready, Steady, Cook' style, looking at what we have in and how we can make meals from odds and ends with no waste. Last week I came up with a chicken and vegetable savoury crumble… random, but so tasty!
Crochet
I should begin this paragraph by saying that I am a complete crochet novice; it has taken me actual weeks to get to grips with even a simple chain stitch. But, because I find it quite difficult, it gives me that element of escape.
I can lose hours curled up on sofa hooking-and-pulling-through, and I love that it takes me completely away from screens and gives me something practical to do with my hands. Hopefully one day I might even have something to show for my efforts!
Exercise and movement during lockdown
Without a doubt, the most effective way for me to manage my anxiety is through exercise. Obviously, this poses a challenge to someone with a physical disability.
I usually swim once a week, but with the pool closed, I've been trying wheelchair yoga and workouts at home.
I recently discovered Adapt to Perform's amazing YouTube channel, and last week did my first wheelchair HIIT workout. I won't say it was easy, but I felt amazing afterwards!
Limiting my time on social media
I love social media – I wouldn't have the platform I do without it! But constant checking can quickly spiral into addiction. This is something that I was actively trying to reduce pre-pandemic, and for me, it's now more important than ever.
Twitter is a constant news stream full of terrifying headlines, Facebook is swarmed with mind-numbing quizzes and Instagram, left un-curated, can leave us all feeling inferior. I've set time limits for these apps on my phone so that I can be mindful of the time I spend on social each day.
Meditation
I use the Headspace app, making sure to do a short meditation at least a couple of times a week. I found meditation really tricky at first, and it can often feel as if I'm not 'doing it right'. But I always, always feel better afterwards.
Just 10 minutes of sitting still, with my eyes closed, breathing deeply and concentrating on the present moment can transform my day.
Reading
Reading allows me to escape to another world, to temporarily ignore all of the terrible things in the world, especially important now! I actually can't fall asleep at night without reading at least a few pages.
I use a Kindle, just to make things a bit more accessible. It's lightweight and portable, and I'm constantly downloading samples of books I want to read. I've just finished Notes on a Nervous Planet by Matt Haig, which I highly recommend to every single person struggling with their mental health in this crisis.
Podcasts
Listening to podcasts started as something I did when working at home alone. The constant stream of chatter in the background somehow made me feel less lonely.
That's not so much of an issue now that Darren and I are isolating together. But in a strange way, listening to someone else's conversation helps to keep me focussed and present.
I'll post a roundup of my favourite podcasts soon, and if you have any recommendations please let me know!
Wheelchair walks with my dog
Those lovely state-sanctioned, socially-distanced, only 30 minutes each day walks, what joy! I won't lie, I am really missing our long weekend wanders. But getting outside and away from the house each day gives me a bit of a reset.
I'm lucky that we live in a relatively quiet area and that we can, most of the time, cover a mile safely. It's made me realise how much I value time alone, and how doing just one small thing independently each day is so important for my mental wellbeing.
Writing about my experiences with coronavirus
I'll always have a love/hate relationship with my pen (or more accurately, my keyboard). But when inspiration strikes, writing can be therapeutic for me.
To sit down in front of a blank page and somehow create something that is (hopefully) helpful to other people, and to then receive the lovely feedback that you guys often send me, makes me feel empowered.
It gives me a purpose and a connection to people who are passionate about the same things I am.
Lists
As we come to the end of this list, you won't be surprised to learn that I'm a list freak. I get a disproportionate amount of satisfaction from ticking things off, and it calms me to know that I have my priorities in order.
I have a list on my phone of 'daily activities', which includes all of the things I've mentioned above, in categories including 'focus your mind', 'get outside', 'do something creative', 'move your body' and 'wind down time'.
My aim isn't to do every single thing each day, but to try and do one thing from each category so that I don't obsessively cook everything in the kitchen, get lost in my laptop or work out for hours on end.
So, there we have it, my sort of self-styled, pandemic survival guide. I hope that it's helpful, and if not, then at least you've gotten to know a little more about me.
I'll be expanding on each of these topics in the coming weeks and months, either on my blog, or in shorter posts on Instagram and Facebook. Make sure you subscribe to my blog and follow me on social media for updates.
I'd love to know what you're doing to stay safe and happy during these difficult times. Let me know in the comments, and as always, get in touch if you'd like to have a chat.
If you're dreaming of future travels, or if you'd like to look back and remember happier times, I have a couple of blog posts which may help.
My Wheelchair Accessible Travel Survival Guide gives an overview of all of the things to consider when researching, booking and taking an accessible trip.
And my round-up of last year, 2019: A Year in the Life of a Disabled Travel Blogger reviews my 2019 in wheelchair accessible travel – from farm stays to spa hotels, countryside cottages and European getaways.
By Carrie-Ann Lightley
More on Disability Horizons…