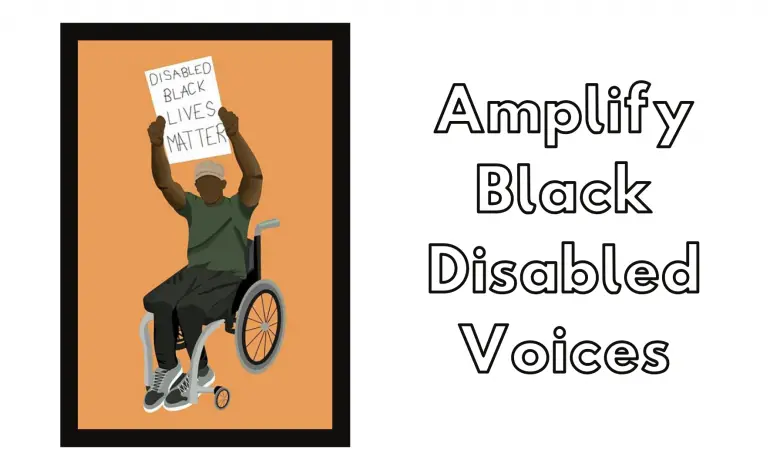 Now more than ever it is important to amplify black voices, especially from people with disabilities. One easy and powerful way to do this is by following black people on social media and learning from their experiences. Our writer and editor Shannon has compiled a list of 8 black disabled men that are changing the game.
Don't forget to check out our article from last week on 8 influential black women with disabilities to follow.
Antwan Tolliver
After acquiring a spinal cord injury, Antwan founded the clothing company, Freedom is Fly, which is an "affordable street style brand".
Antwan says adjusting to life in a wheelchair took a toll on him, "I didn't feel like myself. I felt uncomfortable in my own skin. Every now and then I would get dressed and go out with family and friends and that was the only time I felt alive. It made sense because when you look good, you feel good! That is the reason I created the brand, Freedom is Fly."
 

View this post on Instagram

 
"I just want to let people in similar situations know that it's okay to not be like everyone else. It's okay to not follow trends. It's okay to be comfortable in your uniqueness."
Antwan is also represented by Zebedee Management, a model and talent agency working with people with disabilities and visible differences.
Follow Antwan on Facebook and Instagram.
Leon Ford
Leon is the author of Untold: Testimony and Guide to Overcoming Adversity. He shares his experience of surviving five shots from a Pittsburgh Police officer that left him paralysed. It also details the steps he took to overcome the trauma associated with this painful experience. 
He recently joined President Obama for a conversation about Mental Health and Wellness in a Racism Pandemic, and also ran for Pittsburgh City Council in 2019.
 

View this post on Instagram

 
Leon has spoken to audiences around the country about overcoming trauma. He speaks about healing wounds by courageously addressing that they exist and by providing solutions to overcome them. 
He uses his influence to promote positivity, advocate for literacy, mental health and spinal cord injury research.
Follow Leon on Facebook, Instagram and Twitter.
Shaheem Sanchez
Shaheem is a talented dancer and choreographer based in Sacramento, CA. Sanchez went deaf at the age of 4, and taught himself how to detect the music's vibrations allowing the feeling to drive his rhythm.
His signature style combines American Sign Language (ASL) with hip hop dancing.
 

View this post on Instagram

 
He shares a YouTube channel with his girlfriend Nancy, where they make videos about being a Deaf couple. He is also a popular creator on TikTok.
Follow Shaheem on Facebook, Instagram, YouTube and TikTok.
Feranmi Okanlami
Dr. Feranmi Okanlami earned his Masters Degree from the University of Michigan and studied into Orthopedic Surgery at Yale, where he acquired a spinal cord injury during his third year.  He is currently an Assistant Professor of Family Medicine & Physical Medicine & Rehabilitation at the University of Michigan. 
He is also the Director of Adaptive Sports, which provides access to physical fitness and sports for people with disabilities.
 

View this post on Instagram

 
He often speaks to groups on diversity, equity, and inclusion related topics, including the lack of black male physicians and creating a health system that is more accessible to both patients and providers with disabilities. 
Through his catchphrase 'Disabusing Disability', Feranmi hopes to demonstrate that disability doesn't mean inability.
Follow Feranmi on Instagram and YouTube. 
Wesley Hamilton 
After obtaining a spinal cord injury, Wesley created the organisation, Disabled But Not Really (DBNR), to bring positivity and hope to the disabled community.
DBNR joins community events to raise awareness about the role of good mental and physical health in overcoming life's challenges.
Its scholarship program helps disabled individuals learn ways to improve their nutrition and fitness. It also supports the homeless population in Kansas City, Missouri by providing dignity care packages, water and food.
 

View this post on Instagram

 
Wesley is also an adaptive bodybuilder and a public speaker. He was on an episode of Netflix's Queer Eye and has been featured on many media outlets, including CNN, ABC News, BBC, and The Today Show.
Follow Wesley on Facebook, Instagram and Twitter. 
Jessie Chin
Jessie is a 'sit down' comedian who has performed at comedy clubs in New York City. He credits the power of laughter for his positive outlook on life.
He is an ambassador for the 'See Us' campaign for the Christopher and Dana Reeves Foundation, which highlights individuals with spinal cord injuries.
 

View this post on Instagram

 
Jessie says: "There are a lot of people in my situation who are going through life and they just want to be seen as a person. They are fathers, brothers, sisters, uncles.
The campaign is about seeing the person, not the disability, and getting people to understand that there's no difference between an able-bodied person and one with paralysis."
Jessie is also a model for the brand Tommy Hilfiger, and appeared on in the Runway of Dreams Fashion Show wearing the clothes.
Follow Jessie on Instagram.
Matt Maxey
Matt was born deaf and didn't start learning ASL until college. He realised he could combine his two worlds, deaf and hearing, and his love for hip hop to create change. 
Through his organisation, DEAFinitley Dope, he tours around the United States joining artists on stage to translate their concerts for deaf fans.
His big break came in 2017 when he went on tour with Chance the Rapper. Some of the songs he has signed include Praise the Lord by ASAP Rocky, Proud by 2 Chainz and 7 Days by Craig David.
 

View this post on Instagram

 
Matt says: "If we can get hearing people and the deaf community to come together and learn from each other as well as enjoy their company together, that's our mission."
Follow Matt on Facebook, Instagram and YouTube.
Garrison Redd
Garrison is from Brooklyn, New York and has a spinal cord injury. In 2019, he was selected to represent Team USA in Para-Powerlifting and has lifted more than 300 pounds in competitions. 
Garrison is a motivational speaker and has a Ted Talk titled "Life is Like Lemonade, where he discusses overcoming adversity.
 

View this post on Instagram

 
He also started The Garrison Redd Project, which provides people with disabilities opportunities to become active and to participate in adaptive sports.
Follow Garrison on Facebook, Instagram and YouTube.
Cover photo illustration by Lily Hughes.
More on Disability Horizons…