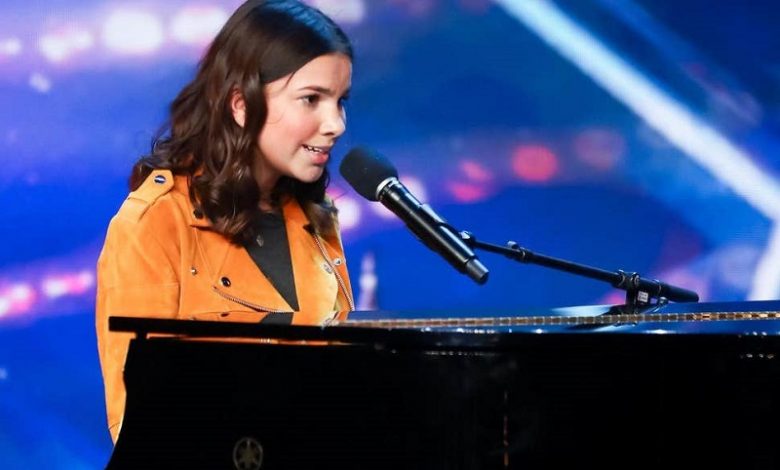 Sirine Jahangir is a young visually impaired musician who has a real passion for music. Our writer Zubee spoke to Sirine about her recent appearance on ITV's Britain's Got Talent. 
In this interview, she shares her experience of being on the show, performing in front of the judges and meeting with presenters, Ant and Dec.
Sirine hopes her performance will inspire other young disabled children that they can achieve whatever they want in life.
Since our interview with Sirine and her audition on the show, she has made it through to the semi finals, which will be aired on Saturday 19th September at 8pm on ITV. You can vote for her for free by downloading the BGT app.
Sirine lost her sight at the age of 10 due to a very rare condition that caused her optic nerves to deteriorate.
Her parents first noticed that her vision was going at the age of 5. She had dressed up as a pirate and was wearing a patch on her right eye. Suddenly, her vision was completely cut off.
She's had numerous medical procedures to try to stop her other eye from deteriorating, but to no avail.
Throughout this tough time, she used music as a way to deal with the dramatic change in her life and adjust to her new normal. She writes, sings and plays the piano to 'escape', and has continued to perform since then.
This year, at the age of 14, Sirine decided to take a leap and audition for Britain's Got Talent. Playing Salvation by Gabrielle Aplin, she wowed the judges, earning four yeses from the judges.
When you lost your sight, what challenges did you face and how did you overcome them?
Losing my sight was very gradual, sort of like falling asleep. I barely noticed it was going until my vision had completely gone and I had to do things differently.
The support from my family and my passion for music have really helped. I'm so grateful for both. Losing your sight is difficult for anybody, but having people to lean on and something to focus on is a great help.
This experience has given me so many strengths and gifts, enabling me to lead a fulfilling life, regardless of my disability.
What inspired you to get into music?
My earliest memories of music are from when I was singing to my late grandmother. She loved listening to me. I was probably really bad, but she made me feel like I was really good. She was my audience.
When I lost my vision, life presented a number of barriers. Blindness and the numerous hurdles that come with them can be isolating.
Music gives me freedom. There were no restrictions or limits for me when I am performing.
Through music, I am able to do whatever I wanted and sing without fear. Performing is the best feeling in the world. Today, music to me is like vision. It's what I live by.
What motivated you to audition for Britain's  Got Talent?
Since the age of 5, I have watched Britain's Got Talent (BGT), and I've always been in awe of the incredible acts.
Last year, my friend and I went to watch BGT finals. I was completely mesmerised by the amount of courage the acts need to stand on stage and show people their passion.
My whole life my parents have told me to always try new things. They are the reason why I do half of what I do. So I thought I'd give BGT a try and here I am.
How did you feel performing on the BGT stage?
It was the most incredible moment. I will never forget it. I was so nervous, but as soon as I started singing it all evaporated.
I never ever thought in a million years that I'd be doing anything like that. I'm so so grateful for all of it.
What was it like meeting with Ant and Dec and seeing the judges?
It all felt so very surreal. Ant and Dec were lovely. Although I didn't actually meet the judges when on stage, I have since talked to Amanda Holden on Heart FM. She too is incredibly nice.
I also met David Walliams on the day of my performance. He was so encouraging and positive.
Since appearing on the show, how has life changed for you?
It's absolutely crazy right now – the response has been so positive. Lots of people have contacted me on Instagram with lovely comments and it's so nice to hear. It's given me a lot of confidence.
Also, a lot of disabled people have been in though to say they have been inspired. I can't tell you how happy that makes me feel.
My hope is that if just one person gains confidence by seeing me on stage, then it's all worth it.
When you first started out in music, how did you feel the industry reacted towards your disability?
I have never ever felt my disability was a hindrance in the industry. That's why I love it so much. I've never had any negativity towards me, and that's why I find peace there.
If you could open a show for any artist who would it be and why?
Definitely Andrea Bocelli – he's my inspiration not just in music, but in life too.
I actually met him at the end of 2018 when he was in Britain to perform at Princess Eugenie's wedding. He said he wanted to meet me, which was incredible.
We had a real connection because we're both blind and understand the challenges that go with it. He gave me some great advice: 'Never give up, never stop singing.' And I haven't.
If you got the opportunity to collaborate with another artist or musician, who would it be?
My taste of music is so varied, but if I had to pick one, it would be Ariana Grande. I love her!
What is your favourite song to perform?
I do so many covers on Instagram that I don't have a favourite song. I simply like to sing – no matter what the song.
What advice would you give other disabled people who want to go into music, but lack confidence in themselves?
I hope people that see me, can see themselves doing the same thing.
My parents said I can do anything in life. I really believe it and I would say the same thing to anyone who has a disability. Do your best, that's all you can do.
What was it like learning braille?
It's actually one of my proudest achievements as I learnt Braille in less than a month.
I had an incredible teacher; a lady called Annette. She is beautiful and kind. I still keep in touch with her. So my memories of learning are all positive.
You now teach children braille. How did you get into that?
I started teaching a boy how to read Braille voluntarily. It is my favourite moment from school.
He lost his vision very young, so I became a role model for him. Teaching him about life was just as important as teaching him Braille.
I realised that I love teaching, so things went from there.
Aside from music, what do you like to do in your spare time?
As well as singing, writing is a passion of mine. That takes up all my time.
Other than that, I spend a lot of time with my family. We are very close.
What are your goals and aspirations for the future?
I want to take things one step at a time. But I like teaching, singing and writing. So one of these things will be my future. Maybe a mixture of all of them?!
Britain's Got Talent continues every Saturday at 8pm on ITV.
Interview by Zubee Kibria
More on Disability Horizons…