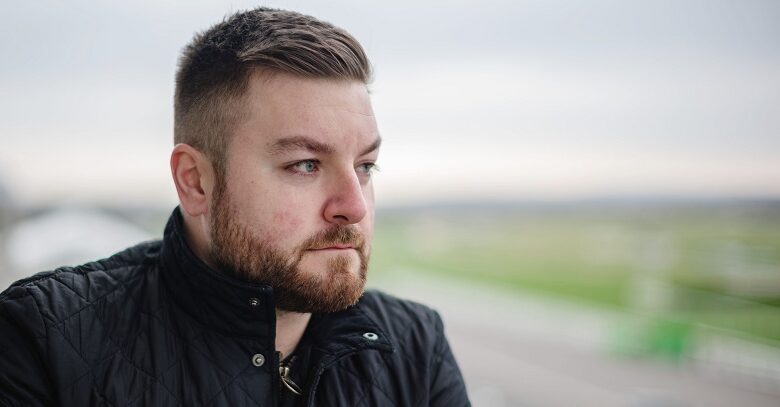 Alex Brooker is a 36-year-old television presenter, journalist and comedian. He was born with limb deformities, which resulted in him becoming a leg amputee and living with dexterity issues. Alex is best known for being co-host on Channel 4's comedy panel show The Last Leg, but has since been in a number of TV shows.
Our writer, Emma Purcell, got the opportunity to interview Alex Brooker about living with his disability and his career in journalism, comedy and television.
Alex Brooker was born with hand and arm deformities and a twisted right leg, which had to be amputated when he was a baby. He now wears a prosthetic leg.
Alex graduated from Liverpool John Moore University with a degree in journalism in 2006. He went on to work as a sports reporter at the Liverpool Echo and Press Association.
In 2012, he applied to the Channel 4 scheme Half Million Quid Talent Search, which was looking for new presenters and journalists with disabilities to host the London 2012 Paralympic Games.
Alex became a reporter at the London 2012 Paralympics and later joined as co-host on the comedy panel show The Last Leg, alongside comedians Adam Hills and Josh Widdicombe.
Alex has made appearances on many other TV programmes including The Jump, Sink or Swim and Alex Brooker: Disability and Me.
Alex Brooker got married to his wife Lynsey in 2014 and they have two children together.
Read on to find out more about Alex Brooker in his own words.
Alex Brooker living with his disability
What was it like growing up with your disability?
I look back on my childhood and my disability and think that I was very fortunate. Within the realms of my disability, I was able to be quite independent.
I remember when I was younger, my mum was worried about me going into mainstream school; she wanted to send me to a disability-based school.
But my dad was very keen for me to go into mainstream schooling, so that's what happened. I was very lucky with all my teachers, right through from primary school to secondary school.
View this post on Instagram
I was never particularly bullied and never made to feel overly different from the other kids. I remember going to secondary school and on the first day we had swimming.
After we all got ready together, the teacher gave me armbands and put me in a little kayak. I thought: "Cool – we're doing kayaking on our first day of school."
Sitting in the kayak, without an oar, and looking at the rest of the pool, I wondered how the teacher was going to fit another 30 kayaks in there.
At that point, I started to see all the other kids jumping into the pool, while I was sitting in this kayak just spinning in the wind without an oar.
My friend Tom, who was at primary school with me, said to the teacher: "Sir, why is Alex in that kayak?" and the teacher said, "Alex has got his disability and I want him to feel involved because he can't swim."
Tom replied; "What do you mean? Alex can swim further than me." I remember the teacher running up to the other side of the pool and the look on his face was incredible.
"I'm so sorry. I didn't realise you could swim. I just wanted to get you involved," he said, and took me out of the kayak and chucked me into the water. I actually decided to mess around with him and kept my head under the water for a few seconds.
I think that was a real line in the sand for me with that teacher. Some people would look at it as a very negative experience. It's someone who made an assumption about a child with disabilities, which is something that happens a lot to disabled people all through their lives.
But I look at it with massive fondness because he just wasn't sure what to do. He clearly never had a disabled kid in his class. He wanted to get me involved – and that's not a bad thing.
Once he understood, I was never questioned again about anything I could do.
View this post on Instagram

Yes, I had different needs, but it was never an issue.

For instance, I used to get the mornings off school to go and get measured for my legs, which was just brilliant. Especially at secondary school, I used to look forward to going to get my new leg.

I'll be honest with you, sometimes I used to string it out a bit and say it wasn't quite right so that I would end up with an extra morning off.

I look back on moments when I was in hospital differently now I am older and a parent.
Of course, I had different needs, but it was never an issue. For instance, I used to get the mornings off school to go and get measured for my legs, which was just brilliant. At secondary school, I used to look forward to going to get my new leg.
I'll be honest with you, sometimes I used to string it out a bit and say it wasn't quite right so that I would end up with an extra morning off.
I also look back on moments when I was in hospital differently now I am older and a parent. At the time, going to Great Ormond Street was wonderful. I got to choose my food, eat ice-cream, watch telly, play Nintendo and I even got my own specified play specialist.
Yes, you'd have to have an operation but, to me, I never looked at those in fear. It was like a little holiday.
I look at it now as a parent and realise how hard that must've been for my mum and nad. It takes a different spin on it.
Overall, I had a really good childhood. I've always been very extrovert and loved attention, which can be a negative thing, but I've always been very out there.
I suppose a part of that was probably because I realised I was slightly different, so I slightly over-compensated for that.
Do you use adapted technology, tools or mobility aids to carry out tasks?
I remember having an occupational therapist as a child who gave me a laptop and triangle-shaped pencils and pens to help me hold them. I also had an operation on my left hand, which made it easier for me to grip a pen.
View this post on Instagram
As a teenager, I had another brief visit from an OT after another op. They tried to sort out adapted crutches for me, but I still couldn't be bothered with them and just ended up spending most of the time in a wheelchair.
Now, as an adult, I do pretty much everything without assistance. However, the one thing I really can't do is my top button.
When I've been to award shows with Adam and Josh, Josh has done it up for me, or on The Last Leg, the producer does.
It's still slightly humbling to have to ask someone for help because it's so rare when I do.
I do use some grip aids from Active Hands (pictured below) when I go to the gym. I met the founder Rob Smith at a Shaw Trust Power 100 ceremony a couple of years ago and he suggested I try them out.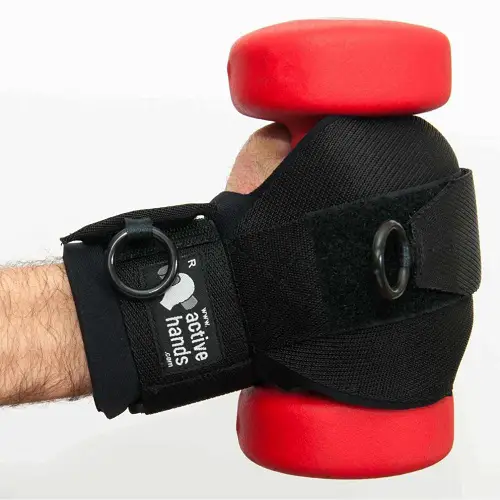 They essentially an elastic strap that goes around my wrist allowing me to hold an item in place without having to grip. They have completely changed the way I train. If I had never met Rob, I would never have thought to try them.
If you have dexterity issues, try the new Button 2 Button adapted buttons on the Disability Horizons Shop – they allow you to easily adapt buttons on any item of clothing.
---
You used to be a Paralympic rifle shooter – can you tell us more about how that came about and why you stopped playing the sport?
Back when I was a sports journalist for the Press Association, I was asked to go along to 'Talent ID' days ahead of London 2012 where disabled people would try different sports. As part of it and to give the story a bit of colour, they said I could have a go.
I tried rifle shooting and realised I was really good at it straight away – they were even calling people over to watch.
I was subsequently asked to go to the training camp at Stoke Mandeville, which was exciting. However, after three months, I decided to quit.
I've never really spent a lot of time around disabled people, but all of a sudden I was surrounded by 10 to 15 disabled people at a time. It made me feel quite self-conscious.
Looking back, I wasn't mature enough to work out how I really felt about myself. I ended up going to therapy for a while because I knew something wasn't right.
It wasn't that I looked down on the other people there, quite the opposite – I loved them. In fact, I still talk to one of the guys regularly now. It was about me.
Giving up rifle shooting is one of my biggest regrets. But I had to go through that to get to where I am now.
It's weird because I left there in March, feeling quite self-conscious about my disability, then fast-forward six months and I was doing an audition for Channel 4 and presenting at London 2012.
View this post on Instagram
Alex Brooker on The Last Leg
What inspired you to audition for Channel 4's talent search and how did it feel about becoming a co-host on The Last Leg?
I was just looking for other jobs within journalism. I saw Channel 4 advertising its Half Million Quid Talent Search. It didn't mean I would win half a million quid – if it did, I definitely wouldn't have done The Last Leg, I would've just gone on holiday!
It was Channel 4's investment in new talent. It was looking for presenters and journalists for the London 2012 Paralympics coverage and beyond.
It also particularly wanted disabled people with backgrounds in Paralympic sport, journalism and/or media. I had all three.
I recorded a three-minute audition video and uploaded it to YouTube along with my application. I was very blasé about the whole thing. It was one of a number of jobs I was going for and none of the others was in TV.
At university, when we did our TV journalism module, I was told that my broadcast voice was a little bit too common. So, I thought, I can't be a newsreader then.
I also had a slight misconception about disabled people being on TV. It's sad to think that when I was growing up, there weren't that many disabled people in the media.
I always grew up thinking that society doesn't really want us on TV, or that there is a prejudice towards disabled people being on screen.
Because of this, I actually left my audition video to the last day. My mate Russ owned a small production company and he was going to record it for me.
On the deadline day, he was swamped with work, so didn't think he could fit it in. But, after reading my script, he thought it was too funny to not film.
I submitted it about two hours before the deadline. Again, if Russ had never made that time, I never would have auditioned or thought twice about it really. It was one of those twists of fate.
I remember Channel 4 calling me back about a month later and inviting me down to a live audition. Even after that and right up until London 2012, I never knew that I was going to be a proper reporter for it.
Then, at one of the multiple training sessions and work experience placements I did with Channel 4, I met the guy who ended by being the producer of The Last Leg.
I got talking to him and he thought I was quite funny, so he wanted me to be involved in it. There was definitely an element of luck in how it all landed for me.
Over the past eight years, what have been your favourite moments and guests on The Last Leg and why?
Back at London 2012, the show was so raw. I look back at the early days with such fondness because they were so much fun. It was also my first TV job, so I was really innocent about it all too.
Since then, there have been so many favourite moments, particularly ones that involve individual guests.
View this post on Instagram
We had Ricky Gervais on and I'm such a big fan of him and The Office, so it was amazing to all of a sudden be sat next to him and trying to do jokes. It was the same with Russell Crowe, who I did a sketch with live on the show.
I also loved doing a sketch with Daniel Radcliffe, where I dressed up as Hermione. I kept thinking to myself: "I'm with Harry Potter." I never imagined that would be my life.
The Rio Paralympic shows from 2016 stand out above all others though. Every single show was a joy – I loved it and looked forward to it every night.
The Last Leg had been going for four years by then, and the show had been turned into a news entertainment programme.
But in Rio, we were going back to our roots, back to the Paralympics. I just loved talking about sport, disabilities and being around the athletes.
I also loved it when Josh and I got to dress up as clouds for the opening ceremony of Rio 2016. Even though we looked like dickheads, it was awesome.
We were stood in the tunnel in Maracanã, which is a big Brazilian national football stadium and a big thing to us as football fans. Josh looked at me and said: "Oh my God, this is incredible." We jumped around like idiots.
I also wished we kept the tracksuits because they were so comfortable!
View this post on Instagram
Do you consider yourself to be a comedian and would you ever think about doing stand-up?
It's hard to say you're a comedian because that is almost an admittance that you're funny, and if you say that, you have to be funny all the time. So I try not to do that because I realise my jokes are a bit hit and miss sometimes.
I've done some stand-up at corporate events and a few 5 to 10-minute gigs here and there. I also did five minutes before Josh came on at the Comedy Gala at The O2.
It was in front of about 11,000 people in London in 2016. That was big for someone who doesn't usually do stand-up.
Having been on TV for eight years now, I feel like it would be good for me to give stand-up a chance. Before coronavirus, the plan was to start gigging properly. Well, at least give it a go.
Alex Brooker as a TV presenter and personality
What was your experience as a presenter on the reality show The Jump?
The Jump was tough. I was asked to be the co-host, but I don't think my role was ever really defined, so it was quite chaotic.
As somebody who hadn't done a lot of TV at that time, I felt like that reflected slightly in my performance. Some of it was good – interviewing Amy Childs and trying out the bobsled was a real highlight – but some of it wasn't. It was a big learning curve for me.
At one point, I was getting online abuse and it made me think that I didn't want to do TV again. Looking back now, if I did it, I would be a completely different presenter.
What was it like taking part in Sink or Swim and how did you feel about not being able to get across the English Channel?
View this post on Instagram
Sink or Swim was amazing but also extremely difficult in so many ways. My father had passed away about six weeks before I started the show, so it was an awful time.
But I still wanted to do it. My dad loved swimming and he really got me into it. That made it very emotional, particularly at the start.
I remember us doing this swim in lake Windemere and I just couldn't get going. My body wasn't doing what I wanted it to do. I felt so self-conscious and got very emotional, which, of course, they filmed.
But from that came a determination to not give up and to keep going. I went into it saying to my agent, "As long as I'm not the worst swimmer or have to leave after the first week because I'm so crap then I'll be happy."
After that Windemere swim, I went back the next day and did the 500 meters in one go. I then swam it again a couple of days later, even quicker, and I just kept going from there.
I even swam with a shoulder injury, which was nothing to do with my disability. I had to have an injection in my spine to keep me going. In the end, I became one of the best swimmers. It was amazing for me to be able to do that.
When we got to the actual Channel swim itself, I hadn't actually swum for four weeks and had only done half an hour in the sea. The Channel is one of the toughest sea swims in the world, so I was proud that I managed to get to it.
We were so close to completing the Channel, but the weather stopped us, and it still breaks my heart now to think that all that hard work just went.
Who came up with the idea of the documentary Alex Brooker: Disability and Me and do you feel you've learnt more about your disability since filming the programme?
I did a show for the company, Seven Wonder, in 2018 called The NHS: A People's History, which was part the 70th anniversary of the NHS.
We enjoyed working together and I liked that it was something different for me, not just comedy. We stayed in touch and talked about ideas for a documentary.
At the same time, I had got to the stage in my life where I was able to open up and understand issues related to my disability – and so Alex Brooker: Disability and Me was born.
I had a lot of input into the content, which ended up mostly as me being interviewed. We decided on areas we wanted to focus, but otherwise, and we just filmed without any preparation so the conversations were raw.
Even the scene where mum and I were looking through photos was like that. Some of the pictures of me as a baby I'd never seen.
With one picture, where my fingers were stuck together, it prompted me to think about how the surgeons had managed to give me the level of function I have in my hands now. It's incredible.
View this post on Instagram
These real thoughts genuinely came across on camera. It's very rare on TV to get moments that transcend beyond just filming – they were for me as a person too. It was very cathartic.
I also realised after doing the documentary that talking about my disability, particularly with my parents, is much more nuanced than I thought. Having a conversation like that isn't necessarily negative, as you could see from scenes with my mum.
I took a lot from that documentary and learnt a lot about myself. It was rewarding but also very nerve-racking because it is a film about something so personal to me.
Alex Brooker's charity work and recognition on the Power 100 list
Did you enjoy being a part of Scope's End the Awkwardness campaign and have you seen improvements since it was launched?
What I love about this campaign is that it used humour as a way to break down barriers. It was also fun to be part of – I really laughed on set a lot – and I know it connected with a lot of people.
My favourite video is where a guy interviewing alongside a lady from HR who has dwarfism is really awkward toward her. It highlights how ridiculous these situations can be, which was a massive part of the campaign.
How did it feel being recognised as one of the most influential disabled people in the Shaw Trust's Power 100 list?
I've been in it a couple of times and moved up the list to number one a couple of years ago, which was amazing.
What I love most about the list is the variety of people in it. I worry sometimes that people think you have to be on TV or a Paralympian to be regarded as some sort of successful disabled person.
But this is rubbish and not true at all. So it is very humbling to be amongst so many disabled people that are doing amazing things in so many different industries.
It sends out the message that you don't need to be nervous about employing disabled people. There are so many disabled people doing amazing things and they deserve credit for that. So many businesses are depriving themselves of good workers.
View this post on Instagram
Alex Brooker's wife and children
Has your wife Lynsey ever been fazed by your disability?
When we first met, I never mentioned my prosthetic leg. Looking back, that was madness because, inevitably, if things went the way I wanted it to, I wouldn't be able to hide it forever.
I told her one day out of the blue when we were visiting a safari park. I remember standing in the queue and seeing a sign saying that disabled people can let their carer in for free. I turned to Lynsey and said, "Tell them you're my carer and you'll get in free." She said "what?" and I just said "nothing".
It was the most surreal thing I'd ever come out with and I still can't believe I said that. That was our first disability conversation.
Who knows, she might have been thinking, "He's a right catch this guy. We get great parking and he gets me into a safari park for free. That's the sort of guy I want to keep!"
I was also nervous about taking my leg off in front of Lynsey and in previous relationships. Then the first time I did she didn't say anything and we never talked about it. The concern was more in my head than hers.
If I could go back in time and give advice to 18-year-old Alex, it would be that women don't care about your leg. They care more about your hair or your banter! That's what's going to lose you women, your lack of chat, not your lack of feet.
You recently mentioned that your eldest daughter is noticing that your hands are different. Has this made explaining your disability easier?
Before my children were born, I was worried about them being scared of my hands, as well as whether I'd actually be able to be a parent.
When my eldest daughter, who is three and a half, noticed my hands for the first time and asked me what happened, I just said, "This is how I came out of my mummy's tummy".
That was it. She didn't even ask a follow-up question. I couldn't believe it, after 20 years of worrying, the conversation was done and dusted.
When I bathed both of my kids recently, and one noticed my leg off for the first time. Again, I simply said I was born that way and she didn't ask for any further explanation.
There's a wonderful innocence to children. They're not asking you because of any misconception about disabled people and or because they look down them or think they're weird. They're just asking through sheer innocence.
View this post on Instagram
What advice would you give to other disabled people wanting to pursue a career in television?
My advice is to be proud and confident of who you are and in the fact that you have something that the public will want to see.
We need more disabled people in front of and behind the camera. There are so many schemes now aimed at getting disabled people into television production.
It's great to see because if there are more disabled people commissioning programmes and well as presenting, it means more disabled people will be cast on these shows too.
You can find out more about Alex Brooker by following him on Twitter and Instagram.
The Last Leg returns to Channel 4 on Friday 23rd October 2020 at 10pm.
Interview by Emma Purcell – follow her blog Rock For Disability
Main image credit: Harry Truman for the BBC
More on Disability Horizons…