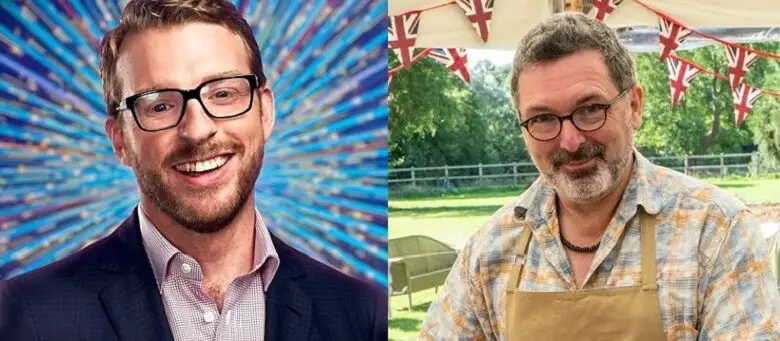 Following the appearances of Jonnie Peacock, Will Bayley, Katie Piper and Lauren Steadman on Strictly and Bake Off contestant Briony May Williams in 2018, both shows are continuing to be inclusive by featuring more disabled contestants in 2020.
Sculptor, landscape photographer, support worker and climber Marc Elliott, who lost his leg in a motorbike accident in 2016, is the latest disabled contestant to compete in this series of Great British Bake Off on Channel 4.
2020's Strictly Come Dancing contestant JJ Chalmers is a former Royal Marine who was injured in a bomb blast in Afghanistan. He went onto compete in the 2014 Invictus Games and later presented coverage of the Rio Paralympics and anchored BBC One's coverage of the Invictus Games.
Read on to find out more about Marc Elliott and JJ Chalmers, and head to our full interview with JJ Chalmers.
Marc Elliott competing on the Great British Bake Off 2020
Marc Elliott is a bronze resin sculptor from Cornwall. He decided to take part in Bake Off to prove to his daughters that you can still rise to challenges no matter what life throws at you.
In 2016, Marc was involved in a horrific motorbike accident, which resulted in him having his left leg amputated.
Following his injury, he took up bread making as a form of therapy.
The 51-year-old was previously an accomplished climber and worked as a landscape photographer, as well as conquering the world's trickiest mountains.
Thanks to the encouragement of his daughters, Marc has taken up climbing once again.
He is now a single parent to his two daughters and a part-time carer for a young lad called Josh.
Marc has spent five weeks in the Bake Off tent and in week four, bread week, he became star baker.
This was also the first episode where he mentioned his injury. He chose to bake a Buddhist-themed recipe after reading a book about the philosophy after his injury and finding it extremely helpful in aiding his recovery.
You can watch the Great British Bake Off Tuesdays at 8pm on Channel 4 and stream the series so far on All4.
JJ Chalmers set to take part in Strictly Come Dancing 2020
---
Read our interview with JJ Chalmers about his time in the Royal Marines, his injuries and recovery, his presenting career and his experience of Strictly.
---
John-James 'JJ' Chalmers is a former Royal Marine Commando who suffered life-changing injuries following an IED explosion in Afghanistan, which crumbled his body.
He sustained multiple injuries to his neck, face, arms and lost two fingers. Speaking to the Metro, JJ explained the extent of his injuries:
"My arms essentially came off, and they were stuck back on by incredible surgeons in the coming weeks, and months, and years, for that matter."
"My face was crushed, my neck was broken, my eardrums were burst. Pretty much everything had some level of damage. But, except for a couple of fingers, everything was still there.
"It was all stuck back together, the surgeon built me a new body. And then I spent the best part of four or five years learning how to use that body."
JJ then went on to compete in the 2014 Invictus Games, where he won three medals and captained the Trike Cycling Team.
Following this, he has become a TV presenter and hosted coverage of the Invictus Games and the Rio Paralympic Games.
JJ admits there maybe moves he'll have difficulty performing on the dancefloor.
He said: "I very much doubt I'm going to be able to go full crazy and hold someone above my head, because I can barely lift my arms above my head. But, at the same time, I'm going to try and I'm going to be sensible."
Other celebrities who will be joining JJ on Strictly will include comedian Bill Bayley, journalist Ranvir Singh, DJ Clara Amfo, actress Caroline Quentin, NFL star Jason Bell, The Wanted singer Max George and boxer Nicola Adams.
Strictly Come Dancing will return to BBC One on Saturday 24th October 2020.
By Emma Purcell
More on Disability Horizons…