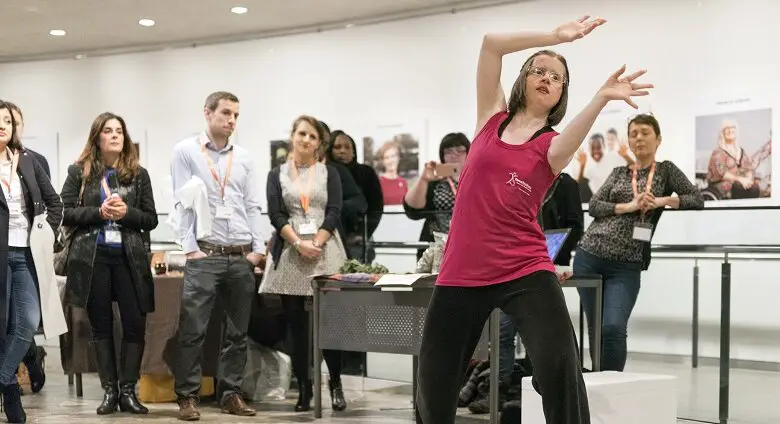 Wellbeing & Fitness
Using dance to help people reach their potential and change perceptions of disability
Dancer Jen, who has Down's Syndrome and founded the dance company DanceSyndrome, explains how she and her troupe are contributing to society and changing perceptions of people with disabilities.
I'm Jen, 39-year-old years old and a community dancer who happens to have Down's Syndrome. I have always danced and I'm on a mission to share my passion for dance so that everyone can experience its' joys and benefits. I firmly believe that even though I have a disability, my disability doesn't define me for who I am.
When I was young, I danced in the bathroom in the morning, danced while putting the shopping away and, during my 10 minutes of 'chill' time before bed, I put the music on full blast and danced my heart out. The floorboards of my bedroom bounced as I enjoyed a full-on dynamic workout. 10 minutes later, I would be sound asleep.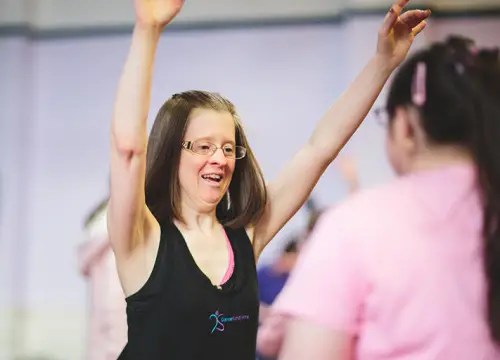 Life hasn't always been straightforward for me. Having been written off at birth, deemed not to amount to much by educationalists, and having overcome life-threatening pneumonia at the age of 13, I am now turning some perceived norms upside-down.
I believe that I am living proof that leadership can come from unexpected places. People who are marginalised through disability, or indeed any other cause, can become contributors to society in ways most of us can't even imagine.
Dance is in my veins
I am a dancer, a dance leader and a flautist. I get up to dance. My morning wake-up routine is a Zumba workout.  Dance is in my veins, it's in my heart and in my soul. It's my life, my everything.
Ever since leaving school at 18, I wanted to share my passion for dance with the world, to get everyone dancing, no matter who you are or where you come from.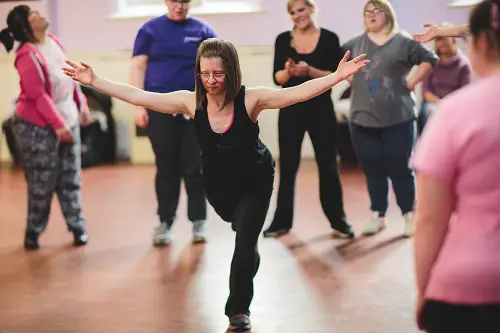 My mum and I looked for more than 10 years for opportunities for me to train to be a dance leader. Eventually, we gave up and decided to try it our way – not having any idea where it might lead!
DanceSyndrome was set up in 2009, in 2010 I chose my own dancers. It became a charity in 2013.
DanceSyndrome is led by me and my fellow dance leaders who all have learning disabilities, but we work professionally and inclusively alongside non-disabled dance artists.
Together, dance gives us a voice to be heard. It is our language of communication. If in doubt, dance it out!
We welcome everyone. In our inclusive world, there are no doors to knock on, no barriers to break down. You belong.
At DanceSyndrome, every person is recognised for who they are and everyone contributes. Every single person brings their own unique talents and assets to the mix. Every person is an equal, valued and accepted for who they are. There is no discrimination.
Making a difference for disabled people
In 2015, my mum and I won 'Inspirational Woman of the Year' at the Enterprise Vision Awards. More awards keep coming every year, including the Queens Award for Voluntary Service in 2019.
In 2018, 2019 and now for a third time in 2020, I have been listed as a member of the Shaw Trust's Disability Power 100!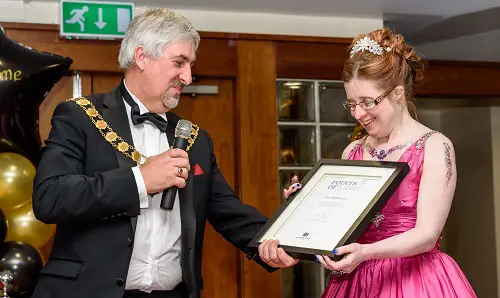 I also love being asked to speak and dance at events. I've danced at the House of Lords with Baroness Hollins, one of our patrons, and, in 2019, I was invited to the Queen's Garden Party.
That year, I was invited to attend the Reaching Communities VIP 25th celebration at Somerset House, where I met Sir John Major and Joe McFadden.
At the event, the organisers shared the latest National Lottery advert featuring Alexandra Burke and I was shown on a big screen! It was incredible.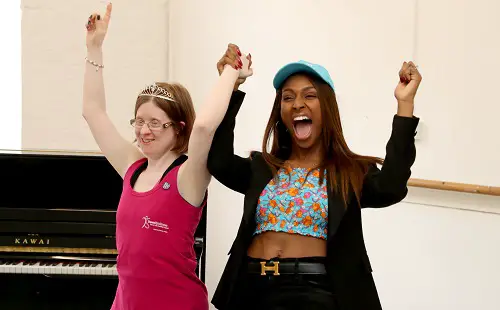 We have great trustees including Professor Chris Hatton and Nirmal Kumar, President of ENT UK, the professional body for ear, nose and throat surgeons.
The best thing of all, I hadn't discovered friendship before DanceSyndrome, but now I have friends in my life – people who truly value me for who I am – a dancer, a musician, a friend. It's the most amazing experience ever.
My mum and dad spend lots of time helping Dawn, Sophie, Sarah and the others with running DanceSyndrome, while my dancers and I supply the leadership.
Blazing a trail for other disabled people
We all believe we are blazing a trail to better futures for ourselves and for other too through equality and opportunity.
Marginalised people, who are so often written off or dismissed by society, are the leaders of DanceSydrome. Finding our voices through dance our potential is celebrated, we are breaking the mould.
Together, we build communities, where the foundation of equality affords every person respect. In this utopia, extraordinary things happen. Dancers become carers and carers become dancers, further enhancing the mix and the cohesion.
As the founder of DanceSyndrome, I am recognised and accepted for who I am, being the best that I can be, creating opportunities and changing lives.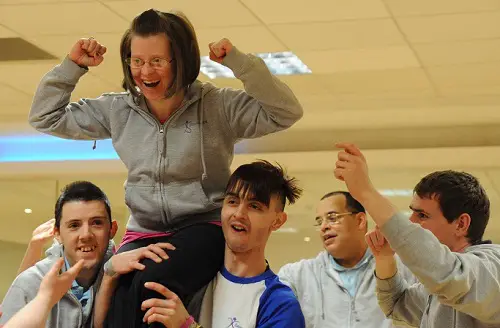 As I told the Shaw Trust last year, when I was named in their Disability Power 100: "My charity shows the world what we can do, but we need charitable giving and people like The Shaw Trust to help us make better futures for everyone."
What's next? I want to travel the world with my dance, to be valued and respected for who I am, and have DanceSyndrome appear on Strictly Come Dancing.
Visit the DanceSyndrome website to find out more about the dance company.
By Jen and Sue Blackwell
More on Disability Horizons…