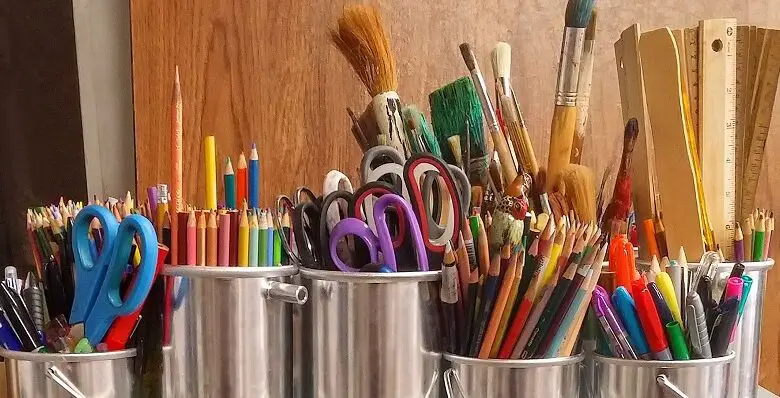 Lifestyle
5 crafts to keep you busy during lockdown – disabled or not
With the new month-long lockdown in place and the weather getting colder by the day, now is the perfect time to learn a new craft or pick up one that you've been neglecting. Here, Catherine Shepherd, who has Charcot Marie-Tooth, shares inspiration and tips straight from disabled crafters to kickstart or reignite your creative self.
One thing I'm overwhelmed with when I meet people with impairments is our collective determination. Most of the time we're problem solvers, living in a world that doesn't make it easy for us.
Mix in crafting with this ingrained perseverance and you often end up with a beautiful finished product – whether that's a drawing or a cushion.
Saz (@craftingspratt) has a few words of advice to kick things off: "If you suffer from chronic disabilities that can affect energy levels, picking up a new craft can be difficult.
Always try a new craft on one of your 'good days'. If you have room, set out what you are going to do, materials, tools etc the day before you plan to craft.
Doing that will allow you to put all the energy into the craft. Gather tips and tricks from online videos and guides, even other 'Spoonie' crafters so that you can find workarounds for problems it may throw up."
Crafting can be very therapeutic. While you're concentrating on your next knit stitch or making sure you don't get paint everywhere, you're transported from this messy world into one of peace and calm for a while. You give yourself a break from reality.
As a crafter with a disability myself, I've really enjoyed learning new skills recently – take a look at me on Instagram @_crafterine_ to see the evidence! So enjoy these crafts and tips from fellow creatives – and don't hesitate to get in touch.
Crochet
Not just for doilies and table cloths, modern crochet is a beautiful and stylish method of creating everything from scrunchies and stuffed animals to crop tops and blankets.
With only one hook, compared to knitting's two needles, it's a little easier to manage in terms of finger and hand strength.
It's worth noting it can be a little fiddly, so start with a ball of chunky wool and a larger hook so the stitches are easier to see.
I started with a crochet kit so it came with the right kind of wool and hook size to make the whole process less complicated as a beginner.
April (@disabledwife7) has Charcot Marie-Tooth like me and said: "I have CMTX, EDS and POTS Syndrome. I had some hooks custom made when my fingers started going. I almost had to quit until I was able to find the right kind of handle for me.
I also had to adjust the way I held tension in the yarn. I've been crocheting since I was 9, so I considered it worth some research and investment to continue.
I would advise anyone else keen to start to try everything. Something will work, you just need to be willing to experiment with everything out there to find what works for you."
Sketching
Drawing has always felt intimidating to me – I'm much better with words than lines on a page! But illustrator and architect @scaramangascribbles believes there's an artist in all of us and we should feed them every day.
Theo said: "Drawing can be for everyone. I draw as a way of appreciating where I am. It properly started when travelling, most people write a journal but dyslexia means I don't enjoy the process.
A sketch a day forced me to choose a moment or place that I not only wanted to sketch but wanted to enjoy for a prolonged period of time.
The end result never really mattered. Looking back through a sketchbook I remember the place and the interactions whilst drawing, which helps me enjoy the memory more than my written description ever would.
You also get better as you go. But it's not about the end result to me, it's about the process. It calms you down, closes off everything you don't want to hear and allows you to engage with a place like nothing else."
Knitting
Similar to crochet, knitting has a huge number of different techniques you can use to create exactly the look and finished item you want.
I have to put my hands up and say I have struggled with knitting – the dexterity and finger strength you need to handle two needles is beyond me and crochet felt more natural.
Nonetheless, your experience won't necessarily be the same and the intricate creations that come from knitting can be worth the challenge.
Annika (@teafueledliving) started with crochet, realising how it helped their concentration and ADHD, but discovered their love for knitting soon after.
They said: "I use wood circular needles for knitting. These don't hurt my hands the same way normal metal needles do, and then my hands also don't get locked after knitting for a while."
Cross stitch
The mathematical, organised nature of cross stitch is very relaxing – in my opinion, at least! Typically done on wider weaved fabric so the holes are clearer and you're basically working on a grid.
Stitching in half or full crosses, you watch your design come to life as you count square by square and row by row.
Cross stitching fabric is often stiffer than the kind you embroider on, which can help to minimise unwanted movement and, therefore, make it easier if you have dexterity issues.
With both cross stitch and embroidery, I've found that using a hoop to secure your fabric and pull it taut makes everything much simpler (take a look at my creation below).
One top tip for any sewing is investing a few pounds in a needle minder. The little magnet can sit anywhere on your fabric to keep your needle safe when you're getting new thread or taking a break. It's worth it to avoid any lost needles in your home – trust me!
Saskia (@flamangotango) spends a lot of time quilting but also enjoys cross-stitching. She said, "Listen to your body, take breaks, be kind to yourself".
And she recommends noise-cancelling headphones. "I know they're expensive, but if sound sensitivity is an issue, they can really help with a noisy sewing machine – and a car ride, noisy neighbours or a loud TV in the next room etc."
Embroidery
The freedom of embroidery compared to cross stitch is both refreshing and utterly terrifying. If you're a planner like me, you'll want to draw and map out your designs before poking any holes. Or if you're brave, you could drive straight in freehand!
Like many of the crafts I've tried, starting off with a kit takes a lot of the stress out of learning. You won't have to worry about what kind of fabric you're using or which stitch is best to depict different kinds of plants. Pick a design you like and follow the instructions – I promise it's easier than it looks!
Olga (@crafty.o.designs) runs a shop and a YouTube channel called @olgachronics where she talks about fibromyalgia, chronic migraines and IBS. She said:
"My main tip for crafting with a disability is being patient and knowing your limits.
I've found that working on patience has also upped the quality of my crafts and helped me in other areas of life, such as pacing. It means I'm slowly improving my quality of life without getting frustrated at how long it takes.
I'd also recommend doing more than one craft so that you use different skills and parts of my body. For example, when my legs hurt too much to use my sewing machine, I can always cross-stitch."
Finding the right craft for you
Of course, there's not enough room in this article to fit all of the fantastic crafts you could turn your hand to. From origami and clay moulding to building a terrarium and candle making, there will be one for you out there.
Danielle, the founder of Polly's Textiles (which I discovered in the fantastic Giggly Goat in Norwich), talked to me a little bit about the practicalities of running your own craft business with a disability.
She said: "When I'm working, I've got ramps everywhere as I use a wheelchair full time. I also have large handles on taps for when rinsing out my fabrics after dying.
All the cutting and sewing I do at my work table. I have my tables up on big blocks of wood so that I can get my legs underneath it in the wheelchair. I have my sewing machine and overlocking peddles on blocks too so that I can also reach them from my wheelchair.
I have an extra-large ironing board for when I press my fabrics so that I can get to it in the wheelchair. I have all my tins of thread, drawers of zips etc all at an accessible-height so they're stacked within reach on my wide desk.
That way I don't have anything on the floor. I also have a grabber stick with me all the time. It looks like a litter picker but has a very important magnet on the end for when I drop my pins – which I do a lot!."
If you only take one thing away from this creative list, it's that none of these crafts is out of reach. I never thought I'd learn to crochet as my hands are too weak. Yet here I am, a stuffed bunny and giraffe later and planning my next creation! Go get your craft on.
By Catherine Shepherd
More on Disability Horizons…