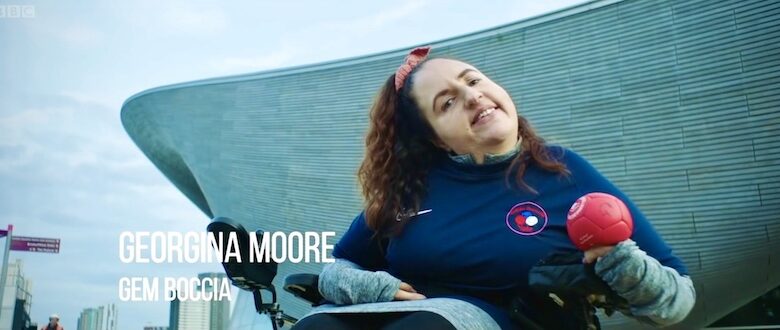 Georgina Moore started playing Boccia after struggling with her first career choice due to her disability and inaccessibility. But she couldn't be happier about having found the sport. It has lead to so many positive experiences for her – including recording a single with 80s legend Rick Astley – and many other disabled people.
I am Georgina, I am 36 years old and was born with Arthrogryposis, scoliosis and torticollis. I have always used a powered wheelchair and have 24-hour care to enable me to live independently.
I attended mainstream schooling and graduated from university with a BA marketing degree. After this, I qualified as a primary school teacher but, sadly, the teaching world was not as inclusive as I had hoped.
It became exhausting as my disability side effects worsened. I then went on to complete half an MA in design, but had to stop that too for the same reasons.
I'm not someone who can sit around doing nothing, so I needed to find something I could do whilst working within the confines of my disability. That was when I discovered Boccia.
Finding Boccia
My mother ran a school Boccia club for years and I had always watched Boccia on the Paralympics. Boccia is similar to French boules, where balls are thrown/rolled toward a small ball. The winner is the person who gets their ball closest.
Different from boules, Boccia is played with soft leather balls and all players must be seated. Players who are unable to throw balls can use a ramp or kick the ball.
I was told by medical experts that I needed to keep moving to control my side effects. I always wanted to play a competitive sport, but couldn't find anything physically possible to participate in from my wheelchair.
Boccia seemed perfect for this as it is fully inclusive. So, in 2017, I found my nearest club (30 minutes drive away), went along to try it and immediately fell in love with the sport.
After attending for a couple of months, I was finding the drive tiring on top of actually playing Boccia. I didn't understand why there wasn't a club in my local community.
So, me being the determined person I am, I decided to start up my own club in South Gloucestershire where I live.
Setting up my own Boccia club
At first, it was an extremely daunting prospect. But with support from Access Sport, I set up my first Boccia club, called GEM Boccia, and it was a huge success.
Since then, we have gone from strength to strength and have 15 regular members. We operate under the ethos 'inclusive to ALL'. We encourage those with disabilities to play alongside their non-disabled peers, where everyone plays on an equal level.
It is so rewarding to see this and no one judges anyone. No one sees what others can't do, only what they can do. Everyone is so supportive of one another.
There is also a big social element to our club, which plays an important role in our member's lives, especially because many might not normally get the same opportunities.
That was just over three years ago and since then so many amazing things have happened on my Boccia journey.
Boccia and GEM making a difference
As a player, I was selected to join the Boccia England Academy and have won several medals and am progressing more each season.
As for volunteering at GEM Boccia club, wow, incredible things have happened.
In 2019, I won Access Sport's Volunteer of the Year award. Then, later on in the year after Access Sport nominated me, I won the BBC Sports Personality of the Year Unsung Hero for the West.
I got to attend the Spoty award ceremony, which was an incredible experience where I meet so many sports stars.
From this, I was given the most amazing opportunity of my life: releasing a single with all the 2019 Unsung Heroes and Rick Astley! It's called Every One of Us and all proceeds go to Children in Need.
We all recorded our parts at the Olympic Park in London and the producer layered them all together. We were going to record it all together, but we had to film them separately due to Covid-19.
Despite this, we made the most phenomenal music video to go with it, which you can watch on YouTube.
Our Director had worked with so many famous artists, such as Liam Gallagher and Paul McCartney, and our cameraman was Kanye West's official cameraman!
We got to meet Rick too and see him film his parts. The whole experience was so surreal.
Campaigning for basic disability rights
I may have had some amazing experiences, but I and many other disabled people haven't been given the same opportunities that non-disabled people expect. We have to fight for our careers, house, access to basic places and being treated as an equal.
Now that I've been given an opportunity that very few people will ever get, I hope that it will give me the exposure disabled people need in society today, and help me to make a difference.
I want to use this to fight for disability rights and to make all sport inclusive. My chosen sport of Boccia is fully inclusive. The Boccia world has changed my life in so many positive ways.
It has given me and many other disabled people a purpose. It's made me feel as though I am not only achieving personal ambitions as a player, but I'm giving something back to my community. This is why communities need access to inclusive sports.
I am so grateful to everyone who's supported me along the way. My journey is only just beginning, particularly as a player, where I hope one day I will reach the Paralympics.
I urge everyone to keep working hard at things they are passionate about. You never know what may come your way.
The opportunities I've been given have allowed me to raise the profile of Boccia, inclusive sport and disability awareness to levels that I could only have dreamed of.
I will always be an advocate for disabled people until, one day, we can finally say we have reached true equality. A day where people like me can go out of our house without being stared or laughed at, with no societal barriers. That's my ultimate goal.
By Georgina Moore
Find out more about Georgina's GEM Boccia club on Facebook and follow them on Twitter @genbocciaclub.
More on Disability Horizons…