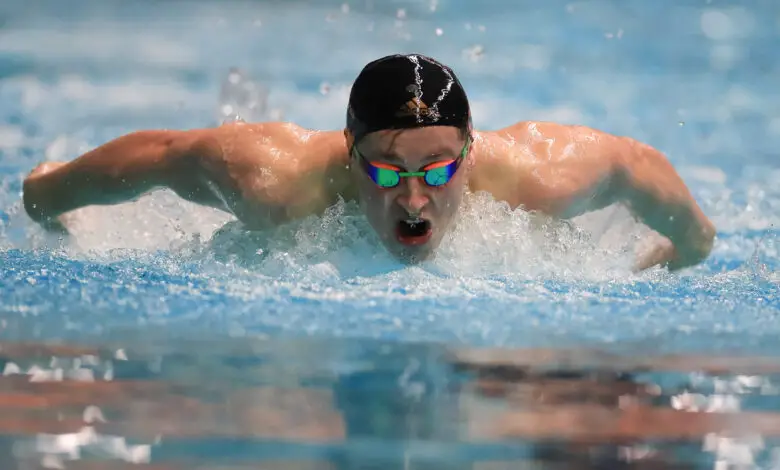 Disability Horizons is doing a series of interviews with Paralympians who are set to compete in the Tokyo 2020 Paralympic Games. In these interviews we will be talking about career success, highlighting individuals achievements and what they are most looking forward to at the games.
Stephen Clegg is a visually impaired Paralympic swimmer who has competed at the Rio 2016 Paralympic Games and won medals at the European Championships and World Championships. He is set to compete at the Tokyo 2020 Paralympic Games this summer, where he has hopes on winning gold.
Our writer, Emma Purcell, got the opportunity to interview Stephen about his visual impairment, his swimming career, his preparations for Tokyo and his competitive relationship with his athletic siblings.
Stephen Clegg is a 25-year-old Paralympic swimmer based in Edinburgh, Scotland. He began swimming at a competitive level in 2014. He competes in the S12 freestyle, backstroke and butterfly.
By 2016, he was selected to compete for Team GB at his first Paralympic Games in Rio. Since then, he has gone on to win three bronze medals at the 2018 European Championships and two silver medals at the 2019 World Championships.
In April 2021, Stephen set a blistering new world record in the S12 100m Butterfly at the British Para-swimming International Meet in Sheffield, and is determined to show the progress he has made in the past five years.
He is aiming to win gold medals at the Tokyo 2020 Paralympic Games. He is set to join 22 other Paralympic swimmers as part of the Team GB squad, which will include Ellie Robinson, Ellie Simmonds, Stephanie Millward, plus 12 debutants.
Stephen has the eye condition stargardt macular dystrophy, which affects his central vision. His two siblings – James and Libby – also have the condition and compete as Paralympic athletes.
James Clegg was also a Paralympic swimmer who competed at the London 2012 Paralympic Games, where he won a bronze medal.
Libby Clegg is a Paralympic sprinter and has competed in three Paralympic Games and is set to compete in Tokyo too. She also reached the final of the TV show Dancing On Ice in 2020.
Read on to find out more about Stephen Clegg in his own words.
Stephen Clegg living with his visual impairment
Can you tell us about your eye condition stargardt macular dystrophy and how much vision you have?
I always find it quite hard to describe my vision because I don't know how to compare it because obviously, I have no comparison. But basically, the condition affects my central vision. I can see quite clearly peripherally, but my central vision is very blurry.
I can't really see that much detail whatsoever in that central area and is kind of a big smudge. The easiest way to describe it, it's like looking around a blurry golf ball. That's probably easiest way to try to describe it to someone who's actually sighted.
It's a genetic recessive genetic disorder. I'm not sure what the percentage of people in the world that have it but it's not that common of a condition.
Do you need support or mobility aids such as a cane, guide dog and/or assistive technology?
I don't really use aids to be honest, I've never used a cane or a guide dog on personal preference to be honest. It probably could get to a point where it would be useful. Because my condition is deteriorating.
It is definitely something I should look into at some point but right now. I like to try to be as free from aids as possible. There's nothing against using them, it's just a personal preference of ease to travel and stuff like that.
In terms of technology, things are so good now. I like the built-in accessibility features on Apple, which is fantastic. It has things like Zoom and Voiceover features that is set on the phone and Mac and stuff like that – so it makes life pretty easy.
How does your visual impairment affect you on a daily basis and have you faced many challenges?
The biggest ones are trying to transport myself around. Obviously, being visually impaired, I can't drive anywhere, so I have to take a lot of public transport and there's a lot of logistical issues.
When swimming, I struggle with most sighted training every day, because obviously when I'm trying to learn skills and stuff. I need to be able to see what's going on. I rely a lot on audible instructions, which helps me perfect a technique just by listening.
Stephen Clegg becoming a swimmer
What inspired you to become a swimmer and what is your favourite swim style?
That's a tricky one. I swam when I was really little, nothing overly competitive. It was more just a social thing. From the age of like 11 to 13 it started to get a bit more competitive as a sport.
So, just through some struggles at school and wanting to work to try to focus a bit more on that, I thought swimming was just a bad distraction at the time.
Turns out it was probably a good distraction because I found somethings actually went downhill.
But when I left school, I was very uncertain of what I wanted to do. I didn't do that well at school. So, I thought I'd maybe just give it a go again. Nothing competitive at the time, but just as a way to keep fit and have something to do.
I just snowballed from there really very quickly, fell back in love with sport and been on a fast-track career since, really.
I would say my favourite swim style is the butterfly because I feel like I'm in the most control and understand the stroke.
What was your highlight competing at the Rio 2016 Paralympic Games?
For me, it was my first major competition. So, the highlight was probably just that team environment and experiencing the games as a whole.
I never had ambitions of medaling at those games, but it was just part of a learning curve for me. It was very good because I was terrified. But the whole team environment in Rio was incredible and the crowds as well were surreal.
How did it feel to break a world record at the British Para-swimming International Meet in Sheffield?
For about a few hours, I was overwhelmed as I'd been chasing it for years. But later, I was ready to move on to the next target and try breakthrough and progressing and set myself up really well for winning gold in Tokyo.
I enjoyed the moment. I was extremely overwhelmed and extremely pleased with the time and breaking the record, but then the big goal this year is to win in Tokyo. So, my head broke quickly away and went towards that target.
Stephen Clegg preparing for Tokyo 2020
How have you been preparing for Tokyo 2020 and do you still have concerns relating to the pandemic?
Honestly, I'm trying not to think about it too much. British Swimming are handling that side of things and they're doing a great job of dealing with all the politics and the protocols that they need to put in place to keep us safe, which is great because it means I can just focus on training.
I put all my faith into British Swimming and Paralympics GB to deal with that side of stuff, so I can just dump the stress and stuff out and just focus on being the best I can be on the day.
Do you know when you'll be travelling to Tokyo and what Covid-19 measures will be in place?
I think the 11th of August, we fly out to Suzuka (233 miles west of Tokyo) for our prep camp, where we'll be for 10 days before entering the athletes village in Tokyo on 21st August.
What are you looking forward to the most at the Tokyo 2020 Paralympic Games?
Hard to say what I'm most looking forward to. Probably racing this time round because this is definitely the finish line on the last seven years of work, that I'd be putting into my career.
As I said, Rio was never a medal goal for me when I was starting out, it was always Tokyo. I was just lucky to be on that team in Rio and get that experience. So, for me, I definitely most look forward to racing and being a part of that team environment.
Again, it's been two years since I've been on a national team. Obviously, with Covid and stuff like that, it set us all back a year. So, that's probably the thing I'm most looking forward to.
I think every athlete is looking to get a win. So obviously that's always what's in the mind, especially after the record breaking trials, but I'm also very aware that the people around me in my race are very capable of also delivering an amazing performance and smashing away from me.
So, I think as long as I present the best version of myself on the day, I'll be very happy and very pleased with whatever result comes in terms of medals or places.
Stephen Clegg and his siblings
Your sister Libby and brother James have also competed at Paralympic Games. Are you competitive siblings?
Me and my brother have always been extremely competitive. With Libby, she's quite a bit older but we were competitive in a strange way.
It's not necessarily just my sport. It's probably about how we kind of handle our disability and almost like who's the most independent for that – it's quite a strange thing to be competitive about.
It's probably what lead the blueprint for being good athletes, I guess. Just laying down that competitive nature in everything we do just to prove to each other that we're better than the other.
You describe Libby as your inspiration and role model. What has been the most important thing she has taught you in your sporting career?
Yes, I think in Rio she was quite an important part for me because I was out of my depth, I would say a little bit.
It was my first real major international meeting, and the crowds were nothing I'd ever experienced. As I said, it was a very surreal experience too.
I was very fortunate to have Libby there. She helped me a lot of the time with learning how to deal with pressure and the big stage.
She's been in sport 14 or 15 years now, I think. She's got a massive wealth of experience when it comes to international competition, which I just don't have – well I probably have now – but especially at the time, she helped make sure that I fit in the learn and learn a lot about the pressures that come along with sports.
What was it like watching Libby take part in Dancing On Ice and which reality TV show would you consider appearing on if you were offered?
Yes, that was amazing. I was really proud of her doing that. It's not easy to do something that you're not familiar with at all.
I think she had a little bit of ice-skating experience from when she was a child, at age four, five, six years old or something, but she's not a dancing on ice skater and she went on a show like that and made it through to the final. I was really proud of her for doing that.
I think it was the semi-final I watched. That was so cool to see and watch her live. I was really pleased for her to get that far in the competition.
In terms of shows I'd like to do, I probably like to do something like QI or Would I Lie To You. I really enjoy both. They are probably two of my favourites.
What advice would you give to other disabled people aspiring to be Para-swimmers?
That's a really good question. I think the key to success is enjoying what you do. So, making sure you're finding a sport that you really love because if you're passionate about something, all you need is good work ethic to be able to be successful.
I think just finding something that you really love and gives you confidence in.
I think a lot of people in Para-sport end up dropping out or not enjoying it as much because they don't feel confident about what they're doing, I guess. Or at least that's kind of the feeling I've got when I've spoken to other people.
So, I think just finding something that you really love and really realising what you're doing is amazing. And let's just give you all the confidence in the world to strive forward with it and be the best version of yourself.
You can find out more about Stephen Clegg by following him on Twitter and Instagram.
Be sure to tune in to watch Stephen Clegg at the Tokyo 2020 Paralympic Games from 24th August to 5th September 2021 on Channel 4.
Interview by Emma Purcell 
More on Disability Horizons…