Two disabled dancers – one blind and one deaf – got the opportunity to showcase their breakdancing skills on the television programme Strictly – It Takes Two.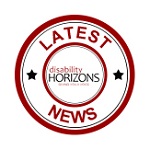 Blind teenage dancer, Crispin Gell, and deaf street dancer, Chris Fonseca were two disabled dancers featured on the daily evening spin-off show as part of the programme's inspiring dancer series.
Blind teenage dancer shows off his breakin' moves on Strictly – It Takes Two
Blind teenager Crispin Gell, who lost his sight when he was six due to hereditary Glaucoma and Aniridia, showed off his breakin' moves with his teacher, Nathan Geering, in a special slot on Strictly – It Takes Two.
The 16-year-old, who is a student at the Royal National College for the Blind in Hereford, only began dancing a year and a half ago.
Crispin was introduced to breakdancing by Nathan Geering, a Sheffield-based charity director who runs Rationale Arts in the city. It teaches breakin' to visually impaired people as a means of injury prevention and to improve spatial awareness.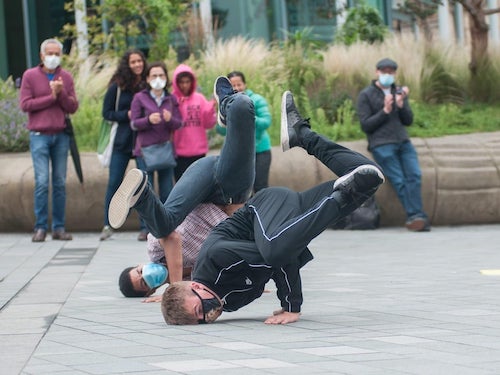 Speaking to the Derbyshire Times, Nathan said: "At first, he didn't want anything to do with dancing, he didn't like it because he never really tried it.
"But then one day, he came in for work experience but there wasn't any opportunity. So I brought him to one of my dance classes, he took part and he got hooked."
"Since then, not only has he learned breakin on a professional level, he has also gone on to perform on various showcases and protests."
"And now he's on national TV, all in a year of dancing. It's been pretty great. Now he's considering a career in dancing. It's a complete turnaround."
You can watch Crispin and Nathan breakin' moves on Strictly – It Takes Two on the BBC iPlayer -Crispin's story is at 07.45.
Profound deaf performer Chris Fonseca shares his passion for street dance on Strictly – It Takes Two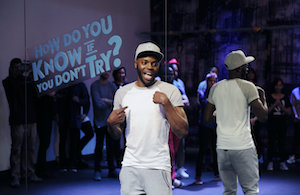 Chris Fonseca is a professional dancer, choreographer and dance teacher from London. He became profoundly deaf when he had meningitis as a child.
Rather than hearing the music, Chris feels the vibrations of the sound and rhythm as he dances. He also uses a tactile audio platform called SUBPAC, in which he experiences music through pulses against his body rather than soundwaves through his ears.
He got into dance from a very young age and while at university, went onto join an all-deaf dance group called Def Motion', which was set up as a request from the organisers of Deaffest – UK's annual Deaf Film Festival.
This is a group of talented individuals with an ambition to create and perform visual entertainment through dance, sign-song, comedy and visual vernacular (VV). A lot of the dance was influenced by the work of Michael Jackson and street dance.
In 2014, Chris joined Studio 68 dance Training Academy teaching dancers who want to become versatile, improve their dance skills and learn the fundamentals of various dance styles.
This has been of a great benefit to Chris and encouraged him to continue teaching as dance teacher. It has also enabled Chris to share his passion and knowledge for dance, inspire others through his workshops, gain better teaching strategies and structure.
Chris also made an appearance on the talent show The Greatest Dancer in 2019.
You can watch Chris Fonseca tell his story on Strictly – It Takes Two on BBC iPlayer – Chris' story features at 18.04.
To watch more inspirational stories from disabled dancers plus get all the Strictly Come Dancing gossip ahead of the grand finale, watch Stricty – It Takes Two on BBC Two at 6:30pm.
By Emma Purcell
More on Disability Horizons…