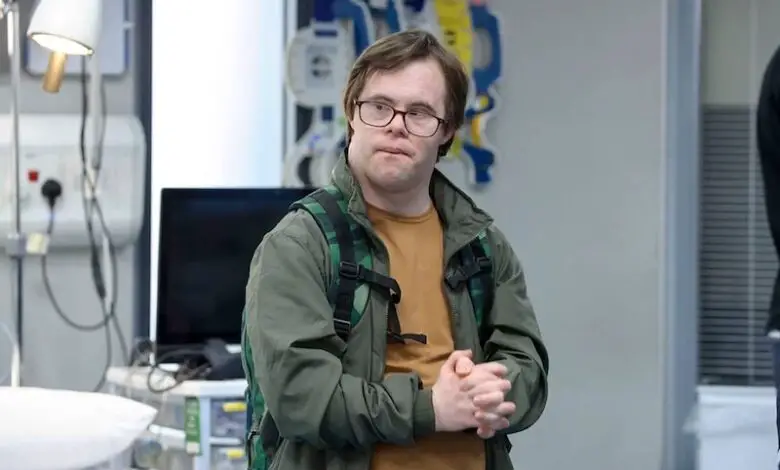 Entertainment & Culture
Sam Barnard on living with Down's Syndrome, his acting career and work with disability charity Bemix
Sam Barnard is an actor with Down's Syndrome from Dover. He has made appearances in Casualty, Silent Witness, Grantchester and a cameo in The Inbetweeners. He has also performed alongside Paddy Considine and Olivia Colman in The Suspicions of Mr Whicher. In addition, Sam has starred in a pantomime and took part in the Channel 4 documentary The Undateables.
Our writer, Emma Purcell, spoke to Sam Barnard about living with Down's Syndrome, his acting career and his work with the disability charity Bemix.
Sam Barnard living with Down's Syndrome
What was it like growing up with Down's Syndrome?
It was quite ordinary and good fun! I loved growing up with my older sister (a bit bossy sometimes) and younger brother (annoying sometimes). I went to playgroup, then our village primary school and mainstream secondary school.
I feel sad when I hear how much harder it is for some parents to get the support they need for their children with learning difficulties to go to the right school.
What is the best and most challenging thing about living with Down's Syndrome?
The best thing is you can do all sorts of stuff these days. The future is bright. The most challenging thing is probably getting to places because I live in the countryside so public transport is not good. Also, sometimes people don't expect I can do things when actually I can.
Sam Barnard becoming an actor
What inspired you to become an actor?
I loved doing performances at school when I was little. I played an actual star with a star costume. I have always liked watching TV and loved soaps and dramas, which made me want to be an actor.
I heard about a lead role in a TV drama and I just phoned up the casting director. She said to come to London and I went a few times. In the end, I didn't get the part.
But the casting director said I was good and recommended me to an agent, who soon started getting me work.
How did you discover the Staging Change acting course, and did you learn a lot from it?
My agent, Louise Dyson at VisABLE People told me about it. I went to audition at Mountview and got a place. It was brilliant. I learned so much.
We did Shakespeare, musicals, fight scenes, camera work and stage craft. It was really hard work but good fun.
We went all over the country to different drama schools and Mind the Gap Theatre Company organised it all.
Sam Barnard performing on television and in theatres
You've appeared in several television programmes throughout your acting career. Do you have a favourite and/or any highlights or challenges from filming these shows?
I loved them all! The Inbetweeners was such fun because I love rollercoasters and we had to go round 14 times. Simon Bird, who plays Will, hated rollercoasters and was sick. It was difficult to film because the camera on the front of the rollercoaster kept juddering!
Casualty was great because I had to throw up 'blood'. Very dramatic and messy, and a lovely leading role!
What was it like starring alongside Paddy Considine and Olivia Colman in The Suspicions of Mr Whicher: The Murder in Angel Lane?
It was so cool because they are both such talented actors. Also, they are both so fun to work with.
It was very cold one night when we were filming in a graveyard and Olivia came over and said, "I'm not cold" and pulled a hot water bottle from underneath her long Victorian dress.
Paddy and I played a game between scenes where we tried to see who knows more about NOW pop music CDs. We both know a lot!
What was it like to be the first actor with Down's Syndrome to star in a professional Pantomime as the Giant's Henchman in Jack and the Beanstalk?
It was a bit of a surprise to get the role, but I was very happy to get the part. It was the first professional theatre job for me and I learned so much from everyone in the company.
I loved being the Giant's Henchman because he was a baddy, but nice really, and he did audience participation.
It was very tiring working one or two shows every day for a few weeks, but I absolutely loved it.
Getting work in the theatre is not easy for disabled actors, but it is getting better slowly, and I am doing some more theatre projects now.
Are you due to start filming any new projects soon or are there any films or TV shows you've featured in due to air in the next few months?
Things have slowed down a bit because of Covid-19, but I did a lovely little short film called Stuart and Dumplings a couple of months ago. It was all filmed on Zoom and directed by Gemma North from The A-Word and co-starring Louise Jameson and Mina Anwar.
I have also recorded an audio drama called Missing You, which you can listen to on Spotify. It co-stars an absolute legend and hero of mine, June Brown, who plays my character's mother.
It's a touching story about a mum separated from her son with Down's Syndrome during the pandemic.
Right now I am working on a brand-new digital drama being devised with Arts Council funding. We are in rehearsal and will perform it live on Zoom. It is called Bottled Dreams of Better Days: Digital.
I am also working on another theatre play, Hunt the Tiger, written by Richard Vergette. It is close to my heart. I play the last person on earth with Down's Syndrome. It is about pre-natal screening and I think it is a very important play to get into production.
Do you think enough has been done to represent disability on and behind the camera and on stage?
Not enough. It has got better since I started acting professionally in 2008, but there is still a long way to go both in TV, film and also in the theatre.
Sam Barnard on The Undateables
How did you get involved with The Undateables and how did it feel going on dates with a film crew?
It was through Bemix at my music and arts group. The producers emailed to see if anyone was interested and I said I was. They came to do a trial film and then they asked me to be in the first series.
It was great because the producers were very careful and I really trusted the director Luke Sewell who became, and still is, a good friend.
The film crew were great too, and we always enjoyed the filming, but sometimes my date and I wished they weren't always there.
Have you gained more confidence dating since appearing on The Undateables?
It was a really good experience. I found a girlfriend and made lots of friends. I was already pretty confident, I think. Currently, I am single, but still looking!
Sam Barnard working at the charity Bemix
How did you first get involved with the charity Bemix and what kind of services has it provided you?
I have been with Bemix since 2005. My college recommended it. I did a media course and joined a music and arts group. We co-produce everything there and everyone is equal.
Now I do a Discovery Catering Group with Bemix, which is a social enterprise. I also co-produce and co-present with friends from Bemix a weekly radio show on Dover Community Radio called The Audiobox.
How did you get the position of Supporter for the Risky Business Drama Group at Bemix?
I have worked as a member of staff at Bemix since 2018. I applied for the job of Supporter for the Risky Business Drama Group and I got the job.
It is so great to help other people with learning difficulties to enjoy doing drama and develop their skills.
What advice would you give to other disabled people wanting a career in television and/or theatre?
My advice would be just to be yourself. Get some training if you can, be determined and, if you don't get the role you go for, don't worry, move onto the next one and try all the time to improve and be better.
You can find out more about Sam Barnard by following him on Twitter.
Interview by Emma Purcell – follow her blog Rock For Disability
More on Disability Horizons…