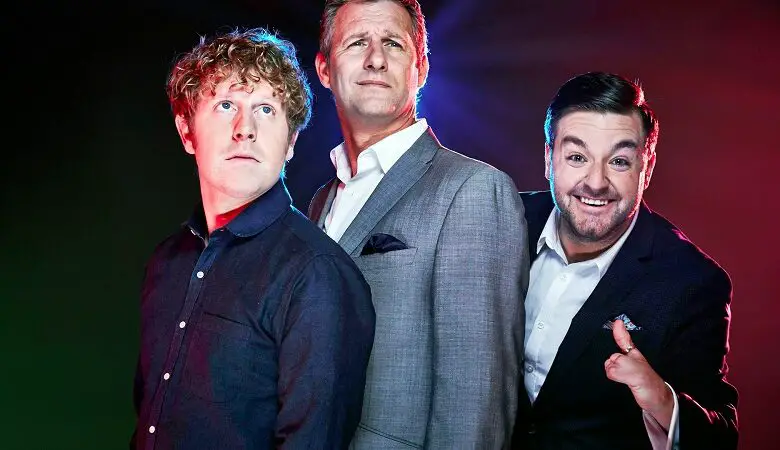 The Last Leg, a late-night comedy show, has been successful in removing stigmas around disability. From what started as a Paralympics commentary show, The Last Leg has evolved into a popular programme enjoyed by disabled and non-disabled people. 
As the 21st series airs on Channel 4, Emma Shepherd, a training consultant, talks about The Last Leg's transformation from the Paralympics to present, and how the programme's comedic outlook on disability has helped her to feel positive about her condition. 
I have watched The Last Leg since it initially started in 2012 to cover daily events from the Paralympics. The series showed a new side to disability on mainstream television and celebrated Paralympian's achievements.
The Last Leg is funny, satirical and portrays disabled people in a positive light. It also takes the stigma away from talking to disabled people – yes, believe it or not, some people do not know how to do so!
The Last Leg Twitter and #isitok hashtag – starting discussions about disability
The Last Leg broaches questions about disability through its #isitok campaign on Twitter, where non-disabled people can ask 'awkward' questions about disability.
Before The Last Leg instigated the #isitok hashtag, non-disabled people didn't have a platform to ask questions so publicly.
I feel that this has really helped to change people's perceptions of disability. It has normalised it and made people realise that disabled people are just that – people!
The show quickly became popular amongst disabled and non-disabled people alike. The Last Leg was also loved by the Paralympians themselves.
I remember that the American Wheelchair Rugby Team regularly stayed up past their curfew to watch the show and taunt their competitors in a light-hearted way, and Paralympic legend Hannah Cockroft appeared on it more than once!
That year, between the Paralympics and the show, disability became better 'accepted' and talked about more than ever in the mainstream.
The show also helped me as a disabled person, particularly when it came to accepting my disability. Although I was born with Ehlers Danlos Syndrome, it has been progressive and has become more limiting for me as I have got older.
I had a period of adjustment as my world was becoming smaller. It took me about three years to accept that I needed a wheelchair. Through The Last Laeg, I saw other disabled people just getting on with their lives, no matter their disability. If they could, why shouldn't I?
I remember one particular incident when, after a hissy fit where I threw one of my many braces into the corner of my bedroom, I picked it up, took a deep breath and thought about the show and its cast. I immediately felt better about wearing it – I realised that you can be sassy, attractive and wear a brace.
The Last Leg was meant to be a one-off series, reporting on the events of from the Paralympics, but nearly 10 years later, it is still going strong.
The Last Leg's growth from the 2012 Paralympics
Like any business or TV programme, it had to evolve to remain successful. Subsequent series have continued to be equally witty, but instead of talking about the Paralympics, the show takes a satirical look back over the last week's news and current affairs.
The #isitok hashtag has had a facelift too and now covers anything from, 'Is it OK to still listen to Michael Jackson?" to the recent, "Is it OK to miss Trump's entertainment value?"
The guests are usually comedians who have opinions, although a few politicians have braved coming on – most have probably been scared by the interview that Alex Brooker did with Nick Clegg. Actually, this was thought of as a really good interview as it had a really human element. If you missed it, it's worth a watch.
It has had a range of Paralympians and disabled guests/comedians too, and the programme has helped disabled talent to flourish – Alex Brooker launched his career on the show and disabled comedian Rosie Jones, who is a regular guest, started her career as a runner.
It is funny, informative, and deals with current affairs head-on. The Last Leg simplifies complicated political situations, has broken down taboos, and is spot on with its observations. I have so often cried with laughter whilst watching it – proper belly laughs.
There is also a sensitivity to certain difficult subjects, a no-nonsense approach to issues that are ridiculous and there isn't any interest in following z-list celebrities. What is there not to like? Here's an example from this latest series where they addressed an incredibly hot topic – the Covid-19 vaccine – with laugh-out-loud humour.

The Last Leg is not for someone who may get offended easily. It gives an annual award for 'Dick of the Year' and has a 'bullshit' button when they hear something that is, you guessed it, bullshit.
The Last Leg Cast
Part of the success of The Last Leg is the presenters themselves and probably the key ingredient to making the show work. Adam Hills, Alex Brooker and Josh Widdicombe are hilarious and self-deprecating.
Their chemistry, banter, friendship and laughter is genuine, and they do not take themselves too seriously.
Adam Hills
Adam Hills, who turned 50 last year, is Australian and hosts the show. He was born without one of his feet and wears a prosthetic leg. He has had a successful career in comedy and television both in Australia and in the UK before hosting The Last Leg.
The presenters' comradery has lead to Adam making a number of bets with his co-stars – many of which he has lost. They have resulted in him having the Union Jack painted on his prosthetic leg, having his hair dyed the colours of the Union Jack, and having him grow his beard until we officially left the EU – as you can probably guess, it got pretty long!
Adam is also famous on the show for his rants about the latest news, humorously putting the world to rights and setting the record straight. This one is a great example…
Alex Brooker
Alex Brooker rose to fame through the show itself. He had his leg amputated as a baby after he was born with it twisted, and now wears a prosthetic leg. He also has upper limb deformities.
He has gone on to co-present The Jump and made the brilliant documentary Disability and Me about his life, which you can still find on BBC iPlayer.
He's well known on the show for taking on difficult and ridiculous challenges – he has taken on a round of Paralympic games, put himself in harms way in a knife-throwing stunt and was the first disabled person to take on the Luge.
#TheLastLeg makes history! Alex Brooker becomes the first disabled person ever to take on the Luge pic.twitter.com/x1D1wfS6gZ

— Channel 4 (@Channel4) January 14, 2019

Read our recent interview with Alex Brooker to find out more about him in his own words.
Josh Widdicombe
Josh Widdicombe, who was the token non-disabled person, as he called himself, recently quipped that he has a disability because he has severe hay fever. Up until then, his other disability was having been born ginger!
Before The Last Leg, Josh had a career as a sports journalist and a stand-up comedian.
The three of them have great chemistry that has stood the test of time. It is through them that the name The Last Leg came about as they are three men with four legs!
Do not take my word for it, watch the latest series for yourselves on a Friday on Channel 4 at 10pm, and check our The Last Leg YoutTube channel for snippets from previous shows. And don't forget to get involved on Twitter with its polls or ask a question via the #isitok hashtag.
By Emma Shepherd
More on Disability Horizons…