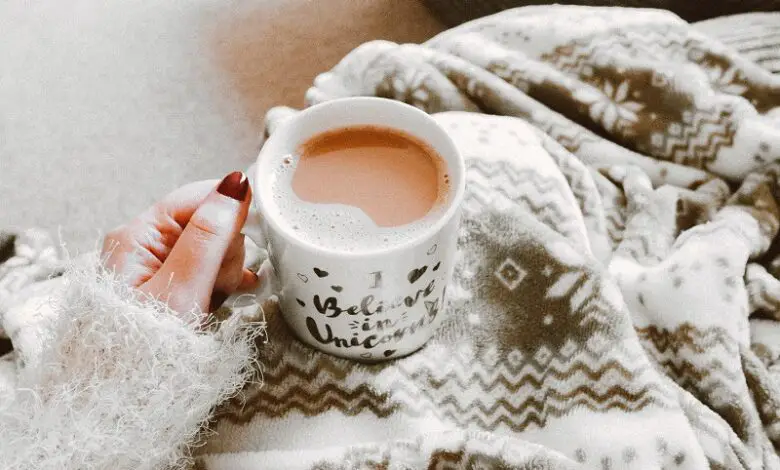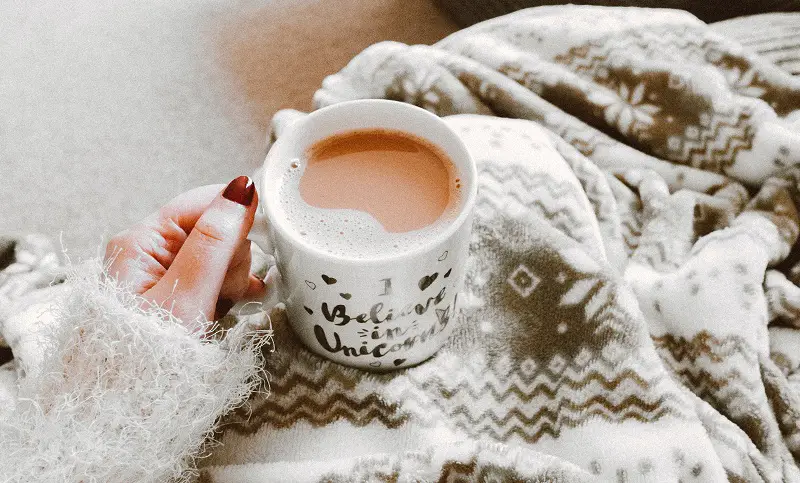 Lifestyle
10 tips to help you keep warm if you have a disability
For some disabled people, winter can be the most difficult time of year due to the bitterly cold weather. It can be hard to keep warm because of mobility issues, whether you're inside or out, and the cold can have a negative effect on your breathing and muscles.
In this article, our writer Stephanie, who has muscular dystrophy, will be sharing her top 10 tips for keeping cosy and comfortable when temperatures plummet, as well as highlighting our 'keep warm' products available on the Disability Horizons Shop. 
1. Cover yourself in a wheelchair cover
Seenin creates fabulous adaptive clothing for children and adults with disabilities. Its winter range includes fleece leg covers for wheelchair users, total wheelchair covers, and waterproof covers. These are perfect for keeping your child or you warm and toasty while you enjoy some fresh air.
Check out the Seenin products available on the Disability Horizons Shop.
2. Have a warm drink safely
There's nothing better than a lovely cup of tea, coffee or hot chocolate on a cold winter's day.
If you are a little unsteady on your feet, the Buckingham mug holder and Muggi are essential aids to help you carry your drink safely – and the latter enables you to transport up to four cups.
If you have dexterity issues, making actually using a mug tricky, the HandSteady drinks cup will help. It has a unique rotating handle that keeps the cup level at any angle.
Don't let your disability stop you from enjoying a nice hot drink this winter – be safe and independent with these simple and inexpensive aids.
3. Use hot water bottles, heat pads and foot warmers
I have an undying love for hot water bottles. They can really help to relax your muscles and keep your whole body warm.
However, one issue I have with hot water bottles is that they constantly fall off my lap. Trabasack's curve Connect wheelchair lap tray and bag is a great solution to this problem, as you can sit the water bottle inside the tray.
I've also found heat pads and foot warmers to be a fantastic way to keep my feet and legs warm, as in the winter my circulation is quite poor.
4. Get a good-quality pair of wheelchair gloves
I don't know about you, but my hands get icy cold very quickly when it's chilly. Sometimes when I'm out for a walk my hands get so cold I struggle to drive my chair, which can be super frustrating.
I find mittens or gloves can work well, helping me to maintain my independence in the cold for longer periods of time.
The Disability Horizons Shop has also started selling these soft, real leather gloves by Hands of Warriors. They're designed by wheelchair user Carina after she couldn't find a solution for herself. They're a lovely addition to your wardrobe and are perfect for men or women.
5. Eat well
It is important to eat well in the winter to keep yourself healthy. My favourite meals to cook are curries, spaghetti bolognese, chilli con carne, soup, fish pie, cottage pie – nice hearty meals to keep my strength up. I tend to bulk out my meals with lots of veggies to makes sure I'm getting all of my nutrients.
If you find eating a struggle because you have shaky hands or another condition that affects your movement, such as cerebral palsy or Parkinson's disease, you might want to consider the S'up spoon.
S'up spoons are easy to grip and designed to prevent food from spilling over the edge. A great piece of cutlery to maintain your independence.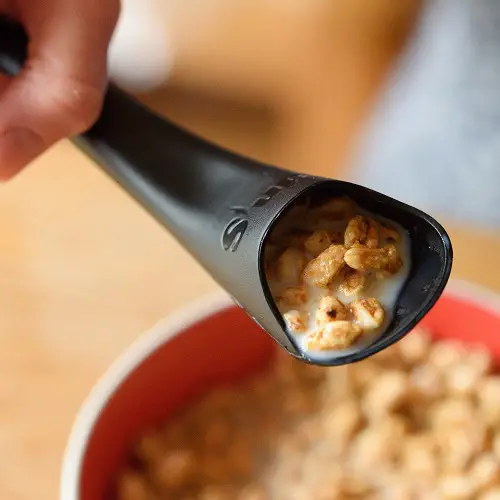 I have also found telescopic forks to be a godsend – without them, I would have to be fed. For those of you who don't know, telescopic forks extend to around 60 cm. As I have muscular dystrophy, I find that ordinary forks are too short, meaning that I can't reach my mouth.
So if you have some movement in your arms, a telescopic fork could help you to eat independently, with ease and at your own pace. Many online retailers sell them, such as Amazon, and they are very reasonable in price, around £5.00 – £10.00.
Eating warm meals can often keep your body at a good temperature – so if you get cold easily, a favourite hot meal of yours can really help, along with these fabulous cutlery aids.
6. Exercise and have some massage
Exercising can be done in many different ways, and it's important to tailor it to your disability. If you have limited movement in your body, why not try some physio?
Even if you can't move much independently, having someone move your limbs can help to warm your body up. Try some leg, arms, or hand exercises and see if they make a difference.
If you are able to move your limbs more freely, this pedal exerciser is a great way to exercise your upper and lower body, which will warm you up in no time.
I also find that massage is a brilliant way to stay toasty, as well as improve my circulation. Due to Covid-19, having a masseur in the house at present is unfortunately not possible. However, if you have a family member or carer who can help, a light massage could make you feel warm and relaxed.
You can purchase oils online, set up some candles in your room and dim the lights to really make it into a nice occasion.
7. Wear a pashmina scarf-style protector
This pashmina scarf-style clothing protector is a truly remarkable product that solves a number of issues disabled people face with just one item.
The stylish, waterproof design can be used as an elegant scarf to keep your neck warm on cold days, and it will help to protect your clothing from any spills, particularly when eating.
There is also a similar fashionable scarf for men, called the cross-scarf clothing protector, both available on the Disability Horizons Shop.
8. Use blankets and weighted blankets
There's nothing like cosying up under a blanket to watch your favourite film. There are so many different sizes and materials out there that can help keep your whole body warm. In my opinion, the fluffier the better!
Weighted blankets are also fantastic if you have trouble tucking yourself in or if you struggle with anxiety or have a sensory processing disorder. They can help to relax your body and enable you to relax or have a restful night.
The Fidgetbum weighted blanket for children and adults with sensory processing disorders, available on the Disability Horizons Shop, is recommended by occupational therapists.
The blanket is like a giant hug – perfect for helping you feel safe and secure at night, and to keep you warm in the day.
9. Use a portable heater
I have a wonderful electric portable heater, which is also an air purifier. It's a great way to warm up quickly, wherever I am in the house. Plus, because it's also an air purifier, it also tells me what the air quality is like in the room.
I've found this addition to be invaluable, especially as I have respiratory issues. When it purifies the air it makes my environment so much healthier to breathe in.
10. Wear a hat
Hats are brilliant, and the best thing is, you can wear them indoors and outdoors. From my personal experience having muscular dystrophy, it can be really difficult to regulate my body temperature. I can go from feeling warm to cold in just a few minutes.
However, wearing a hat indoors is a great solution as keeping your head warm will keep your body at a nice stable temperature. Have a look around and see what styles you like.
We hope that you have found our advice helpful and that it will help you to keep warm and cosy this winter. It's not long before the beautiful spring season arrives!
By Stephanie Castelete-Tyrrell
More on Disability Horizons…