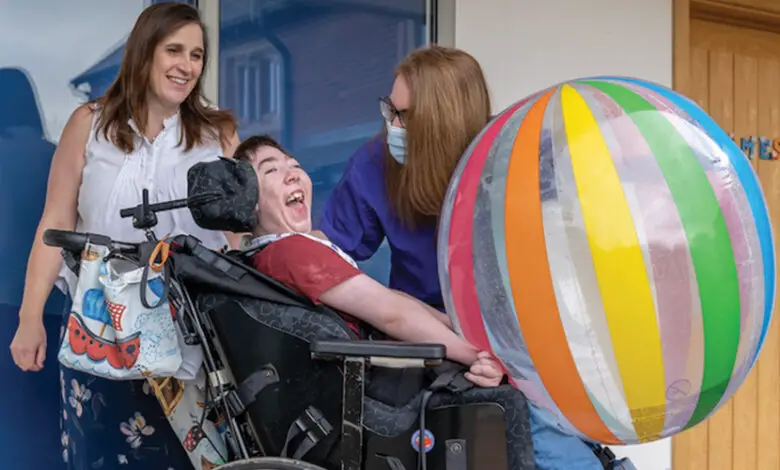 Skiggle is an innovative disability charity, and the only one of its kind in the UK that exists as a rescue service, providing emergency access to disability and special needs care products and equipment through a unique SOS alert service and marketplace, all completely FREE to its members.
Here, we speak to Skiggle Co-founder Christine about how her experiences as a parent of a disabled child kick-started the charity.
Disability care products – where can you turn in an emergency?
Skiggle was co-founded and is run on a voluntary basis by two Preston-based women, Christine Singleton and Helen Taylor. The original inspiration behind Skiggle and the services we provide was, and continues to be, Christine's eldest child, James.
Born with a catastrophic brain injury resulting in quadriplegic spastic cerebral palsy, plus many more medically complex needs, James needs 24-hour care.
Christine has been fighting for James and his rights as a disabled person since he arrived as a fragile little bundle, kick-starting his own fight for life in 2003.
"Any parent, family member, or carer of a disabled person, knows that every day brings a new challenge and we're all fighting for unity among the disability world," she says.
"If Skiggle can help alleviate just one small part of those daily pressures by supporting people and giving peace of mind that they've always got somewhere to turn, then our hard work pays off.
Skiggle first came to life when, as a family, we found ourselves hundreds of miles away from home without the specialist feed James needed. We exhausted every possible option and literally had nowhere to turn.
It was either drive back home or admit James to the regional children's hospital, which of course wasn't going to happen.
That was the lightbulb moment. How many other people had been or would be in similar positions? Where could people access urgent care products in an emergency?
We knew no single location would work, so we came up with Skiggle – a support network for people across the country to share or donate some of their own personal supplies to someone else in need.
Experience has shown us that people with a disabled family member often have cupboards, rooms, even garages of surplus supplies. So Skiggle has a growing, ready-made army of over 8,200 members willing to help anyone in need.
It's heartwarming, rewarding, and extremely satisfying when you know you've really managed to make a difference in someone's life."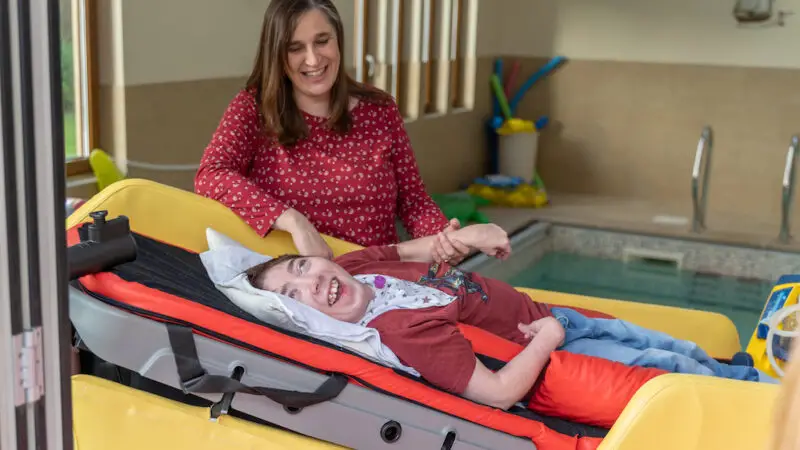 SOS service for disabled people
Our SOS emergency alert service is FREE to use. All you need to do is sign up as a member via our website.
Members of Skiggle can then immediately ask for help or be there to help others. Christine and Helen personally facilitate and filter out every SOS received to any Skiggle members based within a stipulated radius of the original request.
The mission is to grow the charity to a point where help is available within every single county in the UK. But the ultimate goal would be for enough people to be aware of Skiggle that help would never be more than 10 miles away when needed.
From the remote Highlands of Scotland and the Welsh valleys to the rural English home counties; a true rescue service for the disabled community.
Of course, there will be occasions when the charity isn't able to help with an SOS, for one reason or another. But for every one SOS that goes unanswered, there are many more that have had successful outcomes.
"Very useful and nice and clear information regarding SOS request. I've tried once only but just after 30 minutes. I had a response about the item I was asking for. Life-saving charity."
"Made a boo-boo and left our pump charger at home, I put out an SOS on Skiggle and a lovely lady came to my rescue within minutes – cannot thank everyone enough. It was the difference between a holiday and having to go home."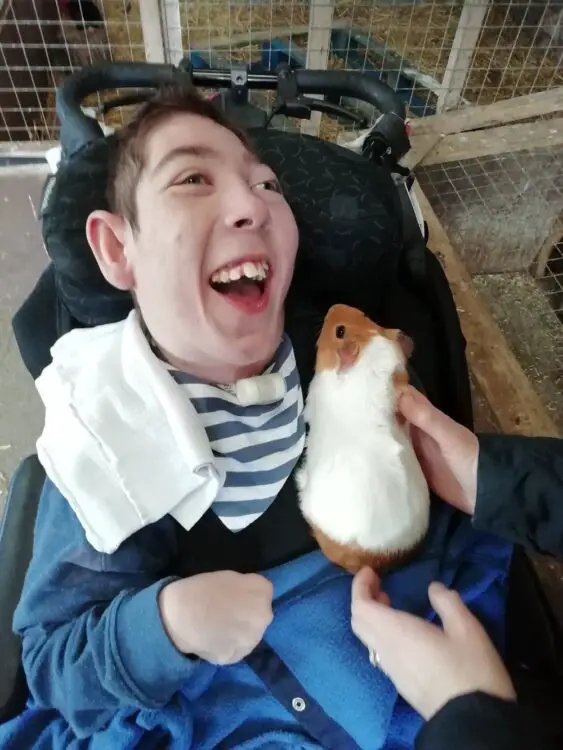 Helping to tackle waste within the disabled community
Much like the SOS emergency alert service, our online marketplace is completely FREE for members to use and can be accessed from our website.
Christine was growing increasingly frustrated with the throwaway culture and waste mentality within the disability and special needs worlds, where the modus operandi was to throw surplus stock away.
Perfectly good unopened and unused disability care products and pieces of equipment were going straight to landfill.
Our Skiggle marketplace sees the safe, fully-regulated movement and re-homing for thousands of sealed products, from feed, pads, gloves, syringes, and clinical dressings to equipment, such as pre-loved mobility aids.
The popularity of our marketplace has soared in the wake of Covid, plus the many Brexit-related stock shortages and supply chain delays.
When a container ship was stuck in the Suez Canal in March 2021, the impact on the global supply chain was felt for months afterward and our marketplace became one of the few places where people could source vital supplies.
"Certain items were literally being snapped up within minutes of being approved for listing," said Christine.
"There was a national shortage of water for vents and humidifiers, vent kits, and 60ml syringes – everyone was screaming for stuff. And everyone always struggles with pads, whether they're for a small child, elderly relative, or someone with dementia – there's never enough.
But in the next breath, there's so much waste on other items. For example, if James changes feed, we're not given a few bottles to try, we get three months' supply. So, if it doesn't agree with him, which you'll very quickly know, the advice is to throw it away. That's the standard practice.
So, it's not unusual for people to put 80 containers of feed on the marketplace at one time.
Just recently we had a woman who changed feed, but a delivery of 241 bottles of the old one turned up by mistake and she couldn't return them. It's crazy."
A milestone was reached on our marketplace in early 2021 when the total value of feed listed exceeded £100,000 for the first time.
Over the last 12 months, the value of unopened, unused items on our marketplace has almost doubled and is increasing by an average of 5% each month.
Not only are we providing a crucial service for people all over the UK, but we are also helping to prevent the unnecessary waste of hundreds of thousands of pounds worth of perfectly usable products every year.
Think of the difference that money could make if the issue was addressed, and the funds reallocated within the NHS.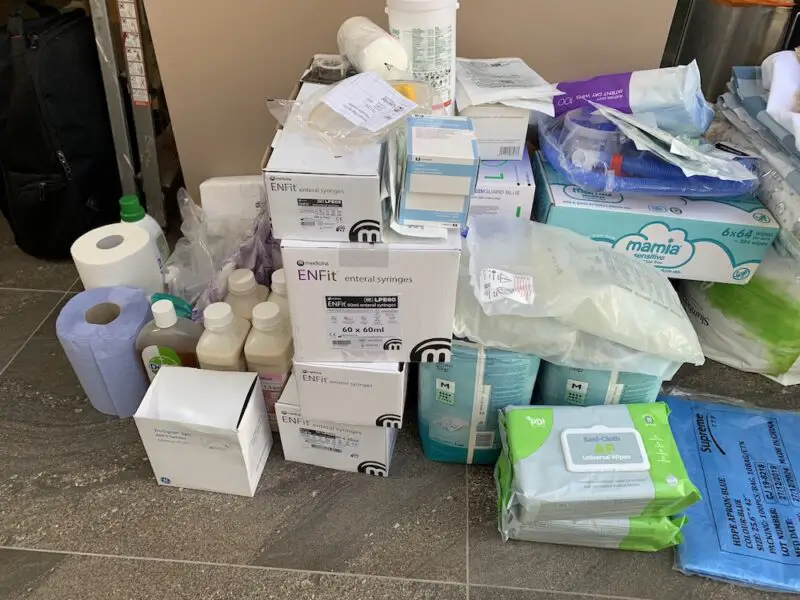 Skiggle needs ongoing support
Christine and Helen operate Skiggle with the support of just a few volunteers and rely heavily on donations from supporters, fundraisers, and other organisations to keep the charity free to use.
The unique nature of the technology needed to run the SOS emergency alert service, plus ongoing work to back-office systems for things like safeguarding child carers using the charity on behalf of parents, means running costs are continually rising.
And although the main aim is always to grow awareness of the charity and the number of people accessing Skiggle, the more people who do, the more it costs the charity.
That's why any support, grant or donation – however large or small – really does make a huge difference.
Every penny donated goes straight back into the charity to help improve and develop the services available to the disability community. With Skiggle, life always comes before any disability.
To find out more about Skiggle's services and become part of a thriving network of like-minded people, just register for free on the Skiggle website or email Christine/Helen at info@skiggle.co.uk.
By Skiggle
More on Disability Horizons…