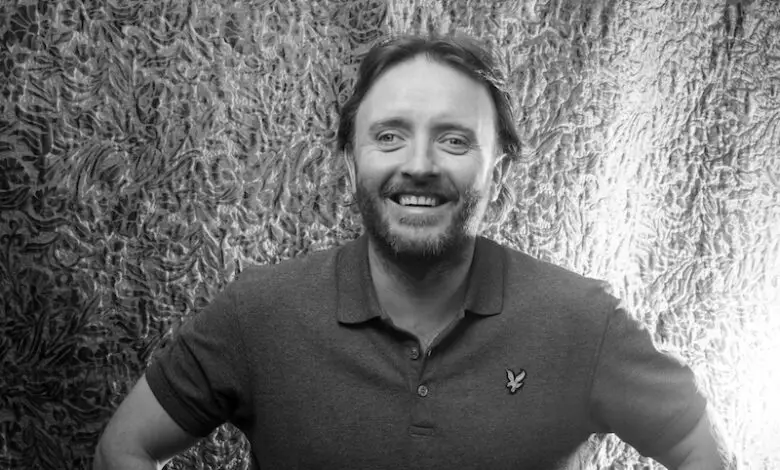 Chris McCausland is a 43-year-old blind stand-up comedian and actor originally from Liverpool but now living in South West London. He has been touring the comedy circuit for more than 15 years and is best known for playing Rudi in the programme Me Too! on CBeebies.
Our writer, Emma Purcell, speaks to Chris McCausland about living with his eye condition retinitis pigmentosa, his career in comedy and acting, and his marriage to his wife Patricia.
Chris McCausland as a blind person
When did your eyesight first deteriorate and when were you diagnosed with retinitis pigmentosa?
My eyesight has deteriorated steadily throughout my whole life, with most of it going during my late teens.
I was diagnosed with retinitis pigmentosa (RP) early on, but over the years it's been presented under all sorts of new and original names, from the rather dull and generic-sounding macular degeneration to the cool and groovy inverse cone-rod dystrophy.
How much vision do you currently have and will your sight continue to deteriorate?
I am sure that my sight is still deteriorating at the rate it always has, but it has long passed the point where I notice any difference. A load of blurry lights is much the same as a load more of blurry lights.
Do you use mobility aids and/or assistive technology to carry out daily tasks?
I used to have a guide dog, but it turns out that he wasn't very good. It was my first dog and so I didn't really have a frame of reference. He used to take me wherever he wanted to go and didn't really listen to me. Maybe he was deaf, which would be ironic, I suppose.
I do have a cane, but in all honesty, I'm not very good with using it. I think maybe I've got one leg shorter than the other as I do struggle to maintain that straight line. These days I do prefer to just get an Uber.
I have used technology and access software for the past 30 years. Many years ago, I used ZoomText on the PC before progressing on to using the Jaws screen reader. But I have been a Mac and IOS user now since about 2009.
I am a big fan of vinyl records and use the RNIB PenFriend quite a bit to label all my albums.
---
If you're visually impaired, try the Rambeltag assistance aid to help guide you when you're out and about.
---
Chris McCausland on becoming a comedian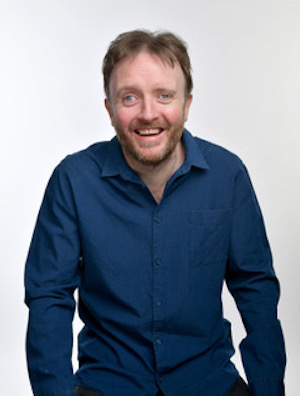 What inspired you to become a stand-up comedian?
Back at the very beginning when I first started doing stand-up, it was more of a hobby, something I did alongside my day job.
For me and most other comedians, it takes so much time and hard work to progress from the unpaid, open mike circuit to working as a comedian professionally that the decision to commit to it full time as a career doesn't come until you are already well down the rabbit hole.
At first, it was very much a bucket list thing – let's just have a go and see if I can get a laugh or not, and let's just try not to be the worst person that's ever tried it. I set quite a low bar, I know.
There is also so much travel involved that I reached a point where I couldn't get out there and do more gigs while I had the commitment of a day job. But I also couldn't ditch my day job until I had enough gigs to cover the loss of earnings – it's a catch 22 situation.
I just had to get myself to that mirky halfway point between the two, which takes a lot of stage time to reach, and then you have to take a massive leap of faith. Luckily for me, I didn't really like my day job anyway and it all worked out well in the end.
You've toured across the UK and around the world. Which has been your favourite place to perform and why?
My favourite international place was probably India. When travelling abroad, comedians often play to expats or perform in countries where the first language is English, But in India, the audiences were entirely made up of locals and the culture was very different.
Also, if you give me a curry at 8am every morning for my breakfast you are likely going to earn a very special place in my heart.
Have you had any unusual or strange comments or heckles from audiences?
Years and years ago when I was quite new to comedy, I remember walking out on stage and doing a first joke that broke the ice about being blind, when somebody in the audience shouted out pantomime style, "We're behind you!" It was very funny.
How has the coronavirus pandemic impacted your comedy shows and are you hoping to go back on tour in 2021?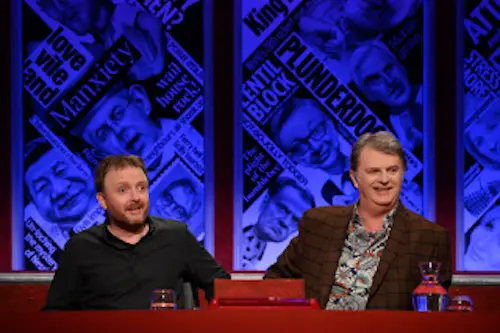 I am very lucky in that I have reached a point in my career where I have other work that I am able to do for both TV and radio. Although this has all been affected too, I still have a generous workload to keep me occupied and keep the pennies coming in, for which I am very thankful.
I was meant to be on tour at the end of 2020, but that was obviously moved to April this year. This has already been cancelled – it's not going to be possible to tour for some time yet.
I think the plan now is to just write off this year in terms of touring and get out there for an even bigger one in 2022.
In the short term though, it would be nice to get back to playing some comedy clubs, but we are probably looking at the autumn for this.
Chris McCausland on television
You've made appearances in a variety of comedy panel shows, including Would I Lie To You, Have I Got News For You, 8 Out Of 10 Cats Does Countdown and QI. Which one do you enjoy taking part in the most and why?
They are all such massively different shows, so I enjoy them all for different reasons. Would I Lie To You was the first panel show I did, and I've done it twice now.
It's such a laugh and so silly that I can't really believe I am being paid to have that much fun.
I find that there is a lot more pressure with Have I Got News For You because you really need to be on the ball with all of the week's events. The team also don't give you any heads up on the stories that will be covered.
Being sat next to Paul Merton for the first time was quite possibly the most surreal moment of my career.
I might have looked relaxed and confident on the telly, but the inside of my head was just screaming: "You're sat next to Paul Merton! You're sat next to Paul Merton!"
I have done the show three times now and both Paul and Ian are really, really lovely to work with. I can't believe I've played a part in such an established TV institution as Have I Got News For You. It really boggles my mind.
As for 8 out of 10 Cats Does Countdown, well I got the conundrum, so I think that might be the greatest achievement of my entire life, and I include learning to walk and talk in that.
 

View this post on Instagram

 
I will be filming again soon for QI. I went on it for the first time recently and I absolutely love the show. However, due to social distancing, we could only have an audience of about 60 people in the studio rather than the usual 650, which changes the mood.
I have done shows with both full and socially-distanced audiences and there is a difference. I can't wait for us to get back to normal so that I can experience doing all of these brilliant shows in a packed studio.
How did you get the role of Rudi in the CBeebies show Me Too! and is your character blind?
I was approached about doing the kids show after I'd been doing stand-up for a couple of years. I had no previous experience of acting or doing TV, so it was all very new to me.
The makers of the show wanted the character to be blind, but we all shared the desire to have storylines that didn't revolve around the things a blind person can't do, but rather have normal stories where the character just happens to be blind.
The idea was to show in a very simple way that some people are blind but that it doesn't stop them from leading a normal life. It was very much a can-do approach.
I know that the reality of being blind is far trickier and fraught with more obstacles than we portrayed, but that's because our intention was simply to create awareness for young children of blindness in a positive way. We didn't want to just hit them with a real-life depiction of the difficulties around blindness.
You have also had a couple of acting roles in EastEnders and Moving On. How did you get these roles and did you enjoy them?
Again, these were roles I was approached about, and I really enjoyed doing them. Stand-up can be a very individual process – you write it, travel and perform all on your own.
Plus, all of the decisions along the way fall to you, in terms of what to wear, what to say, how to say it etc.
With acting, however, you are part of a huge team all making the same thing. It was really nice to have lots decided for me. I'd get picked up in a car, driven to work, fed my breakfast, dressed how they wanted me, told where to stand and what to say – I loved it!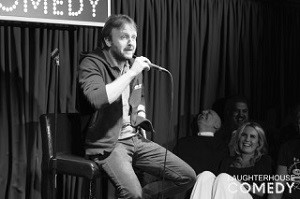 Chris McCausland and his wife Patricia 
How did you meet your wife Patricia and when and where did you get married?
My wife used to work in TV and we met very early on in my career when she was involved in making a programme about the Edinburgh Festival.
We've been together for 16 years now and got married in 2012 after I'd proposed during a Pearl Jam concert at Hyde Park – rock and roll!
These days Patricia is a Psychologist, which is the exact opposite of stand-up comedian.
Has Patricia been to any of your comedy shows and is she happy for you to share stories about her and your daughter Sophie?
Yes, she has been to many shows, but not in quite some time. She is very happy for me to talk about her on stage, just so long as I don't mention anything too embarrassing.
I suppose that because she doesn't come along to watch every show, I can say what I want really, just not on the telly.
What is it like being a parent who is blind and is your daughter starting to understand that you can't see?
My wife is sighted, so that helps a lot. I can't imagine how difficult being a mum must be if you are blind, or how difficult it must be if both parents are blind.
I find many elements of it difficult and frustrating, or even impossible. But, comparatively speaking, I've got it easy.
My daughter really gets that I am blind and is very helpful. She will also sit through a film with audio description on, even though I know that it drives her a bit mad. I mean, it drives me a bit mad too as it tells you way more information than you need to know!
What advice would you give to other disabled people wanting to pursue a career as a comedian and/or actor?
I'd say, don't put all your eggs in one basket. It is difficult enough to make it in either of these industries without a sight problem, so have a back-up plan. Treat either comedy or acting as a hobby that you are committed to until they look like they could possibly pay the bills.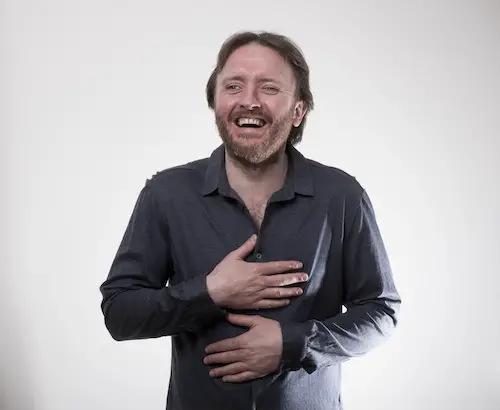 It's also worth thinking carefully about what each involves and whether you're prepared for it. I have literally spent the last 18 years travelling up and down the country on busses, trains and in carshares. The travelling takes up the lion's share of time, by far, compared to the time actually spent on stage.
It certainly is a lifestyle choice that many might not fully appreciate. People see TV and stage shows and think it must be a very glamorous career to have. But I've probably spent just as much time in motorway service stations as I have on stage.
If you decide that it is for you, then write all of your own stuff and just be yourself. Audiences can sniff out pretence before you've got to your first punchline.
Acting is probably even more difficult to make a living from if you have a disability, as you are immediately restricted to what roles you can take. You can't really be blind and play the lead in an action film or have no legs and play an ice hockey player.
If you are dreaming of a career that can fill your year with work, then unless you stumble upon a long-term series with a role that's perfect for you, acting probably isn't going to cut the mustard.
To put it into perspective, over the past 18 years I've done just three acting jobs. I've probably also turned down two or three because I'm a picky sod, but still, five or six acting opportunities over nearly 20 years is quite poor.
It's hard for able bodied actors to make a living, and really, really super hard for disabled actors to achieve a fraction of the same.
I believe that we are making good progress at the moment in terms of improving on-screen representation and opportunities for disabled actors, but we are still a long way off being where we need to be.
What I'm trying to say is that I would not recommend acting as the one dream that you follow. For me, the job is comedy, and then every so often a bit of acting comes along that gives me something new to try. But I don't rely on this work to pay the bills, it's just nice when it happens.
All of this might sound quite negative, but I am just trying to be a realist and encourage you to follow your dreams, whatever they may be, but to have other options. If you want to try comedy then get out there and give it a go, and if you want to act then join a theatre group or do a course.
But also go to college or university, make sure you have skills that can get you more realistic employment and most importantly, decide whether an encyclopaedic knowledge of the UK's motorway service station network would really make you happy.
You can find out more about Chris McCausland by visiting his website and following him on Facebook, Twitter, Instagram and YouTube.

Interview by Emma Purcell – follow her blog Rock For Disability 
Try the Rambeltag assistance aid and find out more about its visually impaired inventor in our interview.
More on Disability Horizons…