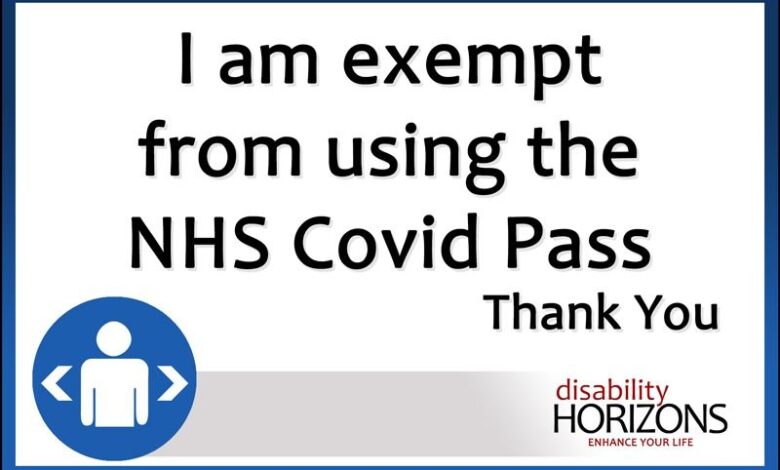 News
Covid-19 vaccine exemption pass: what to do if you cannot be vaccinated or test for Covid
Now that most Covid-19 restrictions have been lifted across the UK and more than 39 million people have been fully vaccinated, we can enjoy more freedoms.
But to access many public places and services, you may need to have an NHS Covid Pass to show you have been vaccinated, have tested negative for Covid-19 or have immunity from it. You will also need to prove you have had both vaccines if you are staff working in an Care Quality Commission-registered care home in England. 
However, what should people do if they cannot be vaccinated or tested due to medical reasons? Here, we explain who is exempt from using the pass, how to access venues if you are, and how our new NHS Covid Pass exemption card can help.
UPDATE 16th September 2021: The Government has now announced that it won't be going ahead with plans to make the NHS Covid Pass mandatory for many venues, although it may put it into place in the future.
We don't yet know how many venues will still use a form of this pass and/or ask for Covid-safety information, such as proof of vaccination or negative test beforehand, but we know that some already are.
Scotland and Wales also plan to still use the scheme for venues and travel. Northern Ireland will be using a similar scheme for travel.
You will still need to use the pass to avoid quarantining when returning from countries on the amber list if you have had both Covid-19 vaccinations, and if you working in a care home (see more on this below).
---
With restrictions ending, we can now return to some form of normality and enjoy visiting pubs, clubs and restaurants, going to gigs, festivals and theatres, and even travelling abroad.
But to be allowed to access many of these places and services, you may need to provide evidence of your vaccination status, having tested negative for Covid-19 within the last 48 hours, or having virus immunity. To do this, the Government has created the NHS Covid Pass app.
You'll also need to prove that you have had both vaccines if you work in a care home, as this is a mandatory requirement as of 11th November 2021.
However, there are a number of people who cannot vaccinate or test for medical reasons, for example, because they are immunocompromised, so can't be vaccinated, or because a learning disability means that testing would be distressing.
If you are exempt, you will need to self-declare your medical exemption directly to staff on entry.
A digital solution is currently being developed to enable individuals with a medical exemption to show their Covid-19 status using the NHS Covid Pass.
If you want a quick, and easy way to show your Covid-19 vaccine or testing exemption NOW, head to the Disability Horizons Shop to buy our Covid-19 NHS Pass exemption card.
Covid-19 vaccine exemption list UK?
There are some circumstances where people cannot demonstrate their Covid-19 status by having the vaccination or a test. This could include:
people with learning disabilities, who are autistic or have a combination of impairments that result in the same distress.
people who have or are under medical supervision for acute or evolving serious diseases
people receiving palliative care
people undergoing treatment with unpleasant side effects.
people who are immunocompromised (i.e. they have weakened immune systems).
Visit the Government website for more information on who is exempt. To find out all you need to know about the vaccine and who is eligible, visit our Covid-19 vaccine guide.
For those who are vaccinated, you can buy our 'I've Been Vaccinated' card on the Disability Horizons Shop.
Accessing venues if you're exempt from vaccination or testing
UPDATE: The Government has withdrawn plans to make the Covid Pass mandatory for many venues in England, but some venues may still go ahead with using the NHS Pass or something similar. 
Scotland and Wales are also going ahead with the scheme, making it a requirement for many Scottish and Welsh events. You can find out more on the Scotland and Wales Government websites.
If you're exempt from being vaccinated or tested for Covid-19 but still want access to events and venues that request the NHS Covid Pass, then you can self-declare your medical exemption. Staff should not ask for evidence of the exemption.
Event or venue organisers in England that choose to use the NHS Covid Pass as a condition of entry can decide whether to accept self-declared medical exemptions, as long as they comply with the Equalities Act 2010.
You are welcome to show a visual cue to indicate you are declaring a medical exemption from testing and vaccination, which should be respected by all staff.
It is not mandatory for you to wear a visual cue to outline you are exempt, and you are also not required to demonstrate your Covid-19 status through the NHS App.
Mandatory vaccines and exemptions for care home staff
As of 11th November 2021, all care home staff working in a Care Quality Commission-registered home in England must have had both vaccinations, unless they are medically exempt or exempt for other reasons.
All staff members need to have had their first vaccine by 16th September to allow time for the second. If you work in a care home and haven't yet had a vaccine, speak to your employer as soon as possible.
You'll need to use the same NHS Pass as with venues to prove you have had both. The same medical exemptions also apply and you can self-certify in the same way – read on below for more.
Care home residents and friends or relatives visiting residents don't have to abide by this regulation. You can also be exempt if:
it is reasonably necessary for the person to provide emergency assistance in the care
home
it is reasonably necessary for the person to provide urgent maintenance assistance to
the care home
the person is a member of the emergency services in execution of their duties
the person is visiting a resident who is dying (further detail below)
it is reasonably necessary for the person to provide comfort or support to a resident in
relation to a resident's bereavement following the death of a relative or friend
the person is under the age of 18.
You can find out more information on the Government website.
NHS Covid Pass exemption card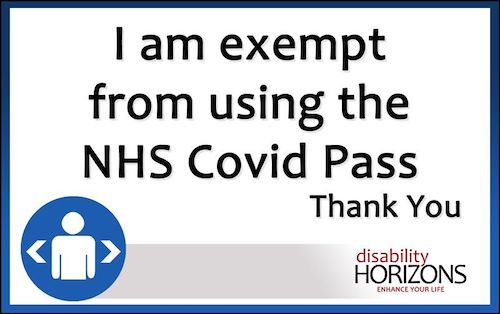 If you have a disability or health condition that falls into one of the categories listed above, you can self-declare as being exempt – you don't have to provide proof.
To help ensure you feel more comfortable, we've created an exemption card for those who have a genuine reason to not be vaccinated or tested for Covid-19.
Our NHS Covid Pass exemption card comes on a lanyard or badge clip. It is a durable, portable pass that you can wear around your neck or pinned to your coat or top when entering an event or venue.
It provides staff and others around you with immediate and simple-to-understand information regarding your vaccine exemption.
Also, check out our face mask exemption card that you can use in places that still require you to wear face masks in certain settings.
There isn't a legal requirement to wear a lanyard or display any form of exemption, but our card will give you an easy and quick way to convey your medical exemption.
The pocked-sized design of the ID, badge clip and lanyard means it can be stored in your coat or bag making it easy to access and put around your neck or pin to you.
Head to the Disability Horizons Shop now to buy your NHS Covid Pass exemption card on a lanyard or as a badge to make sure you're covered when you access events and venues.
Please note, these cards are ONLY designed for people with a genuine reason for not being able to be vaccinated or tested. If you do not have a legitimate reason, you may be refused entry to events and venues.
By Disability Horizons 
More on Disability Horizons…