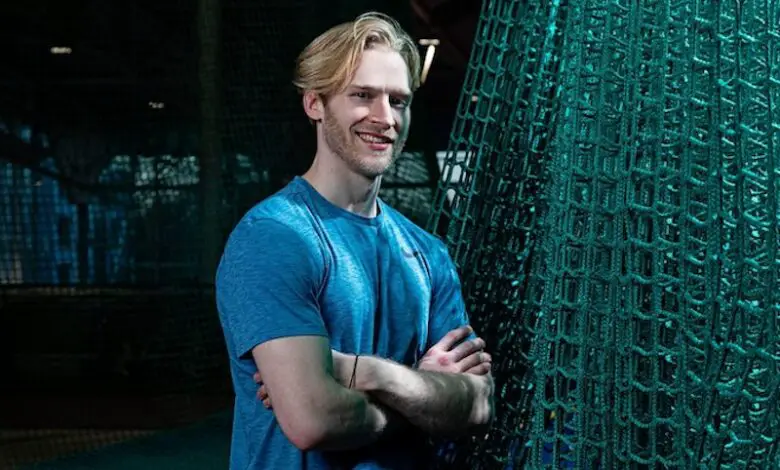 The rescheduled Tokyo 2020 Paralympic Games are finally in full swing and in two days, Paralympic sprinter Jonnie Peacock will be taking to the track again to defend his 100m title. But he also stars in Jonnie's Blade Camp, a two-part documentary where he helps five young amputees to discover their sporting potential.
Thomas, Olivia, Harvey, Jonnie, Mitchell and Maisie will take part in a year-long training camp, where Jonnie draws on state-of-the-art technology, inspirational guest coaches and his own experiences to help the youngsters accomplish things they never thought possible.
Jonnie Peacock's journey to the Paralympics
Jonnie was just five when he contracted meningitis, which damaged the tissue in his right leg. The limb was subsequently amputated below the knee.
Jonnie credits his family with helping him to fulfil his sporting dreams. He's previously said: "Both my mum and dad have been so supportive – they've never questioned my decisions or doubted that I could do things.
I don't really have any memories of losing my leg (I don't know whether that's because the brain protects itself from traumatic events) but my parents do. It was far worse for them really."
He adds: "I was always sports mad and they did everything they could to give me the same opportunities as everyone else."
Thanks in part to that early encouragement, Jonnie went on to claim the gold in the 100m T64 final at the 2012 Paralympics in London, becoming a household name into the bargain. He was awarded an MBE the following year.
The athlete successfully defended his title in 2016 and is now hoping to make it a hat-trick after being selected for this year's games.
Away from the track, he's also competed in Strictly Come Dancing, becoming the first amputee Paralympian to compete on the show. He made it to Blackpool with his partner Oti Mabuse, performing a memorable jive and paso (while dressed as Indiana Jones) along the way.
Jonnie's Blade Camp TV project
For his latest TV project, Jonnie is focusing on the next generation, although he has said that the emphasis of the show will not necessarily be on identifying potential future champions.
When Jonnie's Blade Camp was first announced, he said: "My own story and those of many Paralympians prove sport and an active lifestyle is possible regardless of disability.
Giving disabled youngsters the support and encouragement they need to stay active doesn't just help them physically, it can potentially provide them with a life-changing sense of confidence and self-worth."
He added: "This isn't the search for the next Paralympic sprint champion, this project is about opening young people's eyes so they can release their potential and realise how much they can achieve whether that's participating in structured sport or just running around and messing about in the playground with their friends."
In the programme, Jonnie begins by meeting the kids and asking them to set their own ambitious goals. He also prepares them to sprint their first-ever 100 metres on their prosthetic blades.
About the children involved in Jonnie's Blade Camp
Thomas
The first child who took part in Jonnie's Blade Camp was Thomas, aged 12. He was born with a congenital contractor of the left knee, meaning the leg was shorter and weaker to straighten. After numerous operations, him and his family made the decision to have his leg amputated.
Thomas went on to complete a 5K triathlon and is now helping his dad through rehabilitation following a stroke.
Harvey
Eight-year-old Harvey is a double amputee from Birmingham. His goal was to complete a hurdle course without his right leg going around the hurdles. Following Jonnie's support, he accomplished it.
Harvey is now volunteering at a local limb centre where he gives advice and support to other children with amputations.
Maisie
Maisie is 12 years old and she caught meningitis at five months old, which resulted in both her legs being amputated above the knee. At Jonnie's Blade Camp, she began to try running on blades but then Jonnie made the decision to make her final challenge swimming as that has been her ideal sport.
She took on a series of swimming challenges, alongside Alex Brooker, who took on Sink or Swim in 2019. Maisie now competes in swim competitions against non-disabled people.
Mitchel
Mitchel, who is 15, got meningitis a few years ago and had his left leg amputated. On the show, he ran for the first time in three years.
Jonnie then surprised him to a visit to West Ham's training ground. Mitchel soon found the confidence to play football with his friends again.
Olivia
Olivia is a 14-year-old girl who got injured in a car crash caused by a drunk driver and had her left leg amputated.
She initially had no confidence using her prosthetic leg properly but after a year of training, Olivia did a 400m run and continues to run with her family.
You can watch both episodes of Jonnie's Blade Camp anytime on All4.
Be sure to tune in to watch Jonnie Peacock at the Tokyo 2020 Paralympic Games in the heats on Sunday 29th August from 1:20pm BST and the final on Monday 30th August from 12:40pm BST on Channel 4.
 By Emma Purcell 
More on Disability Horizons…