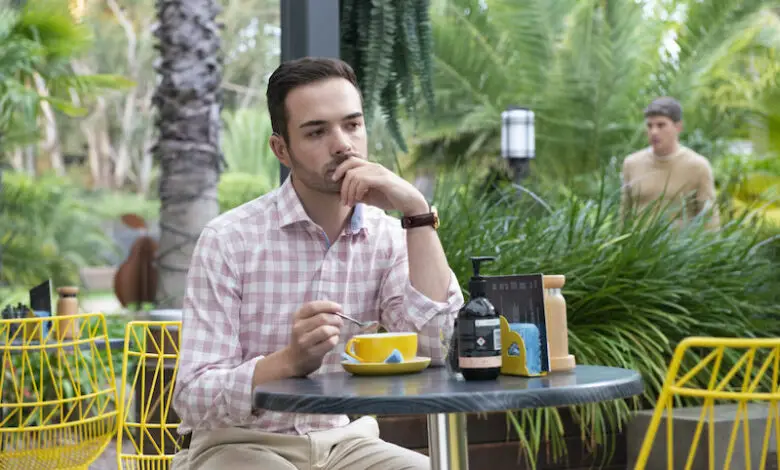 Nathan Borg is a 24-year-old deaf actor best known for playing deaf character Curtis Perkins in the Australian soap Neighbours. 
Our writer and Neighbours fan, Zubee Kibria, spoke to Nathan Borg about some of the challenges he has faced as a deaf actor, securing his role as Curtis Perkins and shares why it is important for businesses and individuals with disabilities share their stories. 
Nathan was born in Melbourne six weeks premature and contracted meningitis at three months old, which left him profoundly deaf. He got a cochlear implant fitted in his right ear at the age of two and started to hear for the first time. He went on to have speech therapy to learn how to hear, say and pronounce words.
At aged 18, he was fitted with a second cochlear implant in his left ear but only lasted three months with it because the sounds appeared different to the right ear.
Nathan usually speaks orally but has also been learning Auslan (Australian Sign Language) so he can communicate and network with other deaf people.
Nathan's interest in acting began when he did a full-time Arts Program in Year 12. He was involved in doing acting and learning about theatre, which was such good experience. He finished in 2014, and was offered to do the one year (full-time) Diploma Program that focused on film and TV, which he accepted to attend.
But, in 2015, he started his first week and the acting coach took him out of class, and told him that diversity isn't up to date so he wouldn't be accepted in the industry because of his deafness.
However, that did not stop Nathan pursuing his dreams, and after five more years of training, auditioning and persuading media professionals, he finally secured his role in Neighbours.
His character Curtis Perkins is a newly qualified teacher who gets a job at Erinsborough High School and moves in with his aunt, Vera Punt, on Ramsey Street. He is also gay and has a relationship with Jesse Porter, but it has recently lead to heartbreak for Curtis on the soap.
Read on to find out more about Nathan Borg in his own words.
Nathan Borg living as a deaf person
What challenges did you face with your cochlear implant and how did you overcome them?
My main challenge is with loud noises (music, trucks, horns, motorbikes, yelling). As these are noises that happen in everyday life, I manage to overcome it by either moving away from that noise or I take off my cochlear for a moment.
In places like clubs, bars and concerts I rely on reading people's lips, although it can get tiring and overwhelming after a while. The fewer people the better.
I sometimes find it difficult to differentiate and understand certain accents. My cochlear implant isn't always able to interpret a strong accent. To overcome it, I will ask them to repeat themselves or write it down.
While growing up, I didn't have the confidence to ask this so I would fake nod or laugh. As I've got older and more confident, I've been able to ask people to repeat or write down what they said.
In saying that, there are some pretty funny moments when people say something from a far distance and if I don't hear it I'll just smile and keep walking because sometimes I'm a bit lazy. It takes time to get comfortable to openly say what works best for you in conversations.
I think my biggest challenge would be getting access to captions. Growing up in the late 90s and early 2000s, captions were hard to come by so I would miss out a lot and had to figure out what was going on on-screen.
Nowadays captions seem to be a lot more accessible, but there are definitely areas that can improve. I've always loved going to the cinemas but it was extremely hard because captions weren't available the majority of the time or were too difficult to use.
You would have to carry this bulky caption machine with you into the cinema and the stares you got from people wasn't fun. I tried it once, it wasn't a nice experience and I didn't go back to the cinemas for a long time because I felt ashamed.
From what I remember, open captions came in 2019 at my local cinema. Because not all film sessions are OC sessions there is a limited time/date I have to access it.
My other biggest challenge is having my cochlear implant batteries with me. The batteries usually last for about three days. I always have a battery packet in my pocket and have to make sure the E batteries are intact and not empty.
Sometimes I accidentally find more than one packet in my pockets or in my bags because I always grab a packet before I head out the door. There have been times I've forgotten and haven't been able to hear.
Nathan Borg becoming an actor
What inspired you to become an actor?
In 2015 I was sitting on the couch in the middle of the night watching scenes from TV shows such as Neighbours, Home and Away, Packed to the Rafters, Offspring, House Husbands, Winners & Losers etc. and I really wanted to be a part of these types of shows.
I started to dream about being in every Australian family drama show and then it clicked. I had a light bulb moment. I realised how lacking in diversity the industry was and that there was no one like me on our screens.
I knew I had to help change that. I knew it was going to be a hard and long road, especially when professionals I'd met didn't believe in me. I think it was around five years ago when I saw our industry start to show diversify, but very slowly.
I am an actor and I absolutely love the job. I portray different people, tell stories, and explore characters inside and out. It really gives you a good perspective on human behaviour. I get to explore stories and behaviours that aren't present in my real life which is so exciting.
I'm always looking for gritty work because my life isn't so gritty. I'm a newcomer to the Australian industry and became Australia's first deaf actor with a cochlear implant on our screens. It has been the proudest moment of my life and I hope I get to stay in this industry and push for diversity as long as I can.
I know if acting doesn't work out I will definitely jump onto an entertainment talk show as a TV presenter. What I love about this job is that you face a new challenge every day, you are walking into the unknown and that's exciting.
Nathan Borg as Curtis Perkins on Neighbours
How did you get the role as Curtis Perkins on Neighbours?
I emailed the producer and explained we should have a deaf character with a cochlear implant. The producer gave me a general audition as Curtis hadn't yet been 'brought to life.
In the audition, I did the scene from Neighbours where Paige Smith and Jack Callahan are at the hospital and Jack had lost his memory. I was asked to put my own spin on a sad scene, I took a risk and turned it into a comedic scene. It ended up giving the character of Jack a whole new personality, making him seem crazy. A year later Curtis was born.
Can you tell us a bit about your first day on the Neighbours set?
My days on set have been such a great experience and everyone is so supportive. It's nice to work with a production that pushes for diversity.
On my first day, I got to work with the incredible Jackie Woodburne who plays Susan Kennedy and Annie Jones who plays Jane Harris. Working with them is such a blessing, they're so talented.
Have you had any funny and/or embarrassing moments on set?
During a rehearsal, we were in Erinsborough High's classroom. I decided to lean on one of the walls and much to my surprise, the whole wall moved. I screamed and interrupted our rehearsal. That was the day I learnt not to lean on the set!
Another time, I had to do a scene with Jackie Woodburne and Annie Jones outside of the Lassiters Complex last year in summer. There was a big blowfly that kept landing on our faces during the take. We tried so hard to ignore it because we were doing a serious scene but ended up waving our hands everywhere and couldn't stop laughing.
As the first deaf person with a cochlear implant to appear on Neighbours, were you nervous as to how you would be perceived by viewers and the neighbours cast?
In the early days, I was pretty nervous because I didn't expect anyone to know how to communicate and work with a deaf person with a cochlear implant. The cast and crew were very kind and wanted to learn, which was fantastic.
During takes or rehearsals, the cast and crew would sometimes ask me questions about my deafness and I'd help educate them, which is something I am proud of and love doing.
I was also extremely nervous about how Curtis and me as an actor would be perceived by the viewers. I had many professionals and actors warning me that some viewers are pretty passionate about the show and if they're not a fan of a certain character they may take it out on the actors.
At the end of the day, I just want to have fun and tell interesting stories. Curtis got quite a positive response and seven months later he's still here. I get so many beautiful messages from people that say they love seeing deaf representation on Australian TV, which completely warms my heart.
There was one particular scene where yourself and Nicolette get attacked and you lose your cochlear implant, what did the producers/directors need to do in order to make it easy for you?
I had meetings with the producer, director, prop designer and with 'the organisation Cochlear for this storyline in order to make it easy for me on set.
Onset, we used a broken cochlear implant that was supplied by Cochlear for the scene. During the takes, I couldn't hear. The director and director's assistant took steps to help me through the scenes, it was a challenge but lots of fun!
How do you feel working alongside long serving actors, Jackie Woodburne – Susan Kennedy, Alan Fletcher – Karl Kennedy and Ryan Maloney – Toadie Rebecchi, Annie Jones – Jane Harris? 
As Neighbours was my first job, getting to work with these icons has been such a privilege. They've taught me so much, given me heaps of tips, and even challenged me (in good ways) during scenes. I've learnt from the best and I am so grateful for that.
Without giving too much away, what can viewers expect to happen in up-and-coming episodes with Curtis Perkins' character?
In the upcoming episodes, the viewers will see Curtis and Jesse Porter together. You'll see Curtis in a certain state that viewers haven't seen him in before. This storyline was great to explore and I'm excited to see the outcome.
Nathan Borg's thoughts on disability representation on TV
 

View this post on Instagram

 
Do you think having a disabled character on the show educates the public more on disability?
Yes, I think it's important to have characters with disabilities on screen because it is a way to educate others in an entertaining way and show that we are humans who live a normal life like everyone else.
What are your views on disabled characters being played by non – disabled people?
In my opinion, I don't agree with this because there isn't a lot of representation of disabled characters on our screens. It is important for us to tell our own authentic story as we live through it.
I have to admit I wasn't sure about a recent film that came out called The Sound of Metal. The actor Riz Ahmed is a hearing actor. He portrays a hearing character who becomes deaf and chooses the pathway of getting cochlear implants.
I did research and watched the film and learnt that they had D/deaf people on screen and throughout the production to help develop the story to be as real and authentic as it could. I think Riz Ahmed and the production did an excellent job on this film.
What are your top five tips to become a successful actor?
Arrive early.
Always best to be over-prepared rather than prepared.
Be kind.
Be open.
Enjoy i
For anyone who is considering starting an acting career, what advice would you give them?
Do extra work, workshops, short films – any small opportunity you can get your hands on is worth it. Don't do it for the fame and money, it won't mean anything in the end and you'll end up getting sick of the early mornings. Do it because you love it and to tell stories.
What are your plans for the future?
In the future, I'd love to act in family-friendly dramas and even give something more raw and gritty a go, but I want to keep every door open.
I'd also love to produce my own content to create more opportunities for minorities within the Australian industry. I want to help break down barriers and diversify across our screens and hope I have the full support of other industry professionals.
Find out more about Nathan Borg by following him on Instagram.
You can watch Nathan Borg as Curtis Perkins on Neighbours on Channel 5 weekdays at 1:45pm and 5:30pm and catch up on My5.
Interview by Zubee Kibria
More on Disability Horizons…