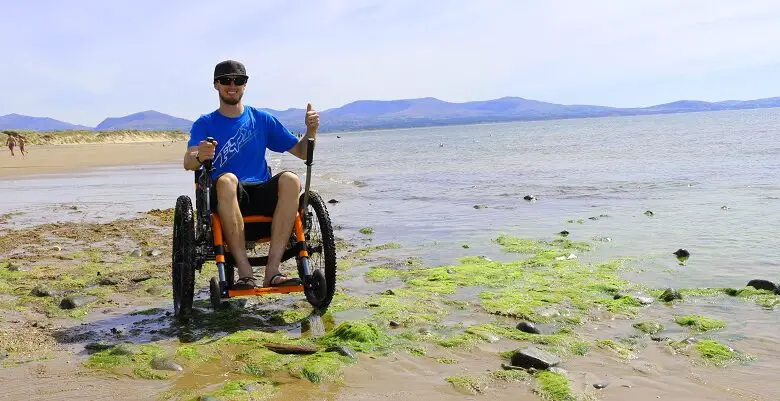 Travel & Holidays
WIN FREE hire of a Mountain Trike all-terrain wheelchair and £200 off the purchase
We've teamed up with Mountain Trike to offer you an exciting bank holiday competition – WIN FREE hire of a Mountain Trike all-terrain wheelchair worth £180 and £200 off the price if you decide to buy.
Scroll down to discover what you need to do to be in with a chance of winning, and read customer testimonials and reviews to discover how much a Mountain Trike enables you to do.
UPDATE: This competition is now closed. Sign up to our newsletter at the top right-hand corner to keep up-to-date with future competitions.
If you're a wheelchair user who loves the outdoors, then this competition is for you.
Mountain Trikes are all-terrain wheelchairs and trikes that enable you to access the outdoors – ideal as Covid-19 restrictions have lifted and the sun is starting to shine again.
Whether you love riding along a beach or driving over rocky woodland paths, you can hire a lever-driven Mountain Trike, Mountain Trike Push or Mountain Trike Evo for the weekend from anywhere in the UK.
This normally costs £180 for weekend hire and delivery, but Moutain Trike is offering one lucky winner FREE weekend hire from Friday to Monday.
Mountain Trike will arrange delivery to the winner's home address for free on a Friday and collect it again from the same address on the following Monday, subject to availability.
Even better, once you have spent the weekend exploring the countryside and coastlines in a Mountain Trike, you can get £200 off the purchase of one.
To enter, simply enter your full name and email address in the box below. You will need to be living in the UK to be eligible.
As with the other competitions, if you're not already, you will be automatically subscribed to our FREE newsletter with all our latest content. Your email address will also be passed to Mountain Trike so that you can be signed up for its newsletter.
You have until 11:59pm (UK time) on 8th September 2021 to enter this competition. We'll select one lucky winner at random and their name and email address will be passed to Mountain Trike, who will contact them to arrange a weekend, delivery and collection of the Mountain Trike.
The hire and purchase offer only applies to the Mountain Trike, Mountain Trike Push or Mountain Trike Evo (it does not include the hire of the eTrike).
You'll have just under a year to hire and purchase a Mountain Trike as the offer is valid until 1st April 2022. The prize is not transferable, nor can any cash alternative be offered by Mountain Trike.
Mountain Trike Evo review
Check out this review of the Mountain Trike Evo from fitness fanatic Ben, who runs Adapt to Perform, to see it in action.
Mountain Trike customer testimonials
Charlene Cooper
"We really can't sing the praises of this chair enough. It has been a total game-changer, we can now get our dose of the sea whenever the fancy takes us. 
Walks in the rain and going through puddles over uneven footpaths would never have been possible before we bought the Push from Mountain Trike."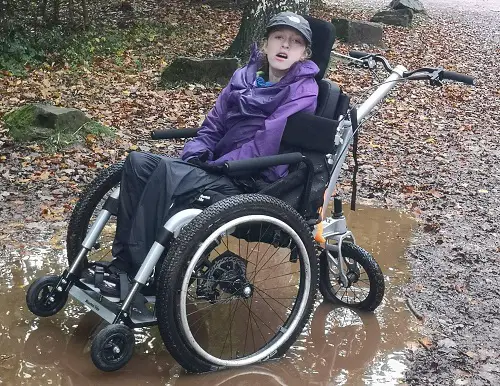 Nalani – USA
"I love my Mountain Trike it's working out really well – the independence it has given me is brilliant – I can take my dogs for walks without needing help from my kids.
We had such had an amazing trip to the UK to collect the Mountain Trike – we hope to be back soon and we really could not have done all we did without the Mountain Trike."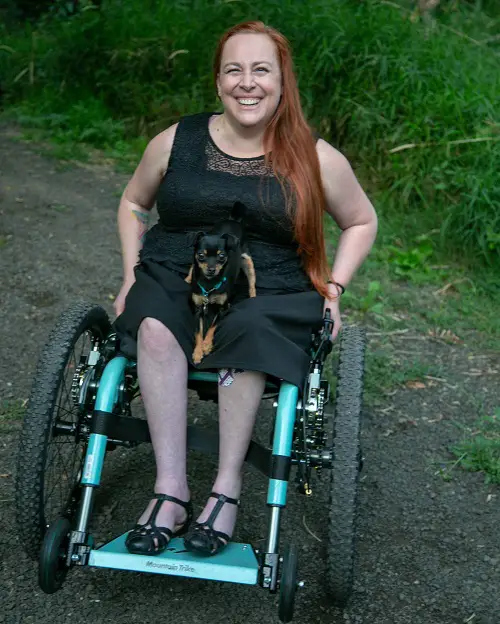 Becky and Archie Davies
"We are so loving Archie's Mountain Trike Push and have used it pretty much daily since it arrived. We find it so easy to push – up hills, through sludgy mud, across streams and this weekend over snowy fields! 
Our son is also a very happy passenger and our other son has even managed to work out how to perch on the back bar to hitch a ride. 
Thank you – our daily dog walks are definitely that much easier with our new wheels!"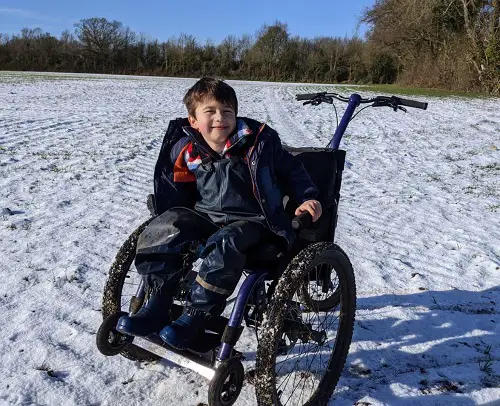 TJ Woosley – USA
"My Mountain Trike has massively impacted my life since I got it. I have used it around my area (Bellevue, WA, USA) quite a bit, and I've also been on trails, through parks, in museums, airports and all over the place.
I keep it in the back of my GMC Yukon and pull it out whenever a ride is in order. I've taken it on a number of flights. So far, by either vehicle or plane, I've had it in Washington, Oregon, Wyoming, Missouri, Iowa, Arizona and most recently to Panama City, Panama.
This summer it will go with me to Washington D.C. and then later to Europe (Budapest, etc.)."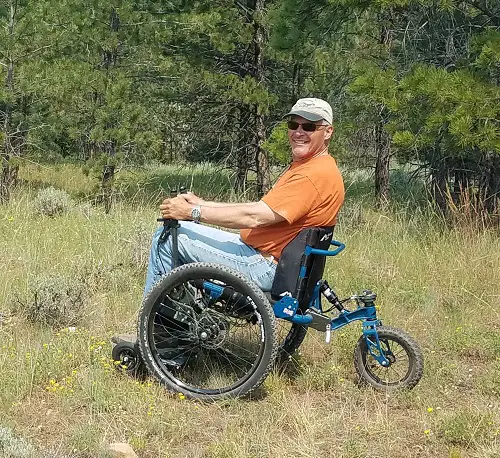 Gary Ferguson
"I bought my Trike about three years ago, and it has made things possible for me that would otherwise have been completely unmanageable.
Firstly, the area around our house was far too hilly and a bit wild to be traversable on my regular wheelchair. I tried a couple of times and bits started falling off (from the wheelchair, not me). Googling for a more rugged wheelchair was what first led me to the Mountain Trike.
I am now able to take my Mountain Trike pretty much wherever I want. If my partner can walk there, then generally, I can get there too.
Holidays and work have also been enabled and improved."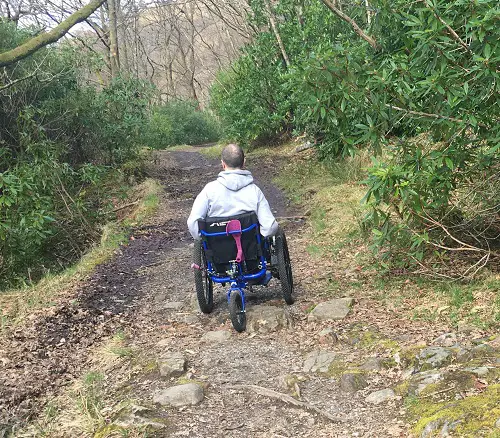 You can read more customer testimonials on the Mountain Trike website.
By Disability Horizons and Mountain Trike
More on Disability Horizons…